Fellow guest Jackie Hoffman wasn't buying it when Erika said her weight loss wasn't due to Ozempic … before Erika revealed what it was like to finally come face to face with some of her estranged husband's alleged victims.
Erika Jayne appeared on Watch What Happens Live last night and put on the spot about her recent weight loss by host Andy Cohen.
Noting that the Real Housewives of Beverly Hills looked like a "whisper" of her former self, Cohen wondered how she made the transformation — after Erika herself previously denied using weight loss drugs like Ozempic.
"Let me start off by saying, let me make sure I don't trigger anybody … we have a cast member with an eating disorder … I did come down in weight and I did it hormonally," she shared. "I was going through menopause, so I took it all down."
Fellow guest Jackie Hoffman was taken aback by the reality star's response, exclaiming, "Who loses weight during menopause?!"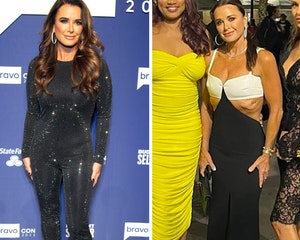 Kyle Richards Addresses Photo Which Sparked Weight Loss Concern from Fans
During the same appearance, Cohen also brought up Erika's recent meeting with several individuals who her estranged husband Tom Girardi allegedly cheated out of settlement money … something which was reported by Page Six last month.
When a fan asked how the meeting went and noted that it seemed like Erika "didn't have empathy" for them last season on RHOBH, Jayne noted she "always had empathy for them, it's just that timing is very important when you're in litigation."
"I felt very comfortable, I went there with an open heart, they were very nice to me and they did not have to be," she continued. "I'm sure that they were very hurt, still."
Unable to render YouTube Video.
When asked whether any of them confronted her or viewed her as "an enemy," she said she didn't know how they truly felt on the inside, but she didn't feel "they were being unjustly harsh" with her in person.
She also revealed that Girardi does still call her "every now and then," but she's not really sure how he's doing because she doesn't see him in person. "He's always cheerful on the phone," she added — and, when asked by Cohen whether he seemed like he was "with it," said, "Sometimes with, sometimes without, depends on the day."
Unable to render YouTube Video.
While Cohen noted there was a time where "no one wanted to be in business" with Erika due to the ongoing legal proceedings, he wondered how it felt to have a Las Vegas residency and whether that was a sign the tides were turning in a more positive direction.
"You're right, it was a tough … which is why I was shocked when I got the offer, I was kind of like, are you kidding me?" she told Andy. "I think as time goes on, people will see that things are, as I said from the beginning, just give me some time."
She also touched on Kyle Richards and Mauricio Umansky's relationship issues — saying "it's none of my business" and promising Kyle will "explain herself" on the show — and said that while she misses having Lisa Rinna on the show, the pair are still friends and still hang out. "We're making a show, we're doing it," she added.
Lastly, she was asked — on a scale from 1-10 — how excited she was to be filming with Denise Richards again. Her response: "Negative 5."
Waiting for your permission to load the Instagram Media.
Instagram Media Unavailable
Source: Read Full Article