video
ToyBox 3D printer allows children to design, print their own toys
Toybox CEO and co-founder Ben Baltes and COO Malcom Bird unveil a one-of-a-kind 'toy that makes toys' on 'The Big Money Show.'
Justine Tiu, the founder of The Woobles, a crochet kit business aimed at beginners, said in a recent interview with FOX Business that learning a new skill is a way to build confidence in other areas of life. 
Since its official launch in July 2020, The Woobles has made over $5 million in lifetime sales, appeared on the television show "Shark Tank" and taught thousands of people a new hobby.
Tiu began crocheting to relieve the stress from her previous job as a designer for Google, she said.
MEMBERSHIP NAIL SALON DISRUPTS INDUSTRY WITH WATERLESS HYGIENE-FOCUSED MANICURES AND PEDICURES
While at Google, Tiu was involved with the company's education programs and "loved it so much," she also said.
"They promoted me to manager, and it turns out I sucked at being a manager and didn't like being a manager," she added.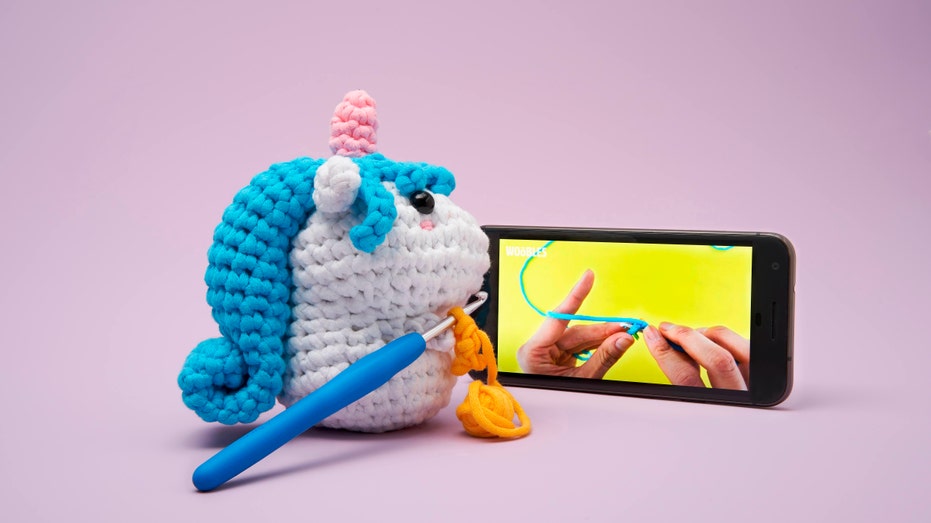 The Woobles character Billy the Unicorn "watches" one of The Woobles' instructional videos.  (Dyad Photography / Fox News)

To get her mind off her job, Tiu picked up crochet and "started dabbling in a bunch of other hobbies," she said.

Starting to crochet actually increased her confidence, she noted.

AMERICANS' FAVORITE EASTER CANDIES AND PASSOVER FOODS REVEALED: INSTACART 

"That process of learning to crochet actually reminded me that, 'Hey, I can still learn new things. Things are going to be OK. I can become a better manager,'" Tiu explained. 

Eventually, the crocheting hobby became her full-time business. She now works alongside her husband, Adrian Zhang, in North Carolina.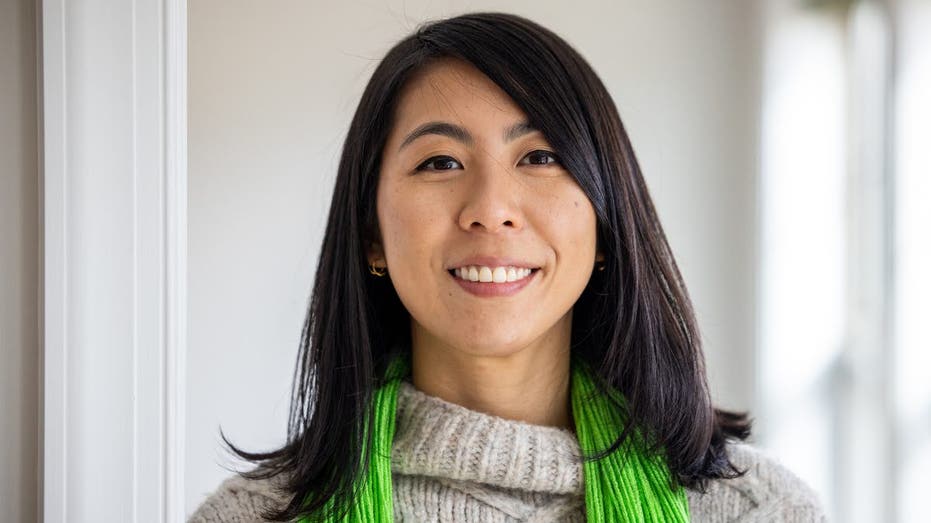 Justine Tiu, shown here, founded The Woobles. (Peter Taylor / Fox News)

The Woobles first began peddling crochet kits and patterns on Etsy — and now has a dedicated website of its own, TheWoobles.com. 

Kits contain all the materials to make a crocheted creature (except for a pair of scissors), as well as a QR code to access step-by-step video instructions to create the pattern. 

Each kit also includes a pre-started piece to better help beginners as they learn to crochet. 

The business is a culmination of two longtime passions: design and online learning. 

Prices on the dedicated website range from $25 for a single project to $100 for a bundle.

For Tiu, The Woobles is a culmination of two longtime passions: design and online learning. 

TRAVELING WITH A PET? TSA ADVISES THE BEST WAY TO GET THROUGH AIRPORT SECURITY

"I got into design because I wanted to do physical products, but my degree is in electrical engineering," she said. 

At Google, she worked in user interface design for the company's education products. 

"I really do love the fact that I get to work on something tangible now and then also pair it with online learning guides," she noted.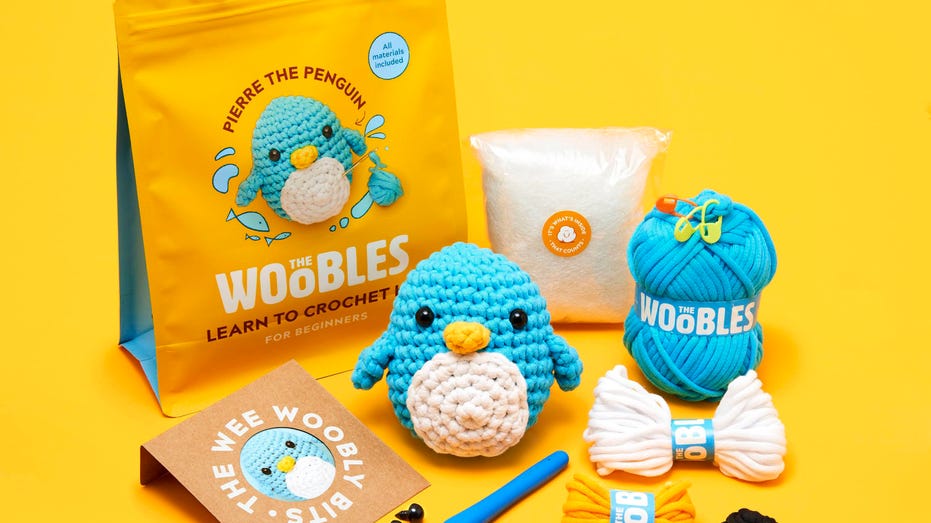 Kits from The Woobles include everything needed to make a plushier toy, including "Easy Peasy Yarn," stuffing, a crochet hook, plastic eyes and stitch markers.  (Dyad Photography  / Fox News)

Since the initial launch, The Woobles has been booming. 

"It has been a wild ride," said Tiu, something she described as "both exciting but also exhausting." 

To illustrate the rapid growth of the company, Tiu said that around March 2022, The Woobles moved into its first warehouse — the business had outgrown her in-laws' garage. 

"In this past year alone, we went from one warehouse to four warehouses, and now we have just moved into a 15,000-square-foot warehouse," she said. 

PICASSO'S 'GUITAR ON A TABLE' SELLS FOR MORE THAN $37 MILLION

The Woobles released a book on Oct. 11, 2022, titled "Crochet Amigurumi For Every Occasion," which features 21 products with mostly new patterns that were not previously available as kits.

The brand also began participating in partnerships and character licensing, something Tiu said will increase in the future.

In addition to a recently released kit featuring the character Miffy, The Woobles also partnered with PAC-MAN to release kits for creating PAC-MAN, Blinky the ghost and cherries. 

The PAC-MAN kits were so popular, they sold out in presale, Tiu said.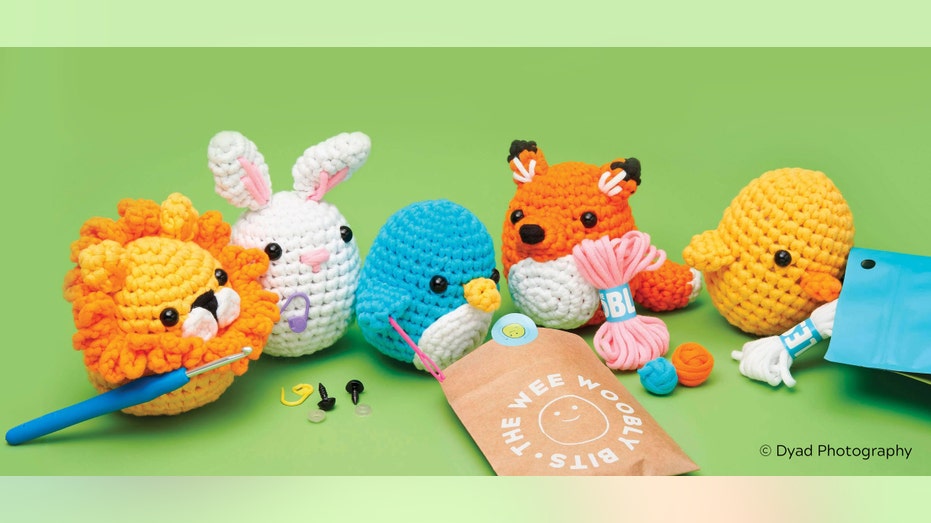 The Woobles includes kits to make a variety of creatures, including (from left to right) a lion, bunny, penguin, fox and chick.  (Dyad Photography / Fox News)

The Woobles are a category of crochet toys known as "amigurumi." 

The term "amigurumi" refers to the "Japanese craft of crocheting small stuffed toys, such as animals, play food or dolls," according to crafting website The Spruce Crafts. 

While the practice of crocheting items has existed for centuries, the first recognizable amigurumi patterns were written in the mid-20th century, said the site. 

The items became well known as part of Japan's "kawaii" or "cute" culture.

WHAT IS GOOP? ALL ABOUT GWYNETH PALTROW'S CONTROVERSIAL SHOP

It was the adorable nature of amigurumi that first led Tiu to want to make her first crochet creation, she noted.

"I didn't realize that you can make something more than just like blankets and scarves," she said.

One of the unique aspects of a Woobles kit is the included "Easy Peasy Yarn."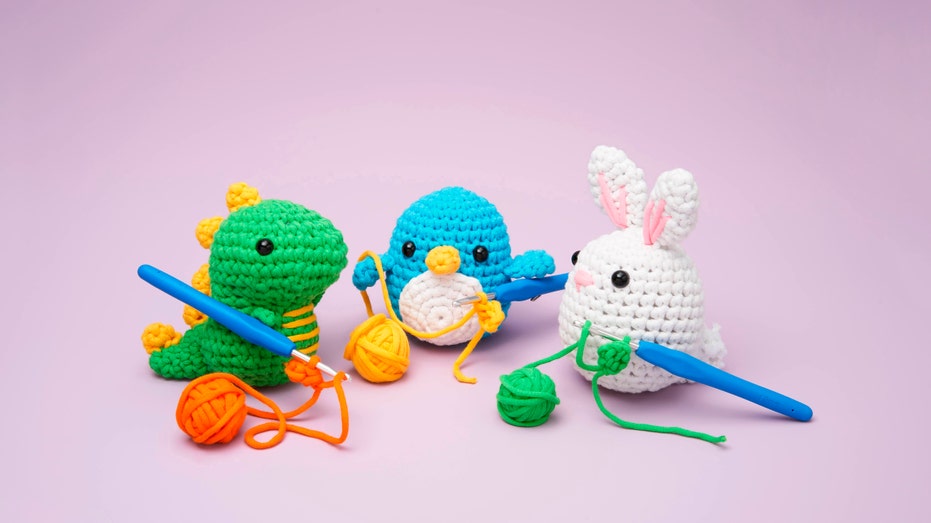 Tiu's favorite Wooble plushie is Fred, a dinosaur, pictured above on far left. (Dyad Photography / Fox News)

Unlike traditional yarn, Easy Peasy Yarn is a nylon/polyester tube that does not fray or split; the material makes it very easy to see the number of stitches in a round. 

The development of Easy Peasy Yarn came after Tiu saw people doing the correct motions for a crochet stitch — only to be stymied by getting their crochet hooks snagged in the yarn, she also said.

CLICK HERE TO SIGN UP FOR OUR LIFESTYLE NEWSLETTER

"My philosophy on design is always: The user should never be able to get into a bad state," Tiu continued.

Rather than tell the user to change, Tiu instead worked to find a yarn that would be "impossible [for] people's hooks to get snagged." 

"And it definitely has worked very well for them," she added.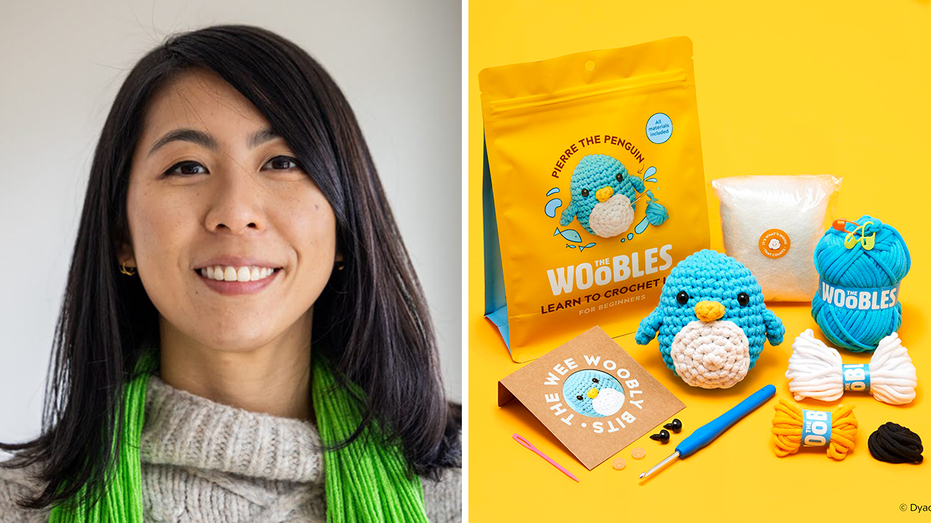 The Woobles' new amigurumi, "Toast," is only available on Walmart.com. (Peter Taylor, Dyad Photography / Fox News)

The Woobles' momentum does not appear to be slowing. 

On Friday, March 24, The Woobles announced its newest amigurumi, "Toast," the Shiba Inu.

Unlike the other kits, Toast is available only on Walmart.com. It's the first time The Woobles kits have been available through the retailer. 

CLICK HERE TO READ MORE ON FOX BUSINESS 

With over 40 different official Woobles in both the book and on the website, Tiu could be forgiven if she had trouble picking a favorite — but she does have one.

"I have a soft spot for Fred the Dino — but mostly because I like to say, 'Don't worry, he's mostly armless,'" she said.

Source: Read Full Article