Unfortunately, in life, not all good things are meant to last forever. As much as we hope, dream and strive for any sort of semblance of forever in our lives, the fact of the matter is that everything in life is transient. Even, for the most part, our relationships. For example, after over a year of trying to make it work, Cardi B and Offset are finally calling it quits. Of course, the news is devastating and everyone knows divorce is no easy thing to go through, but if you look at Cardi B and Offset's relationship timeline, I think we can all agree that the split might have been for the best.
Of course, the couple has had some high highs, like the birth of their daughter, Offset's on-stage proposal, their secret marriage and their many musical collaborations. But they've also had their fair share of relationship turmoil. Take a ride with me down memory lane to see what I'm talking about:
Jan. 20, 2017: Their first official musical collaboration is released.
The pair were first officially linked together when their collaboration track, "Lick" was released. The track came out on Jan. 20 as part of Cardi B's Gangsta Bitch Music Vol. 2 album.
Feb. 5, 2017: They're spotted on what seems to be a date at the Super Bowl.
Videos surface of the two of them at the Super Bowl together, sparking rumors that they may be more than musicians who've collaborated before.
"Around Super Bowl time I told my publicist to tell him, because I was very shy, 'Listen, if we gonna go on a public date together, you cannot make me look like a dumb-ass after this.' I never wanted to date a rapper because I would hate to look crazy in public," she later told GQ of the time leading up to their first date.
Feb. 14, 2017: Cardi B posts a Valentine's Day tribute to her "bae."
On Valentine's Day of 2017, Billboard reports Cardi B reportedly posted a since deleted video of her and her "babe" to Instagram. Based on what the two are wearing and the seats featured in the background of the video, reporters at Billboard guess the video was taken on their Super Bowl date.
March 17, 2017: Cardi B publicly denies relationship rumors.
Despite all of these hints that they might be together, in an interview with Fader, Cardi B denied any sort of romance. "I'm not saying I'm dating an Atlanta guy," she said as a direct reference to Offset.
Apr. 28, 2017: Offset also refuses to talk about it.
Cardi B wasn't the only one keeping quiet. When asked about rumors he was in a relationship with her by Tim Westwood, Offset responded with just a smirk.
May 1, 2017: They make another public appearance.
Billboard reports the couple made their second public appearance at a Met Gala after-party back in 2017.
June 22, 2017: Cardi B praises Offset in an interview.
While she still hadn't confirmed that she's dating him, Cardi B didn't hesitate to gush about Offset and his group, Migos, in a June interview with Fader. "It's been a blessing, me meeting him and meeting his friends. I see how hard they work. And that motivated me to work even harder," she told Fader about her friendship with Migos.
July 25, 2017: Cardi B shows off the chain Offset got her backstage at a Meek Mill concert.
Billboard reports Cardi B showed off a brand new chain that Offset got her, while backstage at a Meek Mill concert.
The designer of the piece posted a close-up of the chain on Instagram, along with the caption "Bloody Moves." Based on the way the hand is adorned with bright red nail polish, rings and a red bandana, people were led to believe the hand was meant to be Cardi's.
Sept. 20, 2017: They secretly tie the knot.
Although their fans wouldn't realize this until almost a year later, Cardi B eventually announced that she and Offset secretly tied the knot in an extremely small ceremony in September of 2017.
Oct. 23, 2017: Cardi B gets mad at Offset for reportedly stealing her blanket.
Yes, that's right. A blanket.
She later turned back to Twitter to clarify:
Oct. 27, 2017: Offset proposes to Cardi B on stage (even though they're already married).
To be clear: As far as the public was concerned, they weren't even officially dating yet. So this definitely came as a surprise.
Sometime in Jan. 2018: Offset is reportedly caught cheating.
According to Newsweek, rumors of Offset's cheating were first sparked by a video of him "engaging in a sexual act with another woman" that surfaced on the internet sometime in January. They note that it was unclear when the video was shot, but sources maintained that it was while he was with Cardi B. Newsweek also reported that Cardi B addressed the video at a show saying she would not get married if he got caught cheating again.
… which, of course, wasn't really a valid threat because they were already married.
Mar. 19, 2018: Cardi B explained why she's staying with Offset in an interview with Cosmopolitan.
"It's like everybody is coming down my neck," told the publication, "like, 'Why are you not leaving him? You have low self-esteem.' I don't have low self-esteem. Bitch, I know I look good. I know I'm rich, I know I'm talented. I know I could get any man I want—any basketball player, football player. But I want to work out my shit with my man, and I don't got to explain why. I'm not your property. This is my life."
She continued, "Since when are all these women dating pastors and deacons? I'm going to take my time, and I'm going to decide on my decision. None of these b*tches is going to eat my p*ssy at the end of the day. None of y'all b*tches going to hug me to sleep and clean the tears off my face, so let me deal how I want to deal with it. It's not right, what he f*cking did—but people don't know what I did, 'cause I ain't no angel."
Did everyone catch that last sentence? Yep, that's right. She hinted that she also cheated. Both partners already cheating just a few months into their secret marriage? I'd say that's some cause for concern.
Mar. 29, 2018: Cardi B releases an obvious warning to Offset with "Be Careful."
After publicly addressing in the Cosmopolitan interview the fact that she believes he cheated on her, but is going to try to make it work anyway.
The entire song is worth a listen of its own, but let me just point your attention to the chorus: "Be careful with me/ do you know what you doin'?/ Whose feelings that you hurtin' and bruisin'?/ You gon' gain the whole world/ But is it worth the girl that you're losin'?"
Message received, Cardi.
Apr. 7, 2018: Cardi B announces she's pregnant on SNL.
In a huge turn of events, Cardi B announces she's pregnant (with Offset's baby) on an episode of Saturday Night Live.
Apr. 9, 2018: She addresses cheating rumors again in a GQ interview.
"For a long time," she tells the publication of the time before their public engagement, "we was in love with each other but we didn't really trust in each other. It was like a competition of who's gonna hit each other up first. I don't want to hit him up first; he will hit me up first. People used to put things in my head: 'He gonna leave you. He be f*cking with mad b*tches.' People used to put things in his head: 'Cardi, she's a dog. Don't trust her.' We never really trusted each other because I always feel like he could get any girl he wants—what makes me think he's gonna want me? I think he felt the same way. N*ggas want to be with me, and b*tches wanna be with him."
In the same interview, Cardi B also spoke about how Offset makes her life better. "He's so attending in my business," she explained. "I don't really know the music business too well, so I always feel like people taking advantage of me. He's always making sure that I'm well taken care of or that I learn something."
May 7, 2018: They show up to the Met Gala separately.
While still very much together, the couple decided to show up to the Met Gala separately.
Offset showed up with the rest of Migos: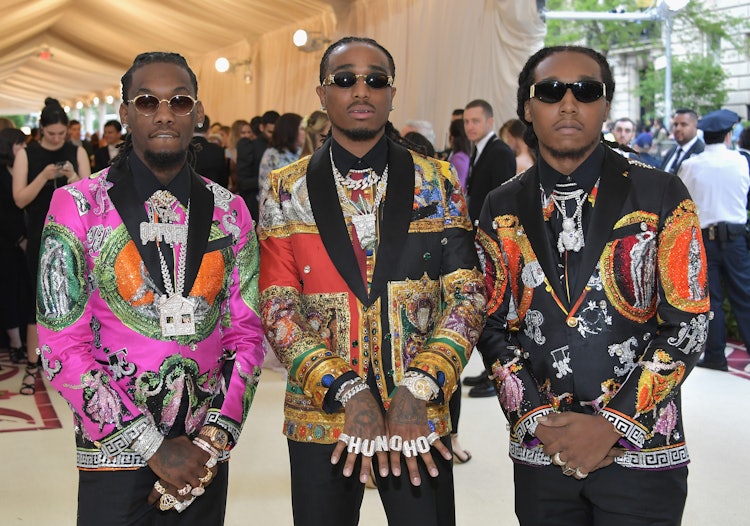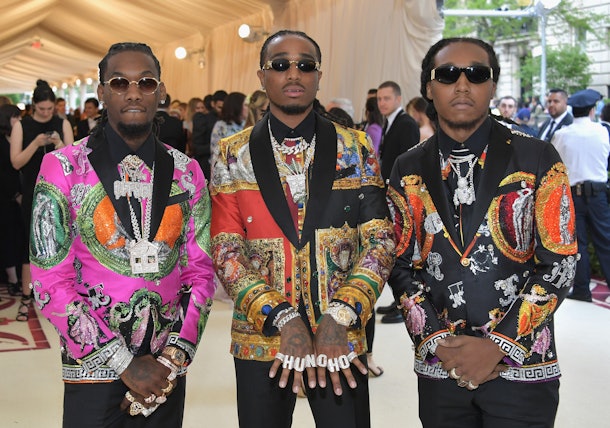 And Harpers Bazaar reports that Cardi B showed up with the dude who designed her dress, Jeremy Scott: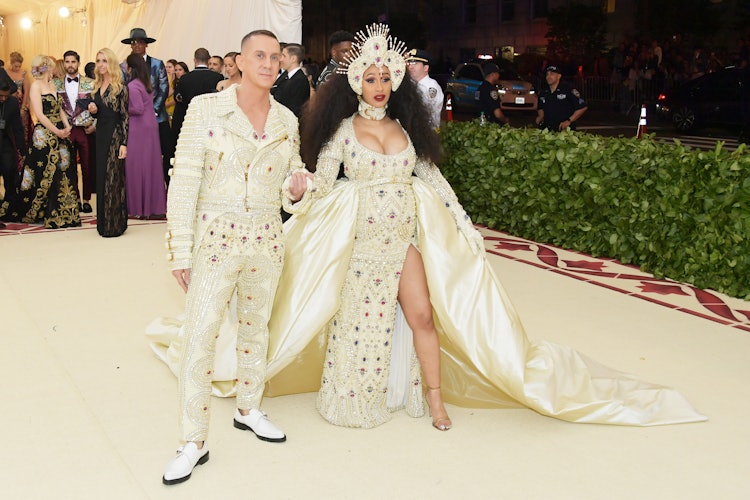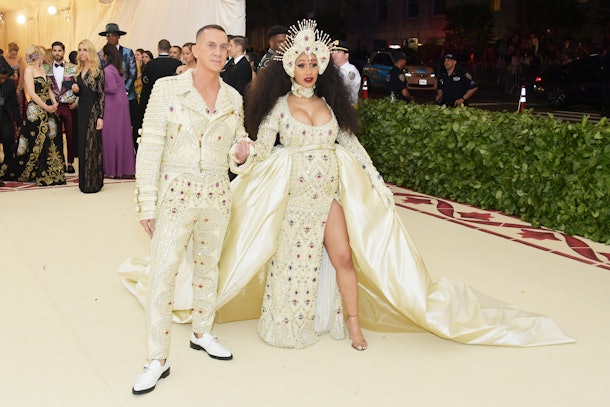 June 20, 2018: They cover Rolling Stone together.
The couple are featured together on the cover of Rolling Stone, with an image of Offset kissing Cardi B's pregnant belly alongside the caption, "Cardi B & Offset: A Hip Hop Love Story."
June 25, 2018: Cardi B admits they've already been married
After the news was leaked by TMZ, Cardi B came clean on Twitter and admitted she and Offset had already tied the knot.
July 10, 2018: Cardi B gives birth to their daughter and makes her name a tribute to Offset.
TMZ reports that, as a tribute to Offset (whose real name is Kiari Cephus), they decided to name their daughter Kulture Kiari Cephus.
Oct. 9, 2018: Cardi B addresses cheating rumors yet again.
"When I got married with my dude, we still had a lot of doubts, because our relationship is not like everybody's," she told W in an interview. "He was always traveling, and I was always traveling. We're artists. So I used to see him, like, twice a week, and, you know, he's known for having different women, and I'm known for, like, not taking sh*t from guys. But we really loved each other, and we was scared to lose each other."
Dec. 4, 2018: Cardi B announces that they're calling it quits.
Yesterday, Cardi B took to Instagram to post a video announcing her amicable split from Offset.
https://www.instagram.com/p/Bq_pb64Fzl8/
Of course, hearing a couple who was once so in love has finally decided to call it quits is never good news. That being said, based on all of the drama that's plagued their relationship thus far, I think it's safe to say this decision was probably the best for both parties involved.
Source: Read Full Article