Queen Bey bows down to the Duchess of Sussex. In honor of Black History Month, Beyoncé wrote a sweet tribute to Meghan Markle that celebrates her charity work and how she's changing the royal family by being "one of the few Black women to join" it. Best of all, though, this ode to Markle also shows just how much Beyoncé admires this "Melanated Mona."
Throughout the month of February, Beyoncé has been celebrating Black actors, performers, designers, and activists on her website in a series she calls "We Good." Her latest post, shared Wednesday, Feb. 20, celebrated Markle, who in Bey's opinion is using her celebrity for good. "Meghan's charitable work in communities of color began years before becoming the Duchess of Sussex," Beyoncé wrote.
Even before she joined the Royal Family, Markle has been very active in charitable causes. As a global ambassador for World Vision, the world's largest international children's charity, Markle traveled to Rwanda to see first-hand the importance of clean water in the lives of young children, "an issue," Beyoncé wrote, that "is near and dear to our hearts." Beyoncé also pointed out that Markle previously worked with the Myna Mahila Foundation, which addresses menstruation challenges in India. It was one of seven charities that Markle and her husband Prince Harry asked their wedding guests to donate to in lieu of gifts.
Throughout her relationship with Prince Harry, Markle has made a point to celebrate her culture and identity, something that didn't go unnoticed by Beyoncé. "Meghan brought many Black traditions to her Royal Wedding including a Chicago-based Black pastor, an amazing gospel choir, and a young Black cellist," she wrote. "At the wedding her culture was front and center, and she and Prince Harry have continued to push the race relations dialogue forward both near and far."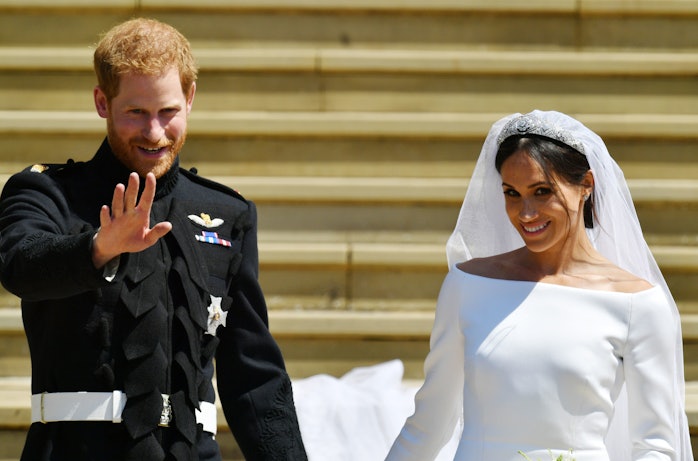 It's true that what many people saw when they watched the royal wedding last year was a celebration of not only Prince Harry and Markle's love, but her culture. This included a break with royal wedding tradition by inviting Reverend Michael Bruce Curry, who ended up stealing the show.
This written tribute comes just a day after Beyoncé referenced Markle in her acceptance speech at the 2019 BRIT Awards after she and hubby Jay-Z won for Best International Group. Standing in front of a portrait of Markle, painted in the style of the Mona Lisa, Beyoncé thanked the awards for their support.
But, the internet was thanking Bey and Jay for this viral moment that was a callback to their video for "Apesh*t," which was set in the Louvre and featured an iconic shot of the two artists standing in front of the real Mona Lisa.
This image of Markle, while museum-worthy, was first created by Markle's sorority, Kappa Kappa Gamma, for the summer 2018 issue of their magazine, The Key. It was also made by Brooklyn painter Tom O'Brien, who famously painted the portait of Beyoncé looking like the Queen that she is.
The Guardian's Laura Snapes pointed out that standing in front of this portrait felt like a dig at the British media that has been especially severe towards Markle. "Wow at Beyonce and Jay-Z not only making an acceptance video," Snapes tweeted, "but doing so in front of a portrait of Meghan Markle. Very classy, pointed support of a black woman being treated repulsively by the UK tabloid."
Recently, George Clooney also called out the U.K. media for how it's covered Markle throughout her pregnancy. "She's a woman who is seven months pregnant," he promoting Hulu'sCatch-22. "And she has been pursued and vilified and chased in the same way that Diana was and it's history repeating itself."
But, with her BRITS acceptance video and her tribute to the Duchess, it's clear Beyoncé only has love for Markle. "In honor of Black History Month, we bow down to one of our Melanated Monas," she wrote on her website. "Congrats on your pregnancy! We wish you so much joy."
Now, what we really want to see is a meeting of our favorite royals, Beyoncé and Markle. Though, honestly, the internet probably wouldn't be able to handle that.
Source: Read Full Article