Attack on Titan Season 4 Part 2 is approaching its final episode, and fans are eager to see where the anime will leave things in the finale. Although many expected this outing to wrap the series, that's looking less and less likely with how much of Hajime Isayama's manga is left to adapt. Still, we won't know where things stand until the next installment arrives. So, what's the release date and time for Attack on Titan Episode 87?
'Attack on Titan' Episode 87 release date and time
Attack on Titan Episode 87 — or episode 12 of season 4 part 2 — will stick with the anime's Sunday release schedule. However, it will be delayed by one week. According to the Attack on Titan website, the finale will be broadcast in Japan on April 3 instead of March 27. This is due to a special program that will air during the anime's usual time slot.
As for when the next installment will drop on streaming platforms, the time doesn't appear to have changed from Attack on Titan Episode 86. That means fans can expect episode 87 in the afternoon on Sunday, April 3. Here's when it drops in the following time zones:
PST: 1:45 p.m.
CST: 3:45 p.m.
EST: 4:45 p.m.
GMT: 8:45 p.m.
CET: 9:45 p.m
With the fate of humanity hanging in the balance, fans are no doubt eager to get their hands on Attack on Titan Episode 87. The extra week in between episodes makes that wait even more excruciating. But where can fans tune in when the next installment finally does arrive?
Where to watch new episodes of 'Attack on Titan'
Following Attack on Titan's broadcast in Japan, episode 87 will debut on Crunchyroll, Funimation, and Hulu. New episodes appear on each platform at the times listed above.
Each of these streaming services requires a subscription. So, if you're working through season 4 for the first time, you'll have to purchase one to enjoy the new installments.
Hulu subscriptions total $6.99 per month, Crunchyroll subscriptions begin at $7.99 per month, and Funimation starts at $5.99 per month. (It's worth noting that Crunchyroll and Funimation are in the process of combining their platforms.)
Regardless of which streamer fans use to watch the Attack on Titan Season 4 Part 2 finale, one thing is certain: this outing is sure to go out with a bang. What exactly can fans expect from episode 87 when it finally arrives?
What can fans expect when episode 87 arrives?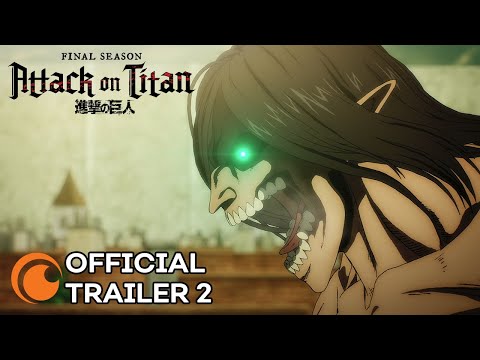 So, what can Attack on Titan fans expect when episode 87 arrives? Season 4 Part 2 has been building to a confrontation between the alliance and Eren, and they're likely to reach him before this chapter is through. Whether he'll be willing to hear his friends out — or force them to resort to other measures of stopping the Rumbling — remains to be seen.
Many are doubtful that this finale will actually conclude the series, since there's no way the anime could adapt the remaining chapters of the manga in one 24-minute installment. There's also the possibility of an anime-original ending. However, we won't know if that's on the table until the next episode airs.
The preview for Attack on Titan Episode 87, which will be titled "The Dawn of Humanity," doesn't reveal much about how things play out for the alliance. Instead, it takes viewers back to Eren's initial meeting with Zeke, reminding them that "everything had been willed by him."
If nothing else, that promises to tie everything that's happened so far together. We'll have to wait until April 3 to see how exactly the anime manages to do that.
Source: Read Full Article