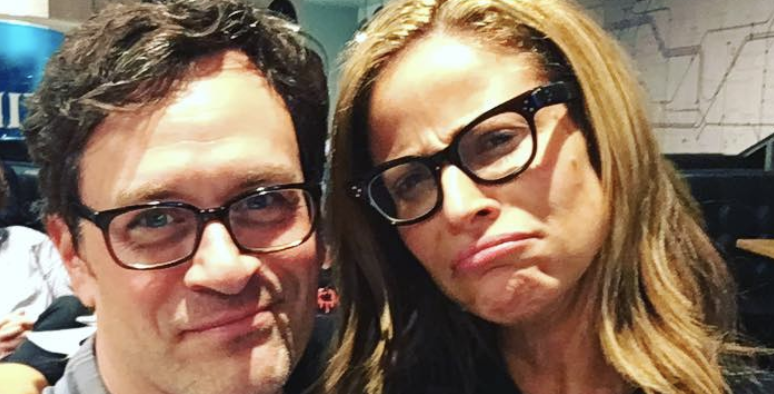 Andrea Savage from I'm Sorry recently posted a highly comical video of what she was like recovering from surgery. The comedian's latest episode was a true story about how she had surgery to remove excess breast tissue.
The episode, titled, Extra Boobs recounted a time when Savage visited her physician to learn that in a small percentage of women, breast tissue can meandor to other areas of the body. In Savage's case it was under her armpits.
In true form, Savage severely poked fun at the situation and (somehow) made the entire scenario funny in the episode. She also tweeted additional information about the condition, "This isn't to scare you. This is to inform you. Trust me. #survivor New episode #ExtraBoobs TONIGHT in mere minutes #[email protected]#strapin ENJOY??"
This is the best way to treat this condition
View this post on Instagram
First of all, if this isn't interesting to you. Move along. This isn't for you. Stop grouching. Okay, we have been getting so many questions about my character's clothes this season, so here are the details of some of the wonderful t-shirts, sweatshirts and jeans all hand picked by our fantastic costume designer @mayalieberman! I will admit, most of these somehow found their way to my home closet. I ❤️ them. Scroll through for the tags and info. (I am sure there is a better system to relay this info, but this is all I could figure out. We shot #season2 last summer, so I am not sure what is still available. God speed.) #imsorrytv #wardrobe @trutv
A post shared by Andrea Savage (@andreasavage) on
Axillary breast tissue only occurs in 2% to 6% of women. Often in the armpit area, the extra tissue may feel lumpy and even sensitive at times. During the episode of I'm Sorry, Savage described similar symptoms to her doctor.
Some women may reduce excess tissue using liposuction. The surgeon eliminates noticeable scarring by placing the incisions in the folds of the armpit. Following the surgery, patients may feel some discomfort, bruising and swelling.
Savage decides to try out for 'Hamilton' in the recovery room
View this post on Instagram
Repost from 2017, waking up from the real (3 hour plus) #Armtit surgery- a two part video: Let me first say, I truly have no memory of any of this whatsoever. But my husband recorded me performing, what I think we can all agree is an extremely powerful audition for a new @hamiltonmusical tour. #drugs #NotEddieMurphy #allHamilton #linmanuelmiranda #Bornwithit #WhyWouldIPostSomethingThisEmbarrassing #IKnowILookTerribleNoNeedToCommentOnIt #SOMANYDRUGS #ShockedWhatISaidWasntWorse #HerculesMulliganForever #AndPeggy #imsorrytv @trutv @netflix
A post shared by Andrea Savage (@andreasavage) on
In true comedic form, Savage was filmed in the recovery room and she was nothing short of hilarious. She posted the 2017 video to Twitter and Instagram. Some fans noted that she is wearing the same glasses after her real surgery that she wore in the episode too.
She wrote, "2017, waking up from the real (3 hr!) #Armtit surgery: Let me say, I have literally no memory of this." She's seen coming out of the anthesia saying, "You know what song is in my head?" Alexander Hamilton..."
Savage then belts out a number of tunes from the Broadway musical Hamilton. She is grinning the entire time, with eyes at half mast. She even seems to crack herself up and breaks into gales of laughter. In between songs she adds, "I almost woke up like a human D.J." She also wondered if she should go on the road with a Hamiton cover band or just join the Broadway show.
Check out The Cheat Sheet on Facebook!
Source: Read Full Article