As a giant of Australian art, Sidney Nolan's work and life have long occupied historians and gossip mongers. But until now, little was known about an event that had a devastating and lasting impact. It took an amateur sleuth from Sydney to piece together the story of Nolan's 1962 visit to Auschwitz.
Andrew Turley was a former soldier running his own advertising agency when he and his partner, Rachael Ash, stumbled into a Sydney auction house in 2012. Turley knew little about Australian art but among the works being offered for sale was a 1963 Nolan work called Gorilla, featuring a traumatised creature set against an African mountainscape.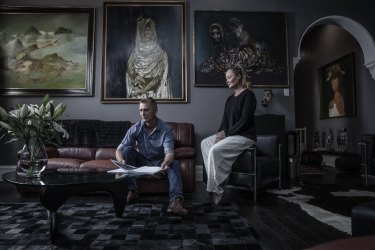 Andrew Turley and Rachael Ash with works by Sidney Nolan, including Gorilla, far left.Credit:Louie Douvis
"It struck us immediately," Turley recalls. "Because we had travelled to Africa, we felt something behind the paint that really connected with us."
What happened next "scared me shitless", Turley says now. The couple decided that Nolan's Gorilla had to be theirs. "All the money went into that painting," he says. "It was utter madness."
The auction house had little information about the work, so Turley began digging. Gorilla was, he discovered, part of a series of around 90 paintings completed by Nolan between December 1962 and February 1963, following his journey through Africa with his then wife, Cynthia.
For Turley, what began in 2012 as a chance discovery turned into an eight-year obsession; the couple now own four of the Africa works, along with other Nolans, and Turley's tireless research has culminated in a yet to be published book called Nolan's Africa.
A curator holds Untitled (Concentration Camp) from a series of artworks by Sidney Nolan related to the Holocaust. Credit:Joe Armao
"I like to go back and find the untold story," he says. "It was almost like being a detective. You have to … connect the pieces of the jigsaw."
Among the jigsaw pieces Turley uncovered in the Nolan archive in Melbourne was a haunting series of works relating not to Africa, but to Nolan's journey from London to Auschwitz earlier the same year. Before leaving for Poland, Nolan completed more than 100 works on paper depicting Adolf Eichmann, who at the time was facing trial in Israel, and victims of the Nazi Holocaust.
Art consultant and curator for the Nolan estate Mark Fraser says these preparatory works "were highly personal and done with great intensity".
"A lot of the images are quite shocking – there are carts with bodies on them, there are the chimneys … They're very, very moving. He produced quite a few of them over the space of a couple of months and then they were put away, and to some extent, rather forgotten."
Nolan went to Auschwitz with his friend Al Alvarez, the poetry editor of London's Observer, in January, 1962. The paper had commissioned the pair to record their impressions of the Nazi death camp but Nolan was so "absolutely devastated" by what he saw that he abandoned the commission, Fraser says. The visit did, however, leave a lasting impression on his work.
"Soon after this Auschwitz series, Nolan went to Africa and produced a series of portraits and … animal paintings,'' Fraser says. ''These are often just seen as part of his love of travel … as animal pictures, or portraits. But again, one of the underlying themes was Auschwitz."
Antony Mottershead, acting director of the UK-based Sidney Nolan Trust, describes the Auschwitz works as "a very unknown aspect of Nolan's practice". Guided in part by Turley's research, the trust has been working on an exhibition including some of these works, along with Nolan's photographs of the camp.
Andrew Turley in Cambodia in 1992.
When Turley saw the Holocaust images a couple of years ago, they evoked his own memories of a more recent genocide. In 1992 Turley led a UN team in Cambodia dealing with the minefields and mass graves that were a legacy of the murderous Khmer Rouge regime.
"My personal feelings about the Holocaust … sort of came together with my history in [Cambodia]," Turley says. "Nolan was driven by emotion, and it affected him so deeply. With that, we have a commonality. I abhor injustice and the Holocaust is an event that has brought the two of us together. I've seen it firsthand, he saw it firsthand, and there was a common acknowledgement that it needs to be addressed openly … it's extremely important that the history of the Holocaust is never forgotten."
International Holocaust Remembrance Day is on January 27. The Sidney Nolan Trust's Holocaust exhibition will run May 28 – July 18. More information here.
Most Viewed in Culture
Source: Read Full Article