ICYMI, a new season of Queer Eye is dropping on Netflix, and yeah, we can only imagine how beautiful and weepy it's going to be, considering the show's previous seasons. (Who else can already feel the tears rushing down their face?) The show continues to be a very bright spot among all the true crime shows on your screen, as Antoni Porowski, Bobby Berk, Jonathan Van Ness, Tan France, and Karamo Brown (aka the Fab Five) work their asses off to make sure people look and feel their best. Self-love is the most important kind there is, you guys!
But speaking of love, if you're new to the amazingness that is this show—nay, this Queer Eye MOVEMENT—then you're probably wondering if the cast has found romance for themselves off-camera. So, here's the scoop. JVN is currently single and fabulous, Antoni has a new EXTREMELY hot boo, Karamo is engaged to a total hunk, and Tan and Bobby are making married life look damn f-i-n-e. Meet the lucky men who have managed to snag your faves.
Tan's Husband, Rob France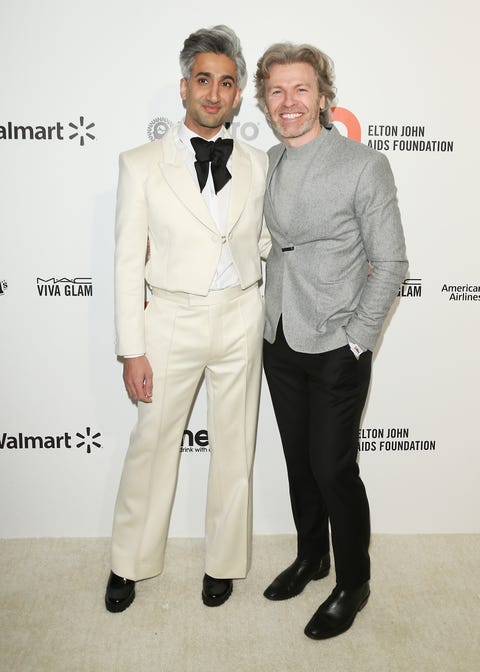 After meeting on a dating site in 2008, Rob and Tan are happily married and live together in the great state of Utah (but obviously they spend a ton of time chilling in L.A. and NYC due to Tan's busy celebrity schedule). Much like Tan, Rob is a silver fox, but unlike the British Tan, Rob grew up in Wyoming, where he was raised Mormon. The most fascinating thing about Rob, however, is that he's a brilliant illustrator:
And he's also a registered nurse! In a 2015 interview with City Weekly, Rob said, "I'm currently a full-time pediatric nurse, which I absolutely love, and I do artwork on the side. I'm passionate about women's fashion, oddly, and horror/sci-fi films. I married a European, which is the best thing that ever happened to me, and although the world still intimidates the small-town kid in me, I try to get out and travel often." Aw.
Tan and Rob's love story is super cute, but their engagement was actually quite low-key. "You know, there wasn't an actual proposal," Tan revealed on Queer Eye. "It was a case of, 'We're going to get married one day, right?' 'Yeah, of course we are.' We just had agreed it was going to happen one day and then we arranged the date." Omg, guys, stop. You're killing me.
Can't wait for these two to start having babies because apparently Tan wants a lot of 'em! "I truly do want six. I will settle for minimum four. And no, six is not loads. It's just enough," he told the Press Association.
Karamo's Fiancé, Ian Jordan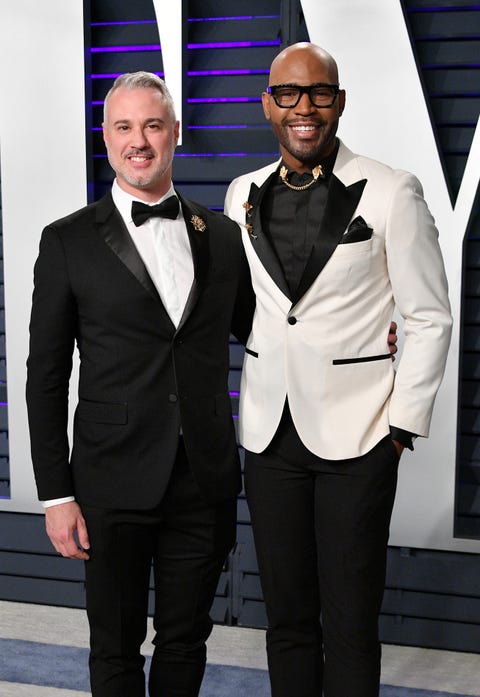 Karamo and Ian have been a couple for 9 years—almost a decade! They met in 2010 outside of a nightclub in Los Angeles—that's love!—and it sounds like Karamo made the first move. After spotting Ian, he playfully picked him up off the ground, which, as you can imagine, was somewhat startling to Ian at first. "When I picked him up," Karamo told Yahoo!, "he started hitting my head, saying, 'Put me down!' And when I put him down, he looked at me and said, 'Oh, hey, you can pick me back up.'"
Karamo made things official by popping the question in May 2018. We don't know too many details about their impending nuptials (although, apparently, it's scheduled for October 2020), but Karamo did describe his wedding wishes with this iconic sentence: "I want an extravaganza, baby." And he's hoping to low-key recreate Priyanka and Nick's flashy wedding. "Let me tell you something, Priyanka and Nick Jonas are my goals," he said. "I mean, I'm doing well financially, not as well as them, but I'm trying to figure out how can I recreate what they had because I loved it," he told Martha Stewart Weddings.
Just when you thought they couldn't get anymore perfect, Karamo proposed to Ian again on his birthday (which was during quarantine) since their wedding got pushed back due to the COVID-19 pandemic.

Here's their cute Insta announcement:
These two are next-level adorable and are constantly loving on each other via IG. Like, look at this:
THE re-proposal. Yup, I'm just a huge puddle of tears rn.
Ugh, and my heart can't handle this:
Or this:
AH And they were actually able to IRL wedding advice from Nick and Pri! I'm screaming!!
Not that much is known about Ian, although we do know that he makes his living as an assistant director and even worked on the Sprouse brothers' gem of a TV show, The Suite Life of Zack and Cody.
Bobby's Husband, Dewey Do
Bobby and his husband Dewey have been together forever, and they're still so in love. Not much is known about Dewey (he's private on Instagram), so here are some fast facts for ya: He and Bobby have been married for seven years, they live in Los Angeles, and Dewey's a maxillofacial surgeon.
And just look at this precious throwback picture of them!!!
Antoni's Boyfriend, Kevin Harrington
Antoni clearly has a thing for gorgeous guys (same). He dated the impossibly sexy Joey Krietemeyer for seven years, but according to reports, the couple ended things in October 2018. Then he moved on to another hunky man, Flipping Out star Trace Lehnhoff, in September 2018, but then called it quits after almost a year together in August 2019.
As of October 2019, just a few months after he parted ways with Trace, he started dating New York-based strategic planner Kevin Harrington. His work involves advertising and brand positioning with different companies—he's worked with top names like Adidas, Hershey's, and Heineken per his personal website.
Their first public picture together was taken at Heidi Klum's annual Halloween party in New York City. Ugh, we love a matching couple moment:
They even spent Thanksgiving together.
Antoni brought Kev to Taylor Swift's 30th birthday party where they snapped a photo with the singer and Gigi Hadid. Totally casual.
Aren't these two the CUTEST?!
Jonathan Van Ness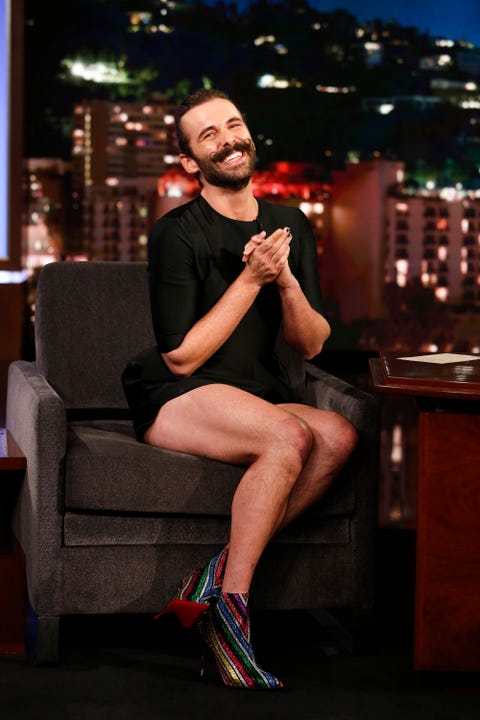 Jonathan (or JVN, as he's affectionately known) is currently the only unattached member of the Fab Five. After saying a sweet "thank u, next" to his former boyfriend, Wilco Froneman, Jonathan is single and ready to mingle, hunny! But TBH, he's focusing on his budding skating career and super successful podcast right now. If you're feeling down or lonely for not having a boo, JVN is happy to remind you that you. are. that. b*tch and that you should always celebrate YOURSELF and your friends and family who you love most!!
"We are taught so much to find value in everything outside ourselves," he wrote in an Instagram post. "The validation of others or in this case the validation of 'the one' that will make you whole. Hunny news flash you're whole…Don't let yourself feel some kind of way."
Source: Read Full Article