Now that your tree's been decorated, the next thing you need to do is snap a pic of your masterpiece. If you're a dog mom, you know who needs to help you show it off in style. An adorable picture of your furry friend posing in front of the Christmas tree will bring on all the likes when you decide to post on Instagram. You can also use any of the pictures you capture as your holiday card this year to send to family and friends. Thankfully, you have a jolly pup who's game to spread the holiday cheer, just like these pictures of dogs and Christmas trees.
There's nothing that says "Happy Pawlidays" more than a sweet pup striking a festive pose. If you have a fur baby at home, consider taking a Christmas tree pic of your own, and posting it on Instagram with just the right caption: "Happy Howlidays, from our family to yours."
If you need a little help coming up with the right pose for your pooch, these eight dogs are here to sleigh. I'm telling Santa right now, he doesn't even need to check his list twice, because all dogs are on the nice list and deserve some new toys and a fresh bone.
1

This Pooch Is Ready To Sleigh Sweater Weather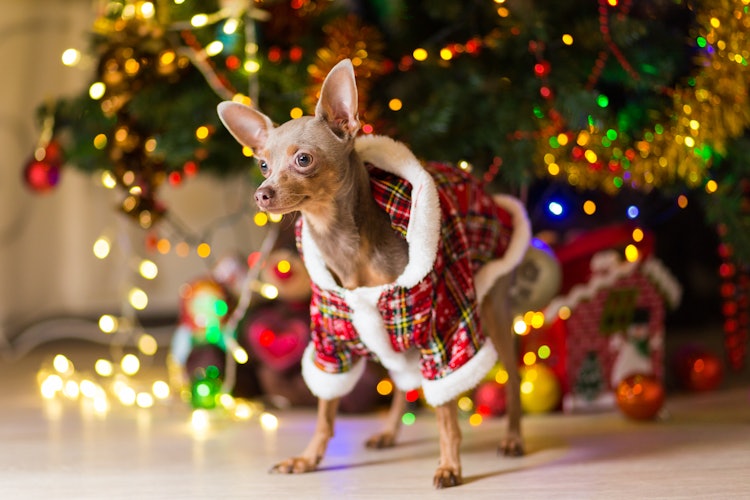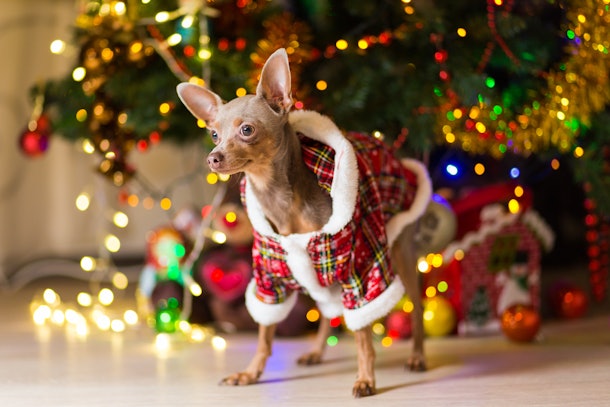 The idea of a pup posing with a Christmas tree was adorable enough, but add a festive sweater into the mix, and it's cuteness overload. I wonder if this pup has more than one sweater in his wardrobe, and is planning out a #25DaysOfSweaters reveal leading up to Christmas. It's clear this dog is already winning the holiday season.
2

This Dog Is Giving Off Dapper Vibes In His Fancy Bow Tie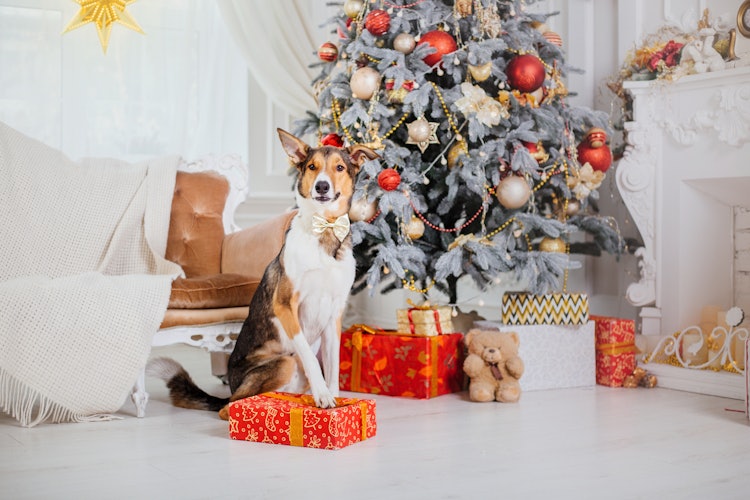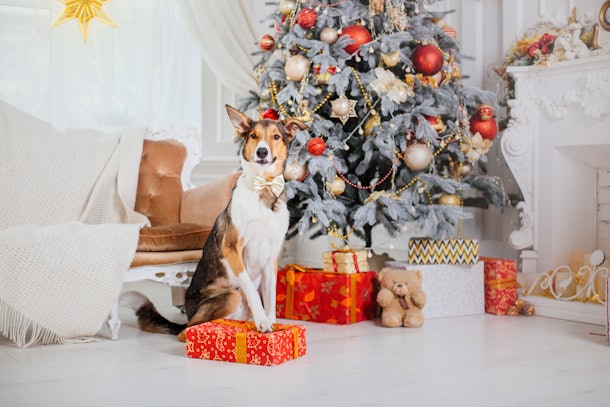 You've seen dogs in sweaters and coats, but have you seen a dog rocking a bow tie as fancy as this one? This pup is ready for any holiday party invite that comes his way. He also knows how to strike the perfect pose with one paw up on the presents to get that regal #lewk.
3

Can You Handle This Festive Cuteness?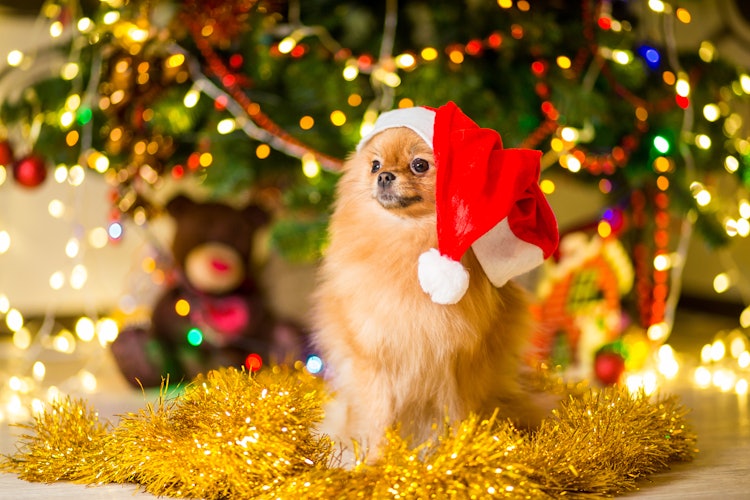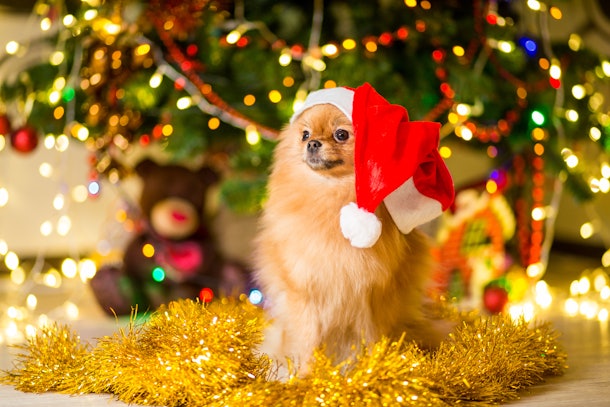 Just look at this fluffy pup rocking that Santa hat like a pro. It may be too big for his head, but he's so ready to spread the Christmas cheer. Happy Pawlidays, pup!
4

This Dog Is Showing Off His Balancing Act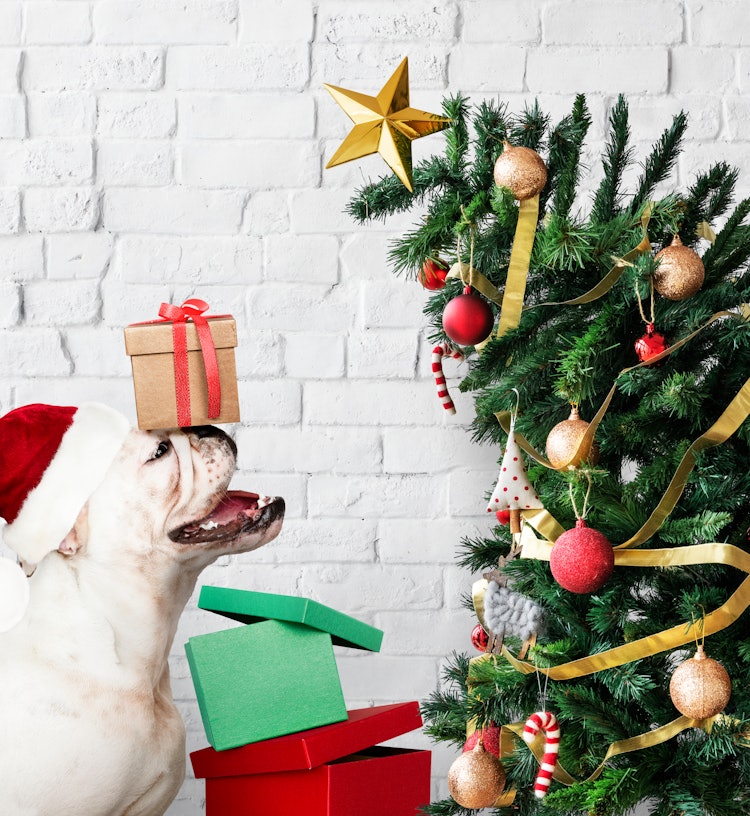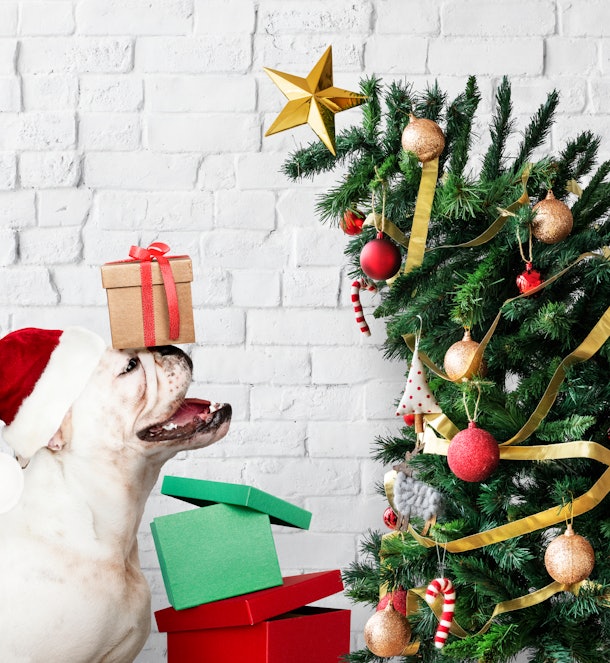 This dog may be able to balance a present on his nose, but it appears his Christmas tree is a little off-balance. Silly pup! No matter the lopsidedness, this pup deserves a treat for the tricks he can do.
5

Have Yourself A Puggin' Good Christmas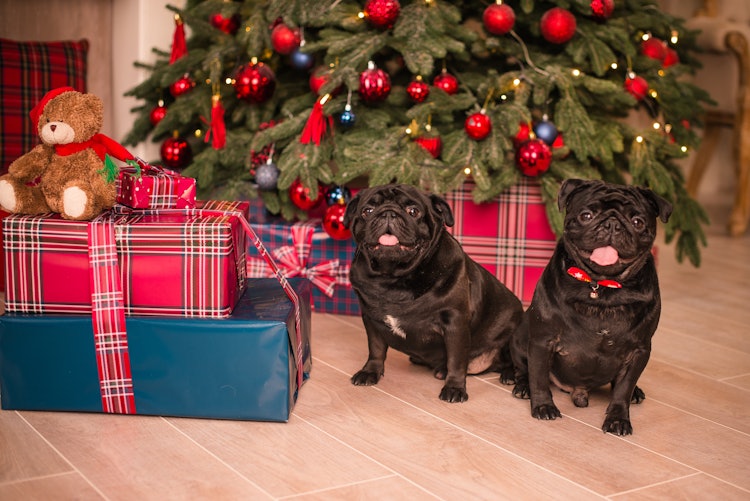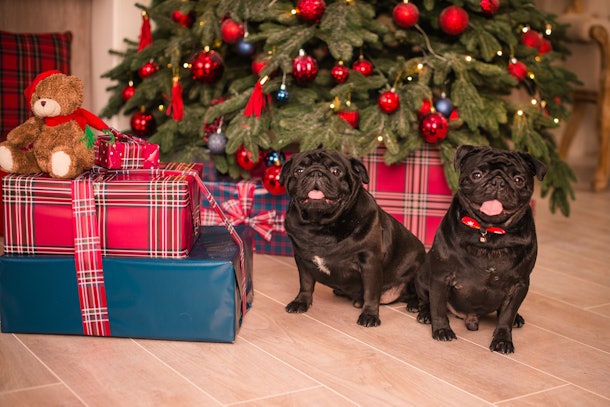 These pugs sure know how to pose in front of a tree with tongues out and smiles on their faces. If you have a sweet pug at home, you need to snap a holiday pic and use a pug pun to caption it. For instance, a photo as great as this deserves a funny caption like, "No bah humpugs here."
6

This Pup Is So Red-y For Christmas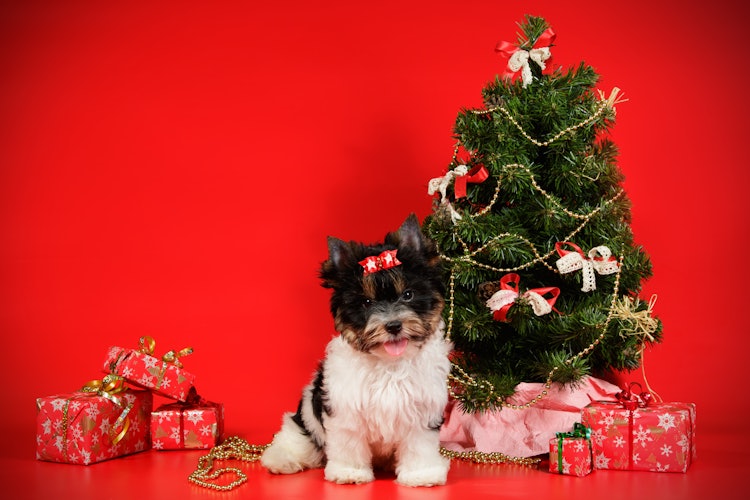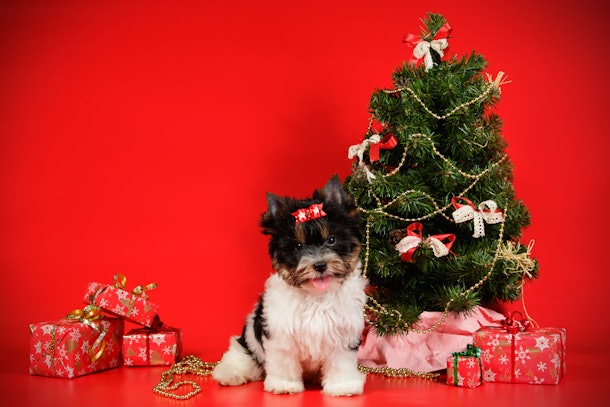 There's nothing that pops more than bright red next to a green tree. It instantly puts you in the Christmas spirit. Add in some cute AF bows like this pup has on, and you've got yourself an adorable shot.
7

There's Smiles All Around When Looking At This Happy Pooch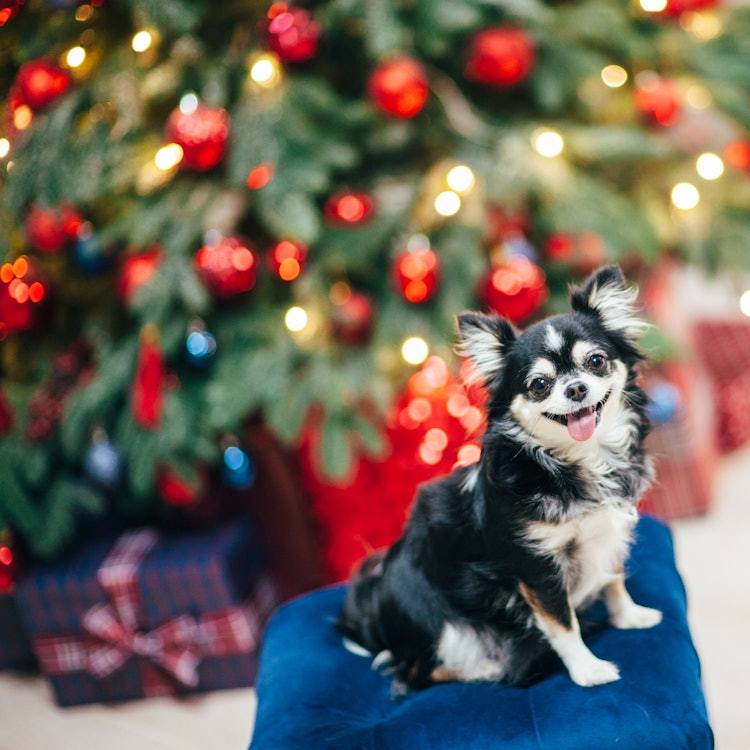 Just like you are way too excited for the holiday season, your dog is likely already digging out his flannel PJs. You can't help but smile when a fur baby is grinning ear-to-ear like this little guy.
8

This Pup Is Snow Cute With His Snowman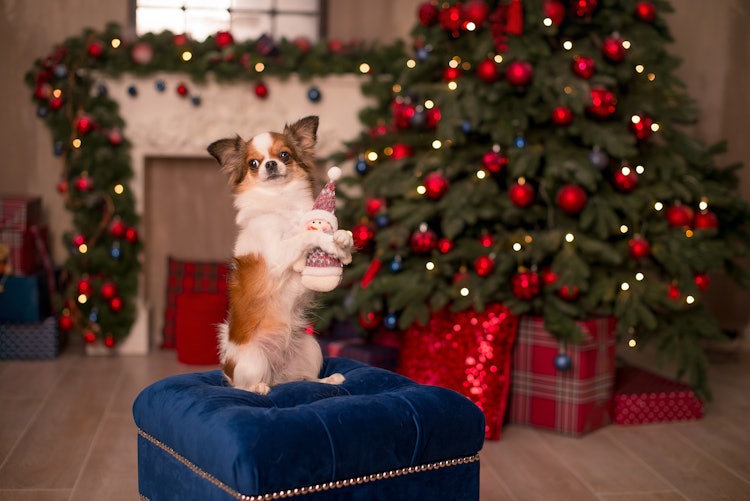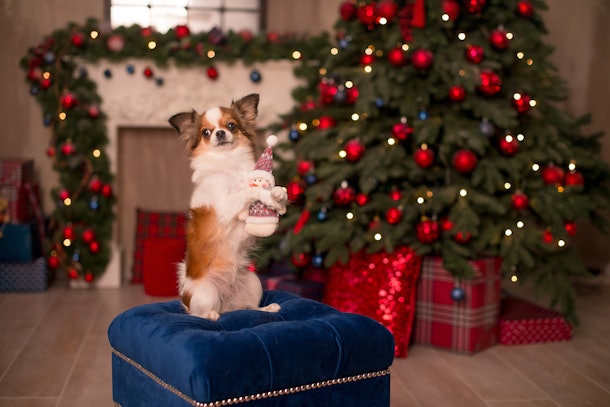 If your pup is going to pose for the camera like a champ, they of course deserve a treat and a new holiday toy! I mean, just look at how stoked this pup is to pose with this snowman. They look like the best of friends.
Source: Read Full Article