Remember when the rules of footwear, particularly with athletic shoes, meant that sneakers were only acceptable to be worn when playing sports or engaging in some sort of physical activity? How the times have changed. Thanks to the thriving athleisure trend and the endless array of sneaker options on the market, your favorite kicks are no longer just relegated to the gym. But can guys really wear a suit with sneakers? Suit-and-tie guys have suffered long enough with aching feet from wearing dress shoes to the office day in, and day out, but are we there yet?
To be honest, this concept isn't brand spanking new. Celebrities like David Beckham, Bradley Cooper, and Will Smith have experimented with the suit and the stylish sneaker pairings for some time now, but without a celebrity stylist to supervise your daily dressing, the results can be a disaster for the average Joe. You work your butt off to get to a promotion, but one step in the office looking like a mess and you could be taking a step back in your career.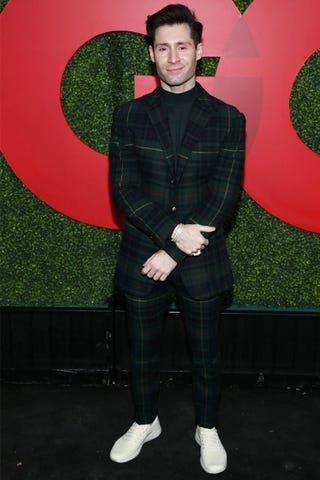 Getty
Twin brothers Adam and Ryan Goldston know a thing or two about pulling off a successful suit and sneaker combo. The duo are former college athletes who founded Athletic Propulsion Labs (better known as APL), the popular luxury performance brand whose running and training shoes are worn by everyone from Floyd Mayweather, to Joe Jonas. Not only do many APL styles make the ideal footwear companion for a suit, but co-founder Ryan in particular has long pulled off the trendy-yet-tricky combination like a champ. As the company reaches its 10-year milestone, here are some practical tips he shared with MensHealth.com on what guys should know before trying out the suit with sneakers look.
Check the Length and Cut of Your Pants
For Ryan, the most important thing when wearing a suit with a sneaker is the cut of the pant. "I always wear my pants shorter, at least anywhere from ½ inch to 1 ½ inches above the top of the shoe so that I have no break on my pants," he says. In addition, he suggests wearing a taper pant, which lends itself well to the short hem. While you don't necessarily want your sneaker to grab all the attention, the right proportions in your pants can make them a welcome focal point that complements your choice of formal clothing.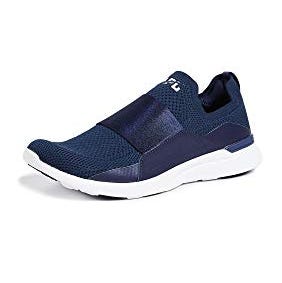 The Sneaker Shape Matters
APL launched running footwear in 2014, and Ryan says that the popular TechLoom Bliss and TechLoom Breeze styles are some of his go-to's for suit and sneaker styling. "At the CFDA awards, I wore a dusty pink Richard James double-breasted suit with our Bliss," he recalls. Ryan explains why shoes like the Bliss and Breeze work. "It's slim on the foot, not as bulky, and looks more streamlined with the pants," he says. And when it comes to color, a single-solid hue typically works best if you want to look polished. Wild patterns and dizzy prints can throw the whole look off.
No Tie Needed
When it comes to sporting a suit and sneaker combo, don't assume your only option is to wear a button-down and tie. Some popular alternative include slim-fit polos, lightweight sweaters, and basic T-shirts, too. "I also like to wear a mock-neck or turtleneck to give the look a more casual feel," says Goldston. "It all depends on how you tie everything together." In a business casual work environment or cool cocktail event, these less traditional alternatives provide a nice contrast to your sharply-tailored suiting for effortlessly cool style.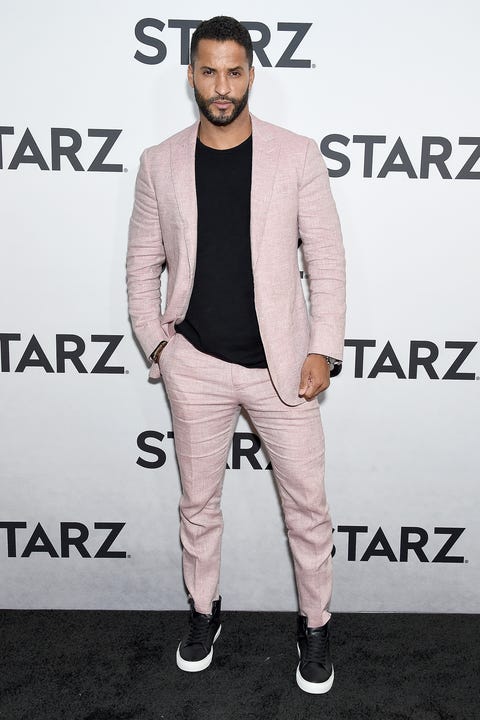 Getty
Follow these helpful tips for sporting a suit with sneakers and there's no reason why you wouldn't be able to pull off this cool and comfortable trend. Need some help getting started? APL has a wide selection of suit-friendly styles in a variety of colors available now on their site.
Source: Read Full Article