Over the knee boots, oversized hoodies, and baby doll dresses are Ariana Grande fashion staples. Apparently, so are loofahs? Ariana Grande's Billboard Woman of the Year dress looks like a loofah, and that's not coming from the shady side of the internet either. That's coming straight from Grande's mouth. Honestly, though, the "Thank U, Next" singer may just be the cutest loofah ever.
On Thursday evening, Ariana Grande was awarded the Billboard Woman of the Year award, and while her speech may have been both inspiring and low key bleak (she actually said this has been the worst year in her personal life. Poor Ari!), she looked great giving it.
According to talented (and inclusive) designer Christian Siriano, Grande was wearing one of his creations, and it's so her. The dress is a lavender hue that definitely gives some "God Is A Woman" music video vibes. As for the design, the piece is strapless with a straight neckline and the bodice is fitted to Grande's waist. It's the bottom, however, that seems to have earned it the loofah comparison from Grande.
The dress features a bubble skirt with gathering around the entire bottom, and its mini dress length is definitely serving loofah looks.
Of course, just because Grande cracked a joke about the dress looking kind of like a loofah (which is true), she clearly loves the design. Not only is it a custom, pre-Fall Christian Siriano design (aka made specifically for her), but paired with those over-the-knee boots, it's also totally in line with the singer's current style. Whether it's a sweatshirt or a baby doll dress, Grande is almost always rocking an over-the-knee boot with a shorter hemline. It's basically her signature right now — alongside her pony, obviously.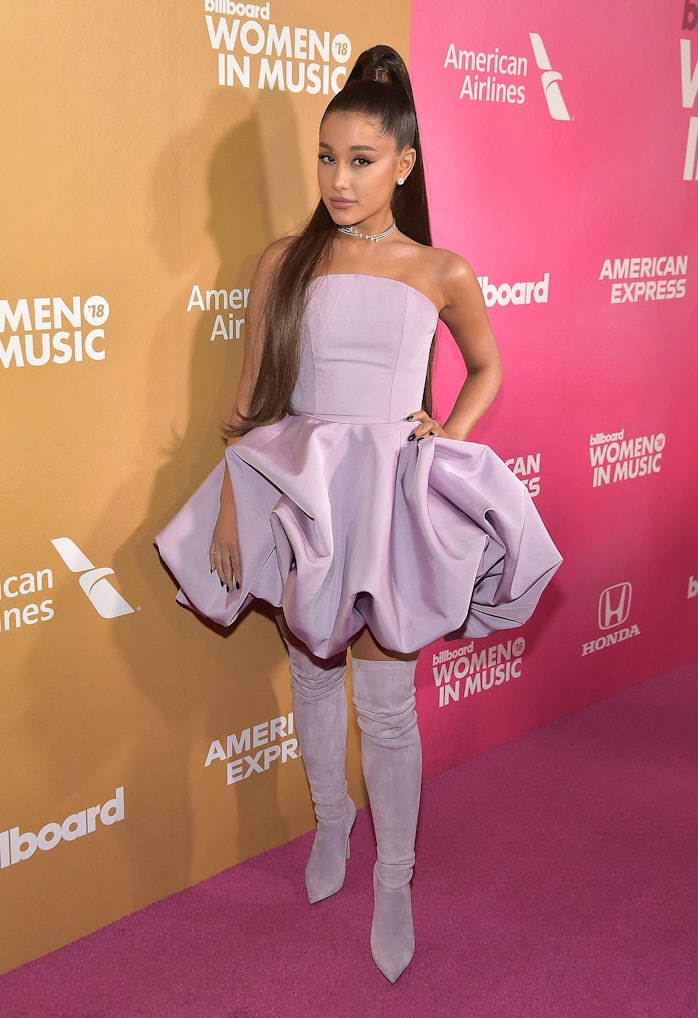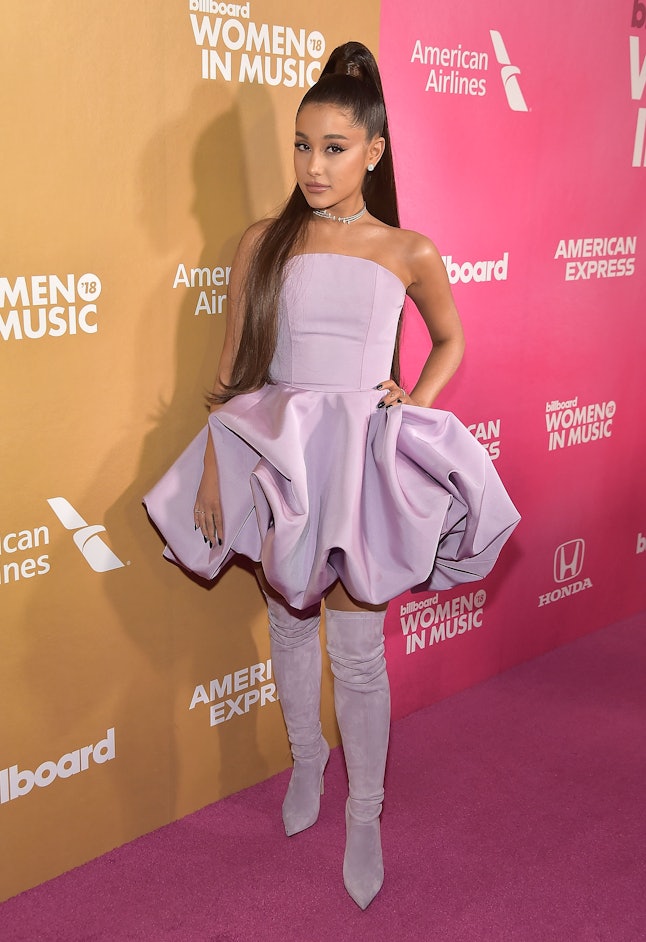 Just look at her appearance on Jimmy Fallon a few months ago. She was basically wearing a light pink shirt as a babydoll dress, and she chose to pair it with another pair of what seem to be very similar boots in a different color.
While Grande poked a little fun at herself for the dress, it's still very her, and her fans seemed to love it. Soon, Twitter memes were born.
Cheesy jokes abounded as well because her fans "loofah" her so much.
Loofah or not, they'll forever be by her side.
Not matter what she wears or does the Arianators are bound to love it. They're a loyal group of fans.
Others didn't so much see a loofah as a scrunchie, and honestly, both are so accurate. Lara Jean Covey would approve for sure.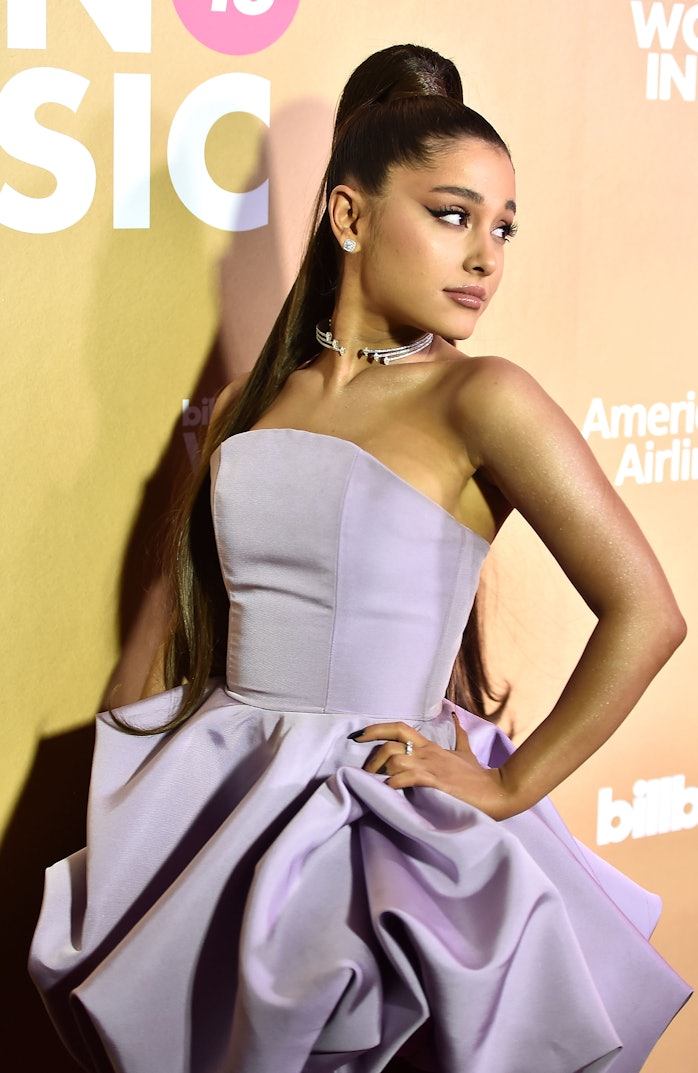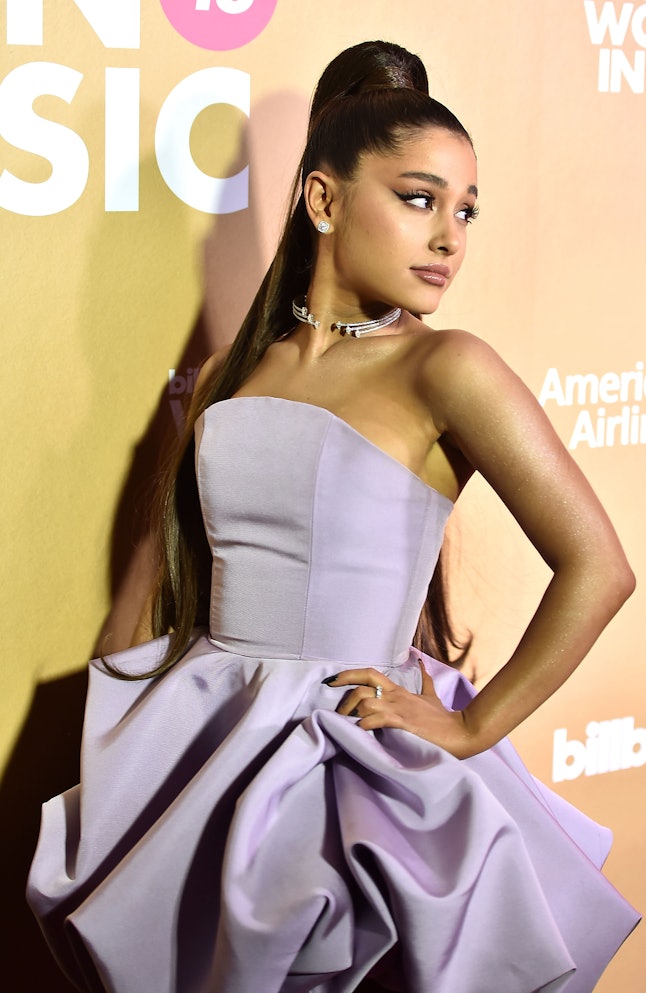 While Grande may have joked that the dress looks like a loofah, it is a custom Siriano dress just for her on a major night. Sure, it's loofah-esque (and also, scrunchie-esque, tbh), but it's also a gorgeous shade of purple that could just be a way to harken back to "God Is A Woman," and she wore it on a major night for her career. This loofah dress is actually a total win.
Source: Read Full Article