The Oscars really came through in the Best Original Song category, because fans were treated to a performance from Beyoncé *and* Billie Eilish on the same night. Not to mention "Dos Origuitas" from Encanto—but we're here to talk about Billie because holy tots her performance of "No Time To Die" with Finneas was incredible.
Billie and Finneas delivered a S-T-U-N-N-I-N-G duet onstage at the Dolby Theatre, with both looking dapper in black and the whole stage bathed in gorgeous purple and blue lights. And while the lighting and visuals were an otherworldly dream, Billie's vocals (complemented by Finneas on the piano) were actual perfection. Missed it? Please appreciate these gorgeous photos: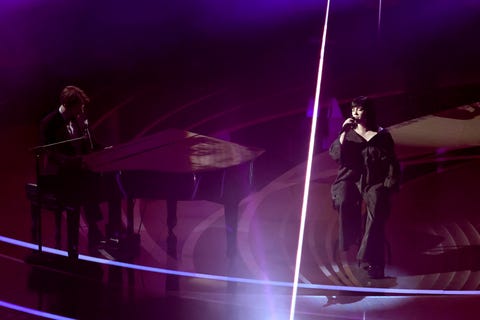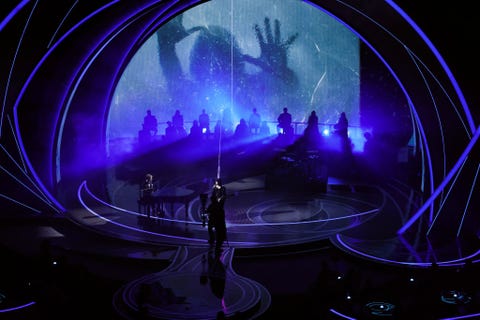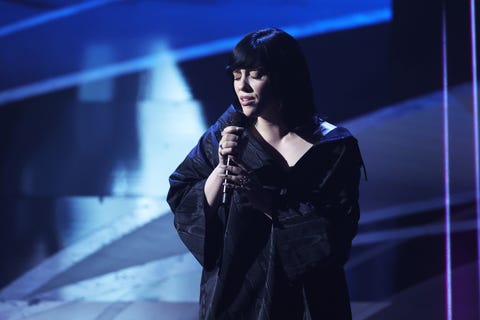 The pair released a joint statement expressing their excitement over the song's Academy nomination, saying, "Words cannot describe how honored and excited we are to have been nominated for an Academy Award for our song 'No Time To Die.' It was a lifelong dream of ours to write a Bond theme, and one we never thought would ever come true. It's completely unbelievable that we are here being recognized for this song, and this is a peak life experience for us as songwriters and artists. To be recognized today among these other incredible nominees is something we most certainly do not take for granted."
https://www.instagram.com/p/CZuOPSvJaMC/?utm_source=ig_embed&utm_campaign=loading
A post shared by BILLIE EILISH (@billieeilish)
Fellow nominees in the Best Original Song category include "Be Alive" from King Richard, "Dos Origuitas" from Encanto, "Down to Joy" from Belfast, and "Somehow You Do" from Four Good Days.
Check out the full lyrics of "No Time to Die," courtesy of Genius (you know, in case you want to sing along and don't have the whole thing memorized yet).
[Verse 1]
I should have known
I'd leave alone
Just goes to show
That the blood you bleed is just the blood you owe
We were a pair
But I saw you there
Too much to bear
You were my life, but life is far away from fair
Was I stupid to love you?
Was I reckless to help?
Was it obvious to everybody else?
[Chorus]
That I'd fallen for a lie
You were never on my side
Fool me once, fool me twice
Are you death or paradise?
Now you'll never see me cry
There's just no time to die
[Verse 2]
I let it burn
You're no longer my concern, mmm
Faces from my past return
Another lesson yet to learn
[Chorus]
That I'd fallen for a lie
You were never on my side
Fool me once, fool me twice
Are you death or paradise?
Now you'll never see me cry
There's just no time to die
[Refrain]
No time to die, mmm
No time to die, ooh
[Outro]
Fool me once, fool me twice
Are you death or paradise?
Now you'll never see me cry
There's just no time to die
Source: Read Full Article