In an online plea to his city, the 23-year-old Grammy-winning rap star declares that people 'can't keep going out like this' if there's no end to the city's brutal crime.
AceShowbiz –Roddy Ricch is calling for his city to put an end to crime after PnB Rock was fatally shot last week. Making an online plea to Los Angeles, the "Down Below" rapper urged the city to put a stop to "senseless violence."
On Tuesday, September 20, the 23-year-old hip-hop star issued his statement on Instagram Story. "LA! Usually I try to mind my business and let the world rotate but we gotta do better," he began.
"It's too much senseless violence. Too much opportunity and motivation to take things other people work hard for," Roddy, whose real name is Rodrick Wayne Moore, Jr., continued. "It's too much life to live to take someone else's life away."
Roddy further stated that while he still "loves" his city, people "can't keep going out like this." The Grammy-winning rap star continued, "Before you know it, it'll be nobody left to take from or kill." Concluding his post, he wrote, "Let's stay on point stay aware and find better ways to pursue our dreams because this s**t turning into ALL NIGHTMARES."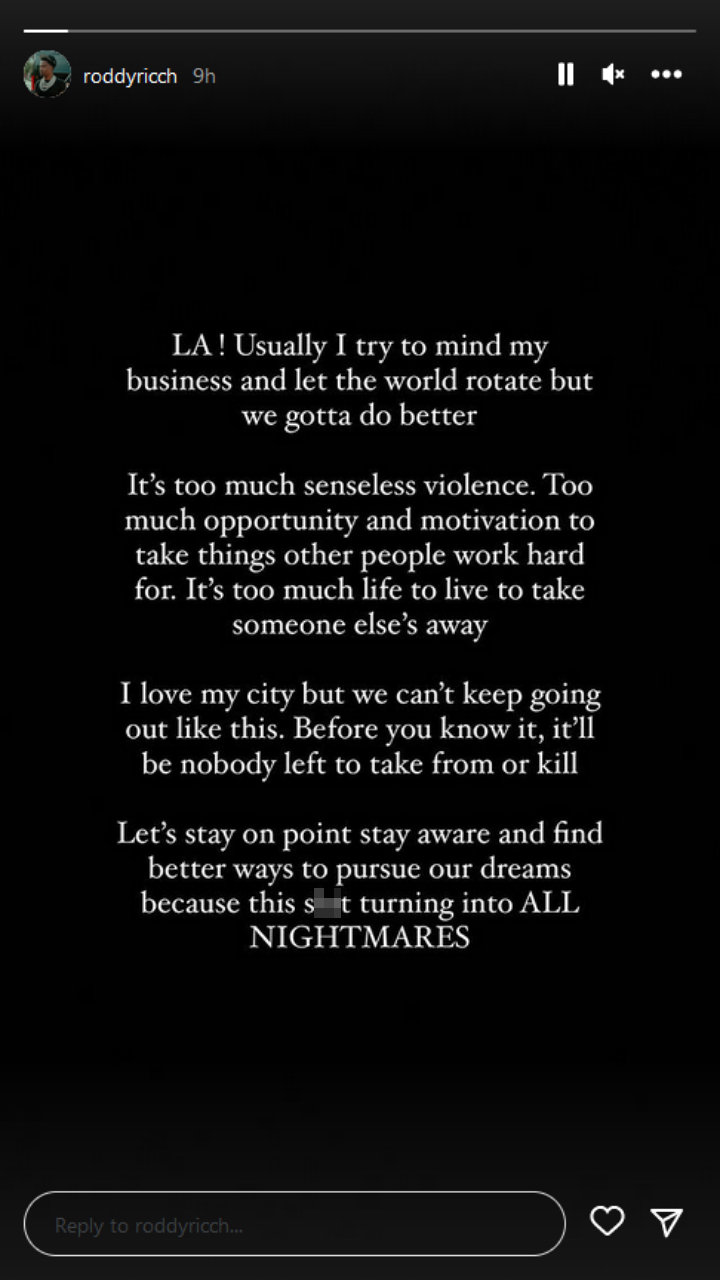 Roddy Ricch reacted to PnB Rock's death on social media.
Roddy isn't the only L.A. native to speak out following PnB Rock's tragic murder. Ice-T also offered some wise counsel for rappers coming to the City of Angels. Pointing out that L.A. gang culture is "not a game," the "Law & Order: Special Victims Unit" star tweeted, "I'm done explaining LA Gang culture. MFs will not listen. It's not a game.. At all."
Ice-T had previously warned young rappers to be wary when visiting his hometown. In the wake of Kodak Black getting shot outside of Justin Bieber's West Hollywood after party back in February, the 64-year-old rap star reminded Super Bowl LVI attendees that L.A. is "The Wild Wild West."
"SuperBowlWeekend: Not a Threat, just a Warning," Ice-T wrote via Twitter in February. "Young Rappers coming to LA for the Super Bowl weekend. LA has over 50Thousand ACTIVE Gang Members. Make sure you play it SAFE. It's the Wild Wild West."
PnB Rock was robbed fatally shot while he dined with his girlfriend Stephanie Sibounheuang at the Roscoe's Chicken and Waffles restaurant in Inglewood, Los Angeles on Monday, September 12. Then at around 1:29 P.M. local time, the "Selfish" hitmaker was pronounced dead.
LAPD Captain Kelly Muniz stated that when the suspected shooters entered the Roscoe's, they immediately pulled out a firearm and demanded jewelry from PnB Rock. When he refused, they shot him multiple times. No suspect has been arrested.
Investigators have since said a social media post published by his girlfriend Stephanie "may have" actually led to the 30-year-old Philadelphia rapper's death. "The target was expensive jewelry, property that he had on his person. We believe this senseless murder occurred following a posting on Instagram or social media," Los Angeles Police Chief Michel Moore said.
Source: Read Full Article