It seems Paul Rudd is just as keen as all of us to find out the ending of Avengers: Endgame, going so far as to post a 'secret' video of him interrogating the directors.
The Ant-Man actor set up a hidden camera in a room just before a meeting with Joe and Anthony Russo in a hilarious new joke clip, revealing he wants to get the answers out of them once and for all.
"Guys, I have a meeting with Joe and Anthony Russo, the directors of Endgame," he explained to fans. "I'm so sick of these secrets, I'm going to try and find out what the story is. I'm so sick of this secretive hush-hush nonsense!"
View this post on Instagram
RUUUUUDDDDD!!! Link in bio for full video…
A post shared by The Russo Brothers (@therussobrothers) on
However, the directors then come in and start to decide what they want to order for lunch, asking Rudd what he wants.
"I tell you what I want, I wanna know whether I live or die in Endgame," he asks. The Russos, however, say that all will be revealed when the movie is released.
Not satisfied, Paul tries again a bit later by asking: "Who in general, who lives or dies?" – though the pair note that he's already seen the script.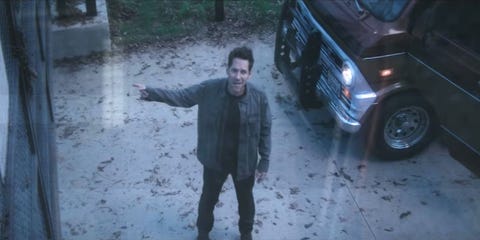 Disney
"The only one that doesn't get a script is [Mark] Ruffalo!" the directors then joke. Yep, that makes a lot of sense.
The Russos themselves reposted the video, captioning it: "RUUUUUDDDDD!!!"
We only have a matter of days to find out who lives or dies at the end of Endgame, and Iron Man actor Robert Downey Jr. has set the bar high for the final moments of the movie too.
"The last eight minutes of that movie are maybe the best eight minutes in the entire history of the whole run of them, in a way, because everyone's involved," he teased.
Avengers: Endgame will be released on Friday, April 26 in the US.
From: Digital Spy
Source: Read Full Article