The 'Don't Worry Darling' director and the Vogue China editor-in-chief come to the prestigious event wearing different versions of Karl Lagerfeld's vintage 1983 Chloe gown.
AceShowbiz –Olivia Wilde has not taken her fashion faux pas to heart. One day after rocking the same gown Margaret Zhang turned up in when gracing the red carpet at the 2023 Met Gala, the "Don't Worry Darling" director weighed in on what could have been an embarrassing experience.
On Tuesday, May 2, the 39-year-old actress-turned-director made use of Instagram Story to share a side-by-side photo of her, a model and the Vogue China editor-in-chief wearing similar dress. Over it, she wrote, "Great minds [smiling face with sunglasses emoji]."
Expressing more of her positivity, the ex-girlfriend of Harry Styles went on to give a sweet shoutout to Margaret. She noted, "If you're gonna twin with anyone, make it @margaretzhangn [smiling face with heart-eyes emoji]."
In response to Olivia's reaction, Margaret reposted the actress' Story with her own additional comment. She wrote over the photo, "CUE THE STRINGS," and added a slew of muscle and violin emojis.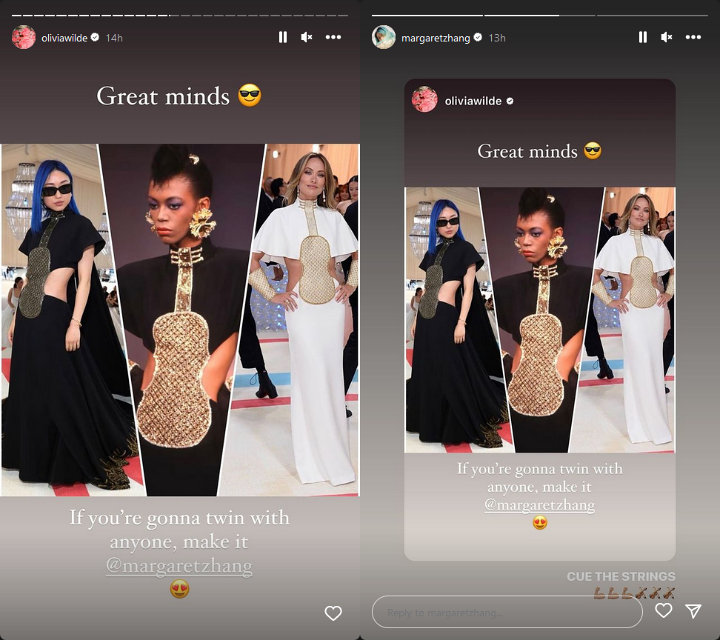 Olivia Wilde and Margaret Zhang reacted to them wearing the same dress at the 2023 Met Gala.
For the 2023 Met Gala, Olivia opted to go with a white version of a dress designed by Karl Lagerfeld during his tenure at Chloe. While the original dress was a cutout dress which had a gold violin shape on top of it, the actress worked with Chloe to modify it by expanding its hem and converting its cap sleeves into a cape.
The mother of two and her designer team for the Gala additionally outlined the dress' violin motif with gold beads. She completed her look for the biggest fashion's night with a pair of dangling earrings, a pair of gilded wristbands and a gold clutch.
As for Margaret, the Vogue editor went with the black version of the dress. Similar to Olivia, Margaret also revamped the vintage 1983 Chloe gown. Hers was embellished with a long train that extended from the neckline and gold sequin trim at the hem. She paired her ensemble with a pair of chic black sunglasses and a gold bracelet.
On Monday, Chloe shared Olivia's Met Gala look on its official Instagram account. "Creative Director @GabrielaHearst lovingly reimagined the Chloe Spring-Summer 1983 'Angkor' knee-length dress designed by Karl Lagerfeld," the fashion house dished in the caption of its post.
"…as a floor-skimming gown in deadstock ivory silk cady, complete with cut-out back and short capelet, hand-embroidered cuff details, and embroidery in golden strass and tubular beads forming a trompe l'oeil image of a violin," it continued explaining in details.
"Throughout the 1980s, in tune with the times, Lagerfeld's collections put a playful yet elegant spin on themes ranging from music to home appliances," it added. "The embellishments of the original 'Angkor' dress' – now on display at the #ALineOfBeauty retrospective – were inspired by a 17th century Italian violin crafted by luthier Nicola Amati, and calls to mind the famous photograph 'Le Violon d'Ingres' (1924) by the surrealist artist, Man Ray."
You can share this post!
Source: Read Full Article