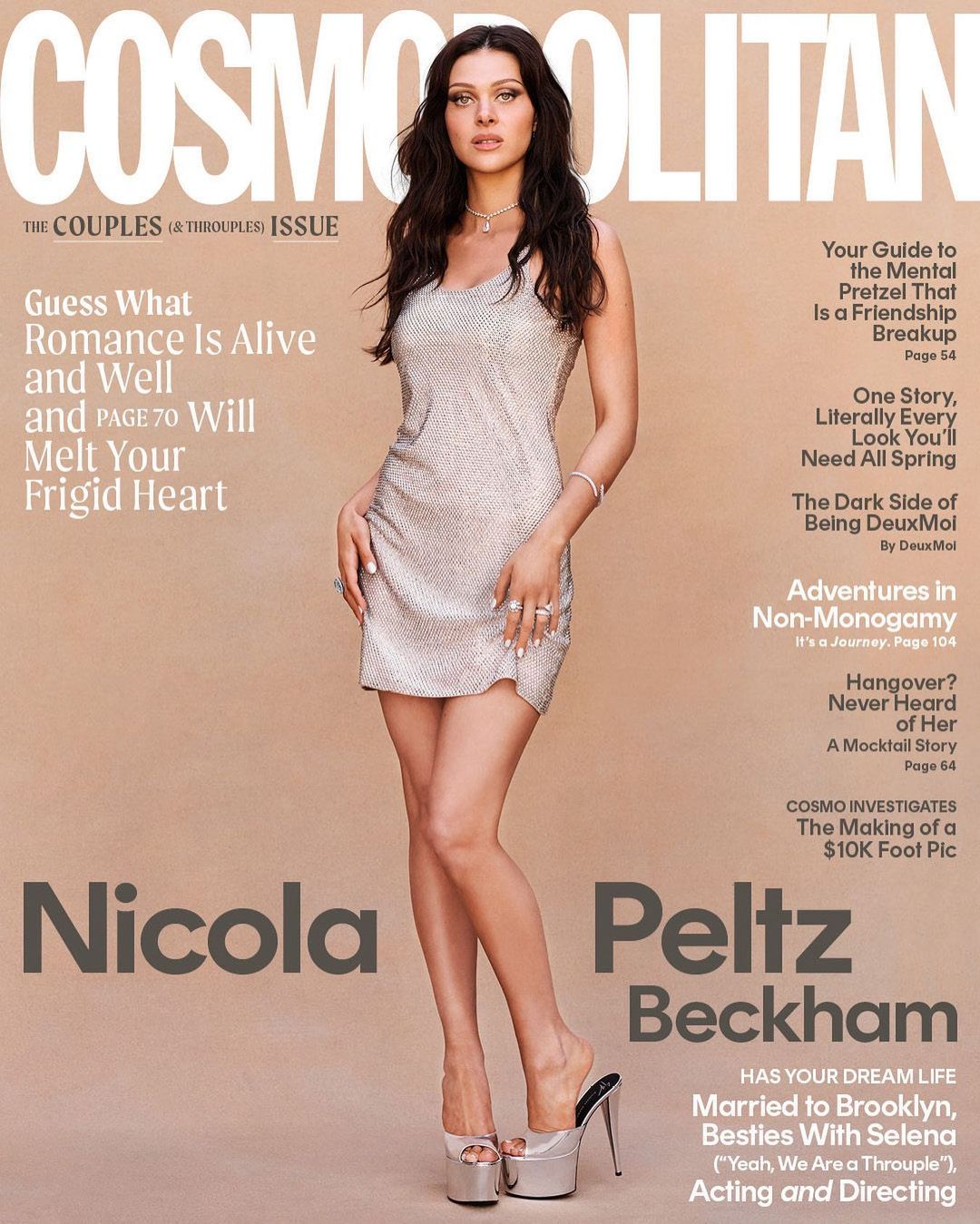 Nicola Peltz Beckham covers the latest issue of Cosmopolitan. As you may know, I'm kind of a Nicola defender. I admire her hustle and it's been a while since we've seen a well-connected but ultimately charisma-free young woman become famous through sheer force of will. Marrying Brooklyn Beckham – also gloriously free of charisma – was the best thing that ever happened to Nicola. She's been on dozens of magazine covers and endlessly "denied" her beef with her new mother-in-law, Victoria Beckham. But that story has its limits, and when you really take the time to read one of Nicola's interviews, you're left feeling like… wow, there's really not much there. She's pretty vapid (like a fox). Some highlights from Cosmo:
She's constantly with Brooklyn: "Our love language is definitely quality time…We spend every night together. Sometimes my friends will come sleep over and we'll all fall asleep on the couch, or they'll stay in my bed and Brooklyn will go sleep in the other room. Even with work travel, we work around it. Like, he had to do one day on-set in L.A. last year when we were in New York, but he never slept there. He was so silly. I was like, "You can go have a night at the apartment." And he said no. So he woke up at, I don't know, 2 a.m. to get a very, very early flight and then flew right back after.

She stars in, wrote & directed 'Lola James': "[I'm] So nervous. I've worked so hard on it…I would be sad if people didn't like it. Because on Instagram, you post things, and then the comments…if someone calls me mean or something and they don't know me, then I'm just like, okay, well, maybe if you did, you wouldn't say that.2 But I think when you work so hard on something and then you put it out there, it's super scary because it's so personal. I just wish people knew me before they judged me. And it sucks, because I wish I could respond to every person, being like, "That's not true. That's not true. That's not true." But then obviously, you have to block it out. You can't let everything affect you. Otherwise, it would be a spiral. I really wish that people met me and then….

Her relationship with Victoria Beckham: "I've said this so many times: There's no feud. I don't know. No one ever wants to write the nice things. It's really weird, actually, whether it's my life or someone else's life or whatever, when you know the truth and then you read something totally wrong.

Her new best friend is Selena Gomez: "I had met her once in passing a few years ago, and then we all went to this event in September, the Academy Gala. We just clicked and had the best time. And then we became super, super close. I feel like she's my soul sister. I love her so much. She's truly one of the most amazing people I've ever met in my whole life. The kindest person ever. Truly, her heart is gold. I feel like I've known her forever. [Selena and Brooklyn get along well too.] Oh my god. We're like, "Yeah, we are a throuple." We are all three best friends.

Compliments are better from women: "I think it really is so beautiful when you have girlfriends in your life who cheer you on. And if I'm just walking down the street and a girl is like, "Oh my gosh, I love your outfit," it means so much more than if a guy says it. Like, ew, whatever. But when a girl compliments you, it's so much more special.

It's hard being a girl: "Oh my god, I have so many things. There's skin problems, there's body, there's everything. I think it's hard with social media, whether it's TikTok, Instagram, whatever, it's all about people always comparing everything. And then you wake up and you have bad skin or you wake up and you feel bloated or you wake up and you just don't feel good that day. I have those days all the time. It's just hard being a girl, period. And especially being a girl right now.

Spending time with the Beckhams? "This year, we went to Florida. Normally, his parents come to Miami a lot, but this year, they didn't. Christmas at my house is wild because there are so many people and everyone has kids now. We thought Brooklyn's parents and family were going to come to Miami, but they ended up staying in London, so we sent their gifts there.

Whether she wants kids: "Yeah, we definitely want kids. We need a house first, especially because we have so many puppies. Brooklyn really wants kids now, but I want to do a few more things in my career first.
[From Cosmo]
There's a lot more in the interview but these are the most interesting parts. I'm especially interested in what she said about where they spent the holidays – with her family in Florida, while the Beckhams stayed in London. My feeling is… David and Victoria have never been happy about Brooklyn's marriage or Nicola, and they're just taking the longer view of "we'll be here when the marriage blows up." Maybe the Peltz-Beckhams will implode, maybe they won't. But I do think it's interesting that Victoria and David don't seem particularly supportive, and that Brooklyn has basically been absorbed into the Peltz family.
https://www.instagram.com/p/CpxsT-DLeuq/
Cover & IG photos courtesy of Cosmo.
Source: Read Full Article