Just a quick question: Have you got your Halloween costume yet?? If not, what the heck on Earth are you waiting for! Halloweekend one is already behind us, actual Halloween is in approximately three days time, and Halloweekend two will swiftly approach after that. Kate Middleton finished up her costume shopping, Demi Lovato has already had not one but two costumes, and Kylie Jenner and Stormi Webster got all dressed up too! And now, adding to the celebrity costume pool is Bachelor Nation's very own Nick Viall.
Totally not sure what Halloween party Nick went to, but he pulled out all the stops on Saturday night when he decided to don a costume inspired by a recent contestant on Hannah Brown's season of The Bachelorette. It's a very fitting choice considering that he's been part of the holy trinity—i.e. The Bachelorette, Bachelor In Paradise, and The Bachelor!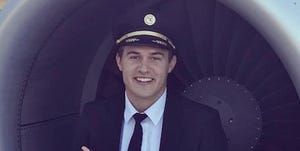 On Twitter, Nick posted a picture of him along with the caption, "Just a Pilot on a flight for love… will probably crash into a windmill tonight," meaning that yep, he went Pilot Pete aka Pete Weber, the star of this season of The Bachelor!
Just a Pilot on a flight for love .. will probably crash into a windmill tonight. pic.twitter.com/ZyDeN143JC
Honestly, I wasn't expecting Nick to look this good as Peter, but I really just think that I'm a sucker for a man in uniform. Nick had all of the essentials, down to the hat, the aviator sunglasses, and the red rose ready to give to the lucky lady that wins his heart. And as for the windmill joke, Bachelor Nation fans are not lost on the fact that Nick is referencing the four times that Hannah had windmill sex with Pilot Pete not twice, but FOUR (4) times.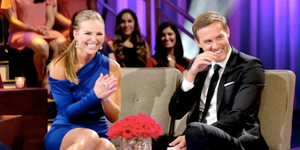 And as for actual Peter's costume? Well, it's kinda up in the air if he has one at all, considering that he's currently filming season 24 of The Bachelor right now. Hopefully we get some belated Halloween goodness once the season airs in January!
Source: Read Full Article