The royal bundle of joy known as Baby Archie is being christened this weekend (July 6, set an alarm), and it's going to be completely different from past royal christenings. In that it's pretty much completely private and there won't be a ton of media and photographers taking pics. On top of that, Meghan Markle and Prince Harry are keeping Archie's list of godparents a secret.
Per a Buckingham Palace press release, Archie will be christened in a "small private ceremony" in the "private chapel at Windsor Castle." And their comments about the godparents are as follows: "The godparents, in keeping with their wishes, will remain private."
https://www.instagram.com/p/ByxRc1hlo6Y/
A post shared by The Duke and Duchess of Sussex (@sussexroyal) on
But like…WHY?!? Turns out Meghan and Harry haven't picked celebrities like Serena Willams and Amal Clooney to be godparents, but have instead picked regular people from their regular lives—or, as royal reporter Chris Ship puts it, "private citizens."
The godparents, I'm told are not public figures or celebrities, but private citizens. And therefore both they, and Harry and Meghan, don't wish their names to be made public.
And honestly, the decision is causing a ton of backlash among royal enthusiasts (and even royal reporters) who feel Archie's christening should be a public affair.
While the couple will be able to argue that releasing pictures taken by their own photographer is enough to satisfy public interest in such an historic event, they will find it less easy to justify their refusal to release details of the godparents.
Oh come on, not releasing their names? This screams Meghan to me. Even the non HRH grandchildren of the Queen's godparents are known. What a load of BS.
And a lot of people seem to be blaming Meghan, which is both extremely ugh and also off-base considering she's simply honoring the wishes of Archie's godparents, who clearly don't want to be in the spotlight following his christening.
Do you not know what "their" means? It means the wishes of the godparents. In other words, it's not your business to know who they are. They don't want or need you harassing them in the same manner you do Harry and Meghan. pic.twitter.com/OfFhDOs0gD
Either way, Meghan and Harry will be releasing a few pictures of Archie's christening after it takes place, so expect your Instagram feed to get a lot cuter this weekend.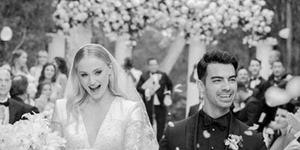 Source: Read Full Article