The 'Bloody Valentine' hitmaker likens himself to a sea urchin after social media trolls make fun of his purple Dolce and Gabbana suit for the 2022 American Music Awards.
AceShowbiz –Machine Gun Kelly has reacted to trolls mocking his unique yet bizarre look at the 2022 American Music Awards. The "Bloody Valentine" hitmaker turned to his social media account to poke at himself.
On Monday, November 21, the 32-year-old musician posted a photo of him wearing his purple spiky suit alongside a close-up picture of a spiky purple sea urchin. "do you guys sea what I was goin for," the "Emo Girl" rocker wrote underneath the images.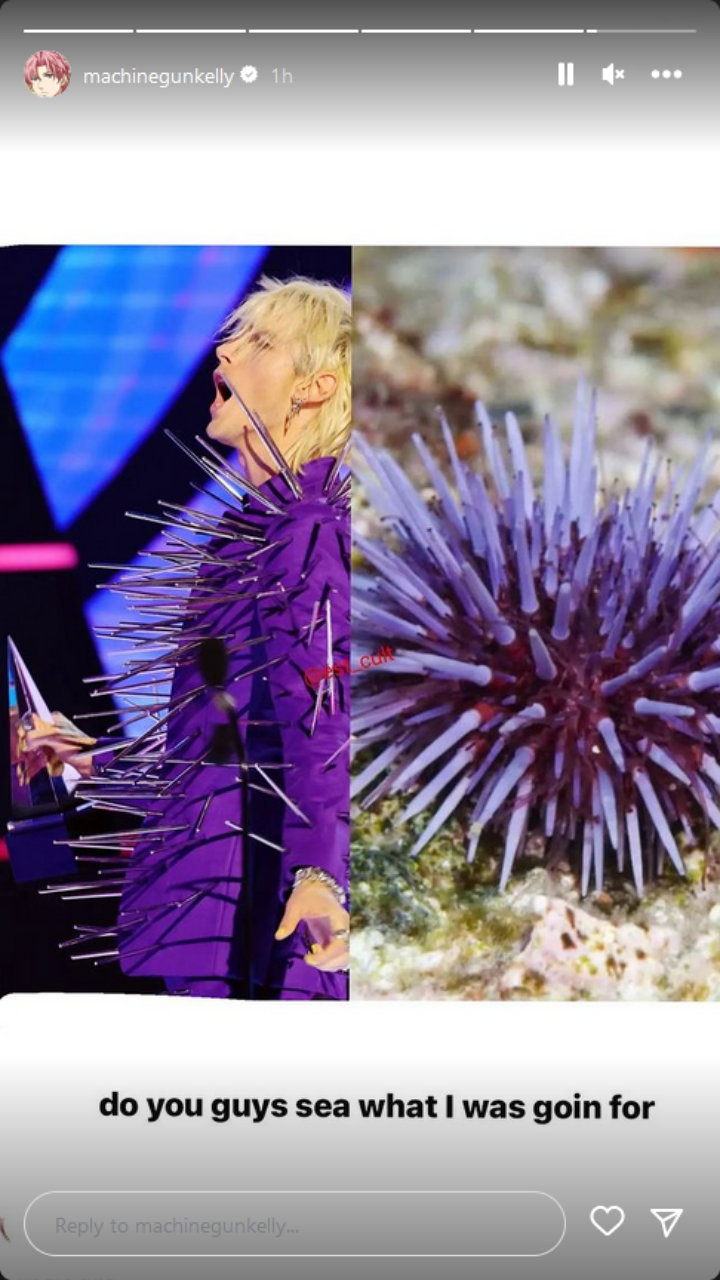 Machine Gun Kelly likened himself to a purple sea urchin after being trolled over his spiky metal suit for AMAs 2022.
Prior to that, MGK detailed how he felt while wearing the dangerous-looking suit while accepting the Favorite Rock Artist award on Sunday night, November 20. "This suit is really uncomfortable to pee in," he said, seemingly poking Lionel Richie in the face when they sat next to each other in the audience.
MGK then called out the rock community for their lack of support in his acceptance speech. "Speaking of uncomfortable," the fiance of Megan Fox continued, "there have been some people in the community who have called me a tourist, but they're wrong. I'm a rocketman."
MGK's purple Dolce & Gabbana suit was completely covered in metal spikes. It didn't take so much time before critics on social media started poking fun at his ensemble. "Why is MGK dressed as a sea urchin," one person tweeted, while others compared him to the COVID-19 virus, a pincushion and a dog in a coyote vest.
"okay colson this is dope af, but serious question, how do you sit?" someone else wondered. Another social media user asked, "but who will dare to sit beside him?" A different person noted, "Poor Lionel Richie trying not to get impaled, on live TV," with another adding, "One wrong move and Lionel Richie is done for."
Meanwhile, MGK's fans praised his look. "This fit is iconic you are iconic I'm so proud," one fan commented under his Instagram post. A second supporter said, "You really nailed it with this outfit."
Source: Read Full Article