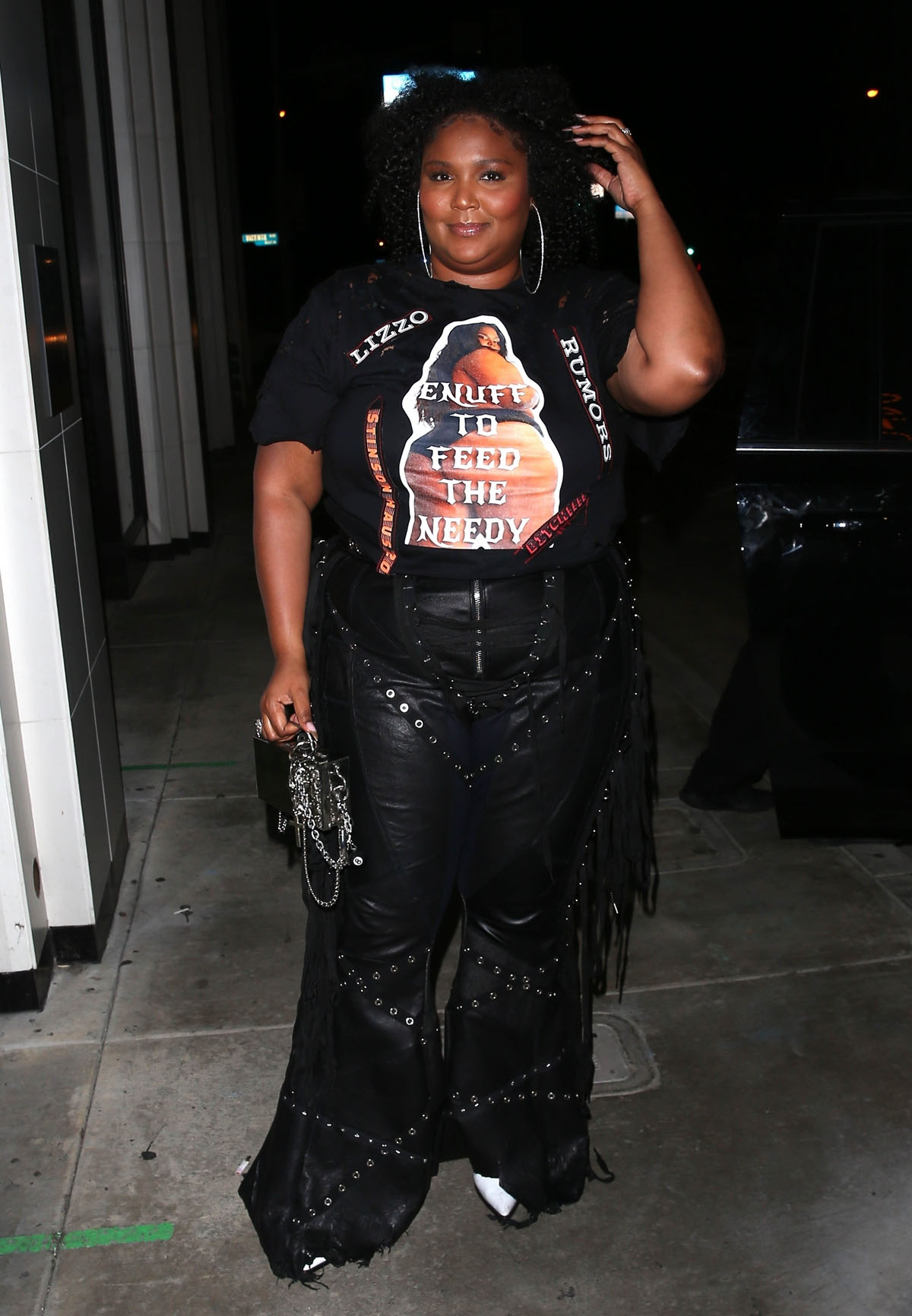 The great unwashed debate, which never should have been one in the first place, rages on. Last week we heard Yvette Nicole Brown sort-of vouch for Matthew McConaughey's personal hygiene. While Matthew hasn't yet commented on how much he showers (although it's doubtful his answer would have been straight forward enough to understand) he has admitted to not wearing deodorant. Yvette said that her former costar is a good person who smells sweet like granola. Now that we've moved on from bathing to deodorant-wearing, Lizzo has come down firmly on Matthew's side. She posted an Instagram story with the caption saying she smells better now that she doesn't used deodorant.
In an Instagram Story, Lizzo posted a headline regarding Matthew not wearing deodorant, which one famous co-star recently weighed in on as well.

"Ok…I'm w him on this one..I stopped using deodorant and I smell BETTER," she wrote on her Story.
[From Just Jared]
Years ago I used Tom's Natural deodorant in peach, but I found that it didn't really work after a few hours if I worked up a sweat. Now I just use baby powder Secret. It smells good, it's not too strong, and I don't worry that it will stop working. I know some people are anti-aluminum in deodorant in that case there are natural alternatives. I just find the traditional deodorant works better for me. I'm not, and will never be on the "no deodorant" side of this debate. As long as someone showers enough, and I believe Lizzo does, they probably smell fine to other people though. I had a conversation with someone about whether you should put on deodorant if you shower right before bed. He said it's better to wait until the morning when you need it and I said it depends on whether you're getting lucky that night. If so, wearing deodorant just seems courteous. It does in general, but I'm sure if someone bathes enough they're not going to smell bad.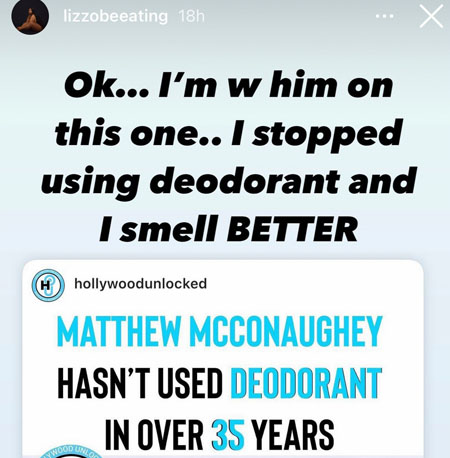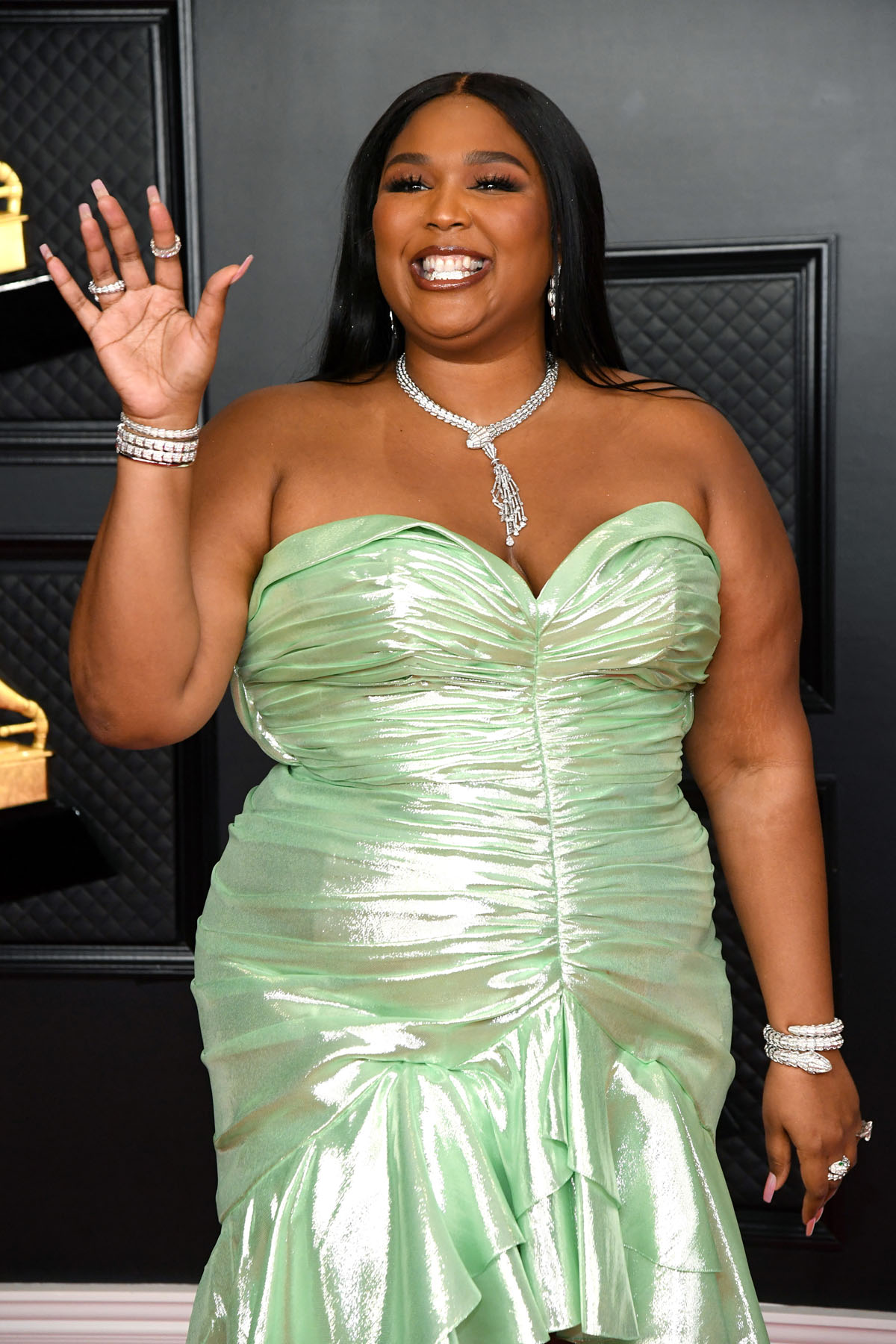 https://www.instagram.com/p/CRRb63MsWon/
A post shared by Matthew McConaughey (@officiallymcconaughey)
https://www.instagram.com/p/CS2G-W0lLXN/
A post shared by Lizzo (@lizzobeeating)
Photos credit: Backgrid, Avalon.red and via Instagram
Source: Read Full Article