Happy Birthday, Lindsay Lohan!
The Mean Girls actress turns 33 on Tuesday, and she opted to ring in her special day wearing the same outfit she rocked when she entered the world… her birthday suit! LOLz!
On Monday night, LiLo took to Instagram and shared a nude, mirror selfie (above) with her followers.
The star did well to show off everything but her NSFW parts in the sexy shot, which she captioned with a simple pink bow and birthday cake emojis. Lindsay kept it pretty minimal all around, and accessorized her "outfit" with a pair of studs and stacked gold bracelets on her wrist.
Okay girl, we see you!
The post received mostly positive comments and birthday well wishes from fans and famous friends, like DJ Steve Aoki, and Olympian Lolo Jones, who competed on Celebrity Big Brother alongside Lohan's mom Dina Lohan earlier this year.
In addition to the b-day thirst trap, LiLo shared a few clips from her pre-birthday festivities with friends at a restaurant in Mykonos, Greece.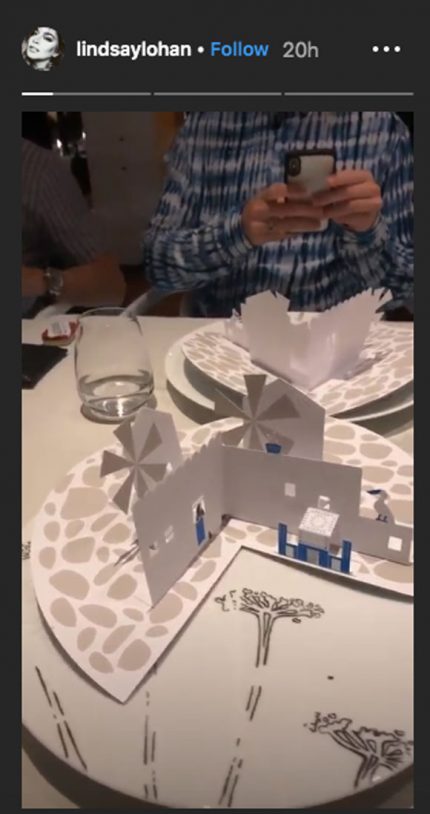 The fun didn't stop there, though!
The Freaky Friday star also shared a video of herself dancing to her heart's content as the sun set in the background.
Wearing nothing but a white, button down dress shirt and a pair of underwear (at least, from what we can see), see the starlet #dothelilo like nobody's watching (below):
https://www.instagram.com/p/BzZj-keBNim/
We're glad to see the girl is staying in good spirits! Ya know, especially after receiving some pretty bad news about the future of her comeback, reality TV show…
As we told you, Lindsay Lohan's Beach Club was not renewed for a second season amid reports that Lohan's party hot spot had closed down. Although the MTV series drew in an impressive amount of viewership early on, its initial spark fizzled out pretty quickly due to the lack of any real, interesting drama on the show.
An insider close to the production team spilled the real tea, saying:
"They wanted 'breakdowns.' That's not where is at with her life anymore. Their personal business doesn't need to be aired on television; it's already in the papers anyway."
In the days following the cancellation announcement, a few conflicting reports have surfaced about the status of the show as well as the future of the Mykonos seaside establishment. But as far we know, both of Lindsay's endeavors will soon be a thing of the past.
Oh! And speaking of things of the past…
It was rumored that LiLo and her longtime frenemy Paris Hilton were working on putting their differences aside for a reboot of A Simple Life on Netflix, with Lohan potentially replacing original show star, Nicole Richie.
We almost fell for it too, after a Twitter account @TheSimpleLife heavily teased the nostalgic possibility multiple times over. But sources told E! News there was no truth to the marketing ploy and there is currently no reboot in the works at the streaming service.
Despite all that, there is a silver lining here!
In June, the former Parent Trap star reportedly signed a new record deal with Tommy Mottola's Casablanca Records. Lindsay has already teased fans that she's "hard at work" in the studio, too. So, cheers to that!
All things considered, the newly-minted 33-year-old certainly has something positive to look forward to. We know we're more than intrigued to hear what type of music she'll put out during this new chapter of her life.
We wish her all the best this year and in the years to come!
Source: Read Full Article