What does Kris Jenner think about Khloe Kardashian's latest heartbreak? Let's just say she ain't too mad about it!
According to a RadarOnline source, the KarJenner matriarch is "ecstatic" over her daughter's baby daddy cheating scandal, because she plans on using it to boost KUWTK ratings and broker a HUGE new TV deal with E!.
The insider revealed:
"Kris has been trying to broker a new deal for $200 million with E! for the show and she is ecstatic over this cheating scandal. It is exactly what she's been hoping for!"
Sure, as Khloe's mother, Kris is super sad that she's going through this devastating situation…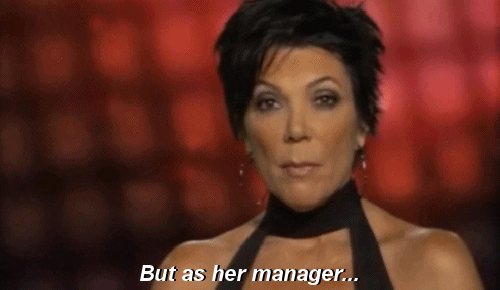 The insider said that the 63-year-old has no qualms with parlaying this scandal into a lucrative contract renewal because she already told KoKo to kick Tristan Thompson to the curb the FIRST time he was allegedly caught cheating on her.
The source continued:
"Kris really has no feelings or attachment to this because she told Khloe that she should leave Tristan the first time that he cheated on her when she was giving birth to True. The fact that he did this to Khloe again is going to backfire on him because he just guaranteed that they will renew their contract. Ratings are going to be through the roof over this."
But don't think this means the mother-of-six is going easy on Tristan or his alleged partner in infidelity, Jordyn Woods. The source cautious that both are "cut as far as Kris is concerned."
Seeing as the business mogul is seemingly all about controlling — and monetizing — the family narrative, she was naturally bothered by Jordyn's efforts to tell her side of the story on Jada Pinkett Smith's show Red Table Talk.
A separate Radar source said that the momager gave Jordyn a "stern warning" about her upcoming interview on the Facebook Watch show, in which she discusses her alleged hookup with the athlete.
The insider claims that Jenner confronted Kylie Jenner's bestie and asked what tea she was planning on spilling. The 21-year-old reportedly told Kris she was "going to discuss her side" of the story and refused to back down.
Apparently, the K-Klan was "blindsided" by Jordyn's decision to tell all to the Smith family in a special airing on Friday. But is it really that surprising she's taking a page from the Kardashian playbook?
No matter what goes down, we're glad to hear that this entire mess will play out on the next season of Keeping Up.
Not as glad as Kris probably is, though! LOLz!
Source: Read Full Article