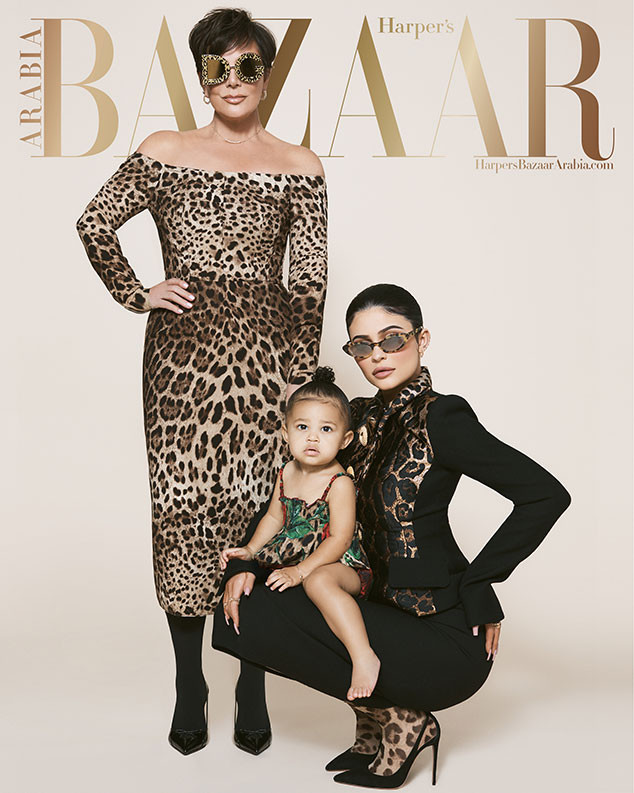 Harper's Bazaar Arabia/Morelli Brothers
Like mother, like daughter!
In honor of the July/August issue of Harper's Bazaar Arabia, famed mother and daughter Kris Jenner and Kylie Jenner powerfully posed together for the cover while inviting readers into—as Kris put it— their "incredibly strong" bond.
"When I became a mother, my perspective on life completely changed, and so did how I look at my own mom and appreciate all the things that she's done for me," the Kylie Cosmetics mogul said about her mom. "Now I can understand the way that she feels about me, the way that she loves me, and how strong her love is for all her kids, because of how obsessed I am with Stormi [Webster]," she said of her 1-year-old daughter, with whom she and her mom posed in another image.
Kris weighed in on the topic, telling the magazine, "We've always been very connected emotionally and spiritually and have this incredibly strong bond. But I think as we both get older, our relationship shifts a bit. And for me, I just want her to know that I'm always here to guide her and help her with whatever she needs, rather than it always being, you know, the way it used to be back in the day. Our relationship changes every few years."
Of course, Kris is used to a changing relationship between mother and daughter. After all, Kylie is the youngest of her five daughters and six children, all known to the public together as the Kardashian-Jenner family and also in their own individual ways through the years, whether it be modeling, makeup, a denim line or lifestyle website.
"I think when the girls, Kourtney, Kimberly and Khloé, first started doing our show, people really responded to them because they offered an image of something that was different. It gave young women self-esteem. They started to feel better about themselves because they could embrace their bodies and didn't have to have a certain look," the momager told the magazine, "Overall, I think the girls have been very influential in changing the way that women look at themselves."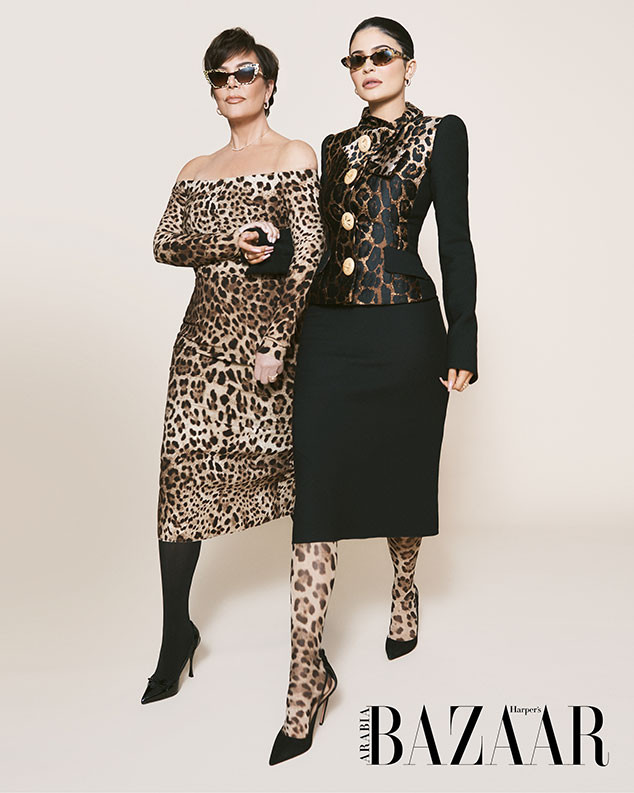 Harper's Bazaar Arabia/Morelli Brothers
She continued, "It was life-changing for a lot of people because they finally felt accepted, which was really wonderful for us, especially Kim, to be part of that movement. I think she really embraced that role of being sort-of a spokesperson for curvy women. And after that, when Kylie grew up and came onto the scene, she was really disruptive in the beauty industry and turned that on its head, too!"
According to Kylie, who was named the "youngest self-made billionaire" by Forbes this year, it's been more about passion than profit.
"I don't really do it to make money or think that far into the future if this is going to be super-successful," she told Harper's Bazaar Arabie. "I just knew my talents and was passionate about make-up and lips and lipsticks. It's been a real love of mine for as long as I can remember. I never even knew that you can really turn your passion into a business, you know. I just followed my heart and went with how I felt. Now I just feel so blessed every day to wake up, have fun doing what I love and make a career out of it. It's amazing!"
With a baby now in her life, it's also changed how the famous mom views her work. "Mentally, for me, I try not to focus so much on being a role model and still be myself. But I do understand how many young women look up to me and that I have to think about everything that I put on the internet, or what example I want to set for my daughter. Especially now that I've had her, I think about that a lot more," she told the magazine.
Harper's Bazaar Arabia/Morelli Brothers
And while she asserts that you're never too young to follow your dreams, Kylie also sees the value of taking a break.
Honestly, I don't remember a time when I did have privacy because we started our show when I was 9 years old. I feel like I just grew up in it and so I figured out a way of living that is comfortable for me. Of course, there are times when you feel like your privacy is invaded. But I feel like I've learned how to pull back when I need to. I love my fans and we have such a strong relationship. I do love sharing and inspiring and bringing people into my life. I feel like I was definitely made to do what I do," she said. "But there are definitely moments when I get stressed out. I'll take the week off and spend more time with Stormi, or I like to go on trips when I'm feeling overwhelmed."
The star continued, "I just have my little message in life. I feel that we all do, even if you're not famous. As human beings we get stressed out and we all have our little way of coming back together."
Read
Kylie Jenner Twins With Her "Mini Me" Stormi Webster Before Having a Girls' Night Out
As for Kris, being a mom is "always my first priority, and then the manager of all of the girls."
The famed momager explained, "One of my biggest aspirations is just to be able to spend more time with my grandchildren. That's truly where my heart is. I have 10 now and they all live right around me. We work a lot… but that's my love, just to spend more time with my family."
Source: Read Full Article