Kourtney Kardashian and Travis Barker got married … Well, sort of. The famous couple had a private wedding ceremony in Las Vegas after the 2022 Grammy Awards, complete with an Elvis impersonator. But Kardashian revealed that she and Barker did not obtain a marriage license, and she implied that the event was a "practice" round for their real wedding.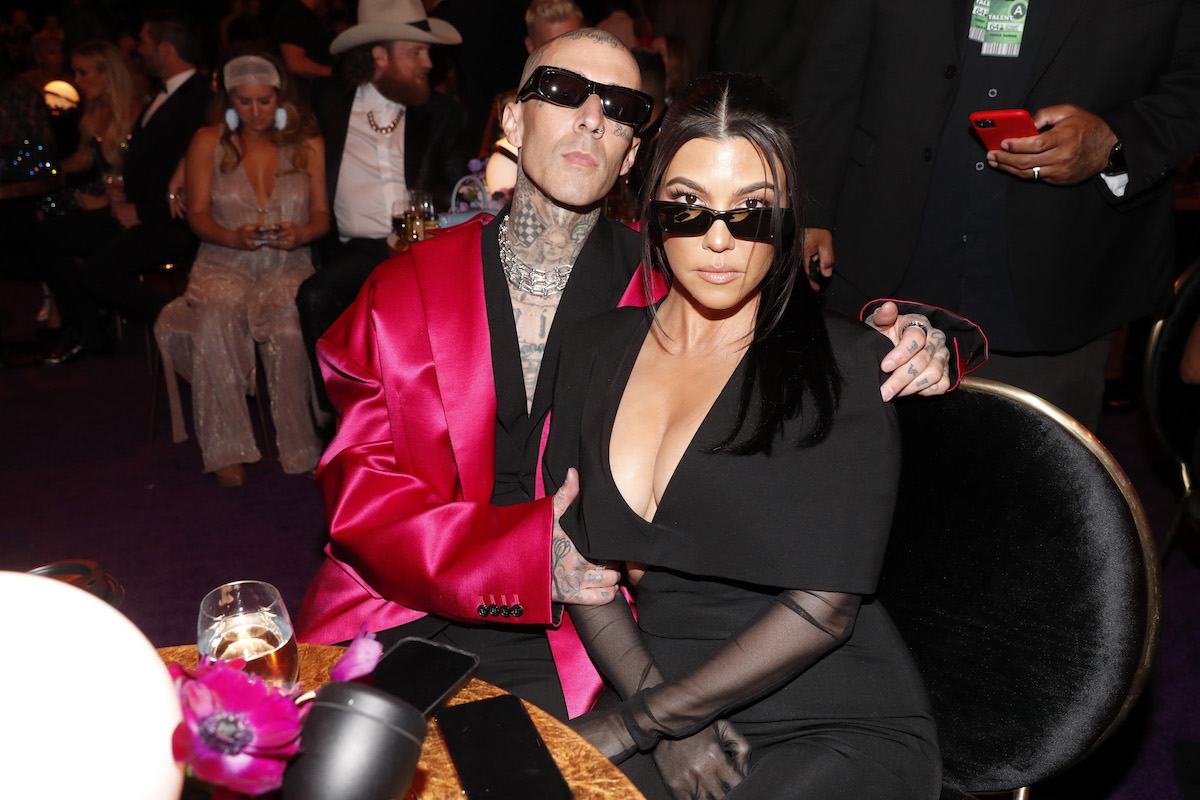 Kourtney Kardashian and Travis Barker got married in Las Vegas after the 2022 Grammy Awards
Kourtney Kardashian and Travis Barker attended the 2022 Grammy Awards on Apr. 3, where the Blink-182 drummer performed with Lenny Kravitz and H.E.R. After the show, the Kardashian and Barker kept the party going by having a wedding ceremony at the One Love Wedding Chapel.
According to People, the private ceremony took place at 1:45 a.m. on Monday, Apr. 4. 
"They paid and they requested Elvis Presley, that was mandatory," said the One Love Wedding Chapel owner, Marty Frierson. "I called back 5 minutes later and was like, I got an Elvis, and there they were." Frierson added that having "the Vegas experience" was "very important to them."
The chapel owner also told People that the famous couple documented the event. It's possible that the Las Vegas wedding will be shown on the new Hulu show, The Kardashians, which comes out on Thursday, Apr. 14.
Frierson shared that Kardashian and Barker were very affectionate during their ceremony. "There was a lot of that – kissing and hugging. They barely came up for air!" he said. "They just seemed totally in love."
https://www.instagram.com/p/CcA7dq2FKoC/
Kourtney Kardashian revealed that she and Travis Barker did not get a marriage license for their Las Vegas wedding ceremony 
On Apr. 6, Kourtney Kardashian shared several photos from her and Travis Barker's Las Vegas wedding ceremony on Instagram. The couple wore matching black leather jackets, and Kardashian wore a top adorned with an ornate cross underneath while Barker opted to go shirtless. 
"Found these in my camera roll," Kardashian began her caption. "Once upon a time in a land far, far away (Las Vegas) at 2am, after an epic night and a little tequila, a queen and her handsome king ventured out to the only open chapel with an Elvis and got married (with no license). Practice makes perfect."
The reality star's caption implied that the Las Vegas wedding was a "practice" round for the real event, where the couple will procure a marriage license.
#question from @kardashian_kolloquium #greenscreen #kravis #kourtney #travis #vegas #wedding #mediatheory #boorstin #philosophy #realitytv #popculture #celebrity #analysis #theory #history #historylesson #booktok
One fan called the couple's wedding a 'pseudo-event'
One social media user with accounts named Kardashian Kolloquium shared her take on the Kourtney Kardashian and Travis Barker wedding in a TikTok video.
"What does it mean if the media reported on a Kravis elopement that was a simulation of an elopement but not an official real marriage?" she asked. "A pseudo-event."
The TikTokker went on to explain that "pseudo-events are events constructed with media in mind with the intention to be reproduced by media reports."
She continued to share the origin of the term, which was inspired by America's first presidential debate between Richard Nixon and John F. Kennedy in 1960. Televising the debate was intended to "shape public opinion" and "make Americans feel more connected" to political figures.
The TikTokker went on to cite Kanye West's Donda album listening events as modern examples of pseudo-events. "It didn't really matter what was true, or what was based in reality; the effect they had was the most important thing."
She continued, "So whether or not Kourtney and Travis legally got married in Vegas, doesn't really matter. What matters is that the media reported on a story, and it made us feel a way. What's done is done. It has shaped their images, and for at least one day, we believed that a wedding happened."
Source: Read Full Article