Julie and her husband Todd Chrisley were sentenced by Judge Eleanor Ross to 19 total years in prison five months after being found guilty of bank fraud and tax evasion.
AceShowbiz –Julia Chrisley has been spotted for the first time after receiving a jail sentence for bank fraud and tax evasion. The disgraced reality star looked exhausted and frightened after getting a 7-year prison sentence.
The 49-year-old reality TV personality was spotted at her home in Nashville, Tennessee on Tuesday, November 22 in photos obtained by Daily Mail. She wore a gray long-sleeved lounge suit and her shoulder-length hair was straight. She also perched a pair of sunglasses atop her head and went makeup-free for the brief outdoor appearance.
Her husband Todd Chrisley was absent from the photos, though he also received a sentence of 12 years in federal prison for the scandal that rocked the famous family. Both received 16 months of probation and their shows, including "Chrisley Knows Best", its spin-off "Growing Up Chrisley" as well as a planned series, have reportedly been canceled following their harsh sentences.
The shocking sentence was handed down on Monday, November 21. Judge Eleanor Ross of the District Court in Atlanta ordered the reality stars to pay $17.2 million in restitution in relation to their $36 million fraud scheme.
Sources tell The New York Post Todd and Julie will likely have to give up their two Nashville, Tennessee, mansions worth roughly $9 million in order to fulfill their obligation. "They're going to have to give up a lot of things, including their homes, sadly. They won't be able to afford it," the insider said, "But their main concern now is their children, especially their youngest boy." The news of the couple's sentencing came days after their youngest son, 16-year-old Grayson Chrisley, was hospitalized for a crash on the Tennessee interstate.
Since the sentencing, only daughters Savannah Chrisley, 25, and Lindsie Chrisley, 33, have seemingly reacted with cryptic Instagram messages. 25-year-old Savannah posted a quote that suggested she didn't have to explain herself or her family to anyone. "Noah didn't stop building the ark to explain himself to everyone who doubted and hated on him. Keep building your ark. The rain will do the talking," the post read.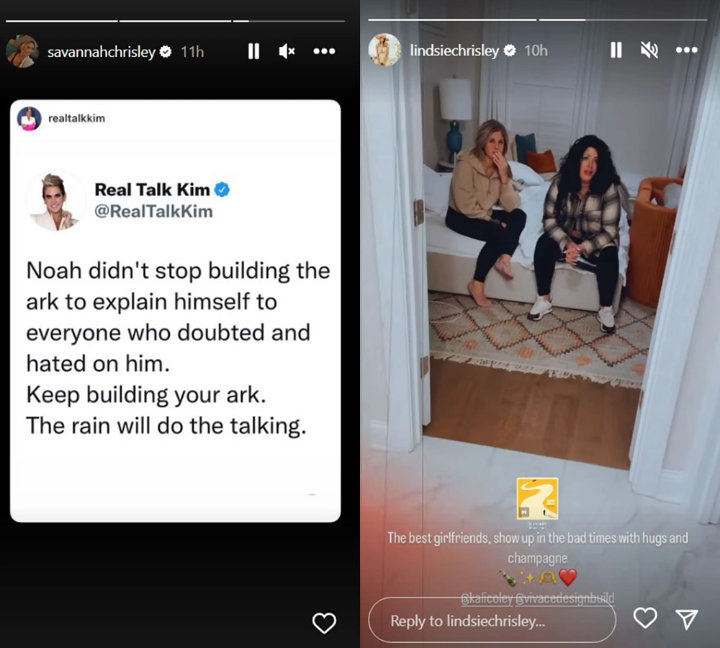 Savannah and Lindsie Chrisley appeared to show support to parents after prison sentence.
Lindsie, who was estranged from her father Todd from 2019 until this summer, called upon friends to help her during these trying times. "The best girlfriends, show up in the bad times with hugs and champagne," she wrote over a short video clip of two gal pals sitting on a bed. She also added Bruno Mars' "Count On Me" as the background sound.
Source: Read Full Article