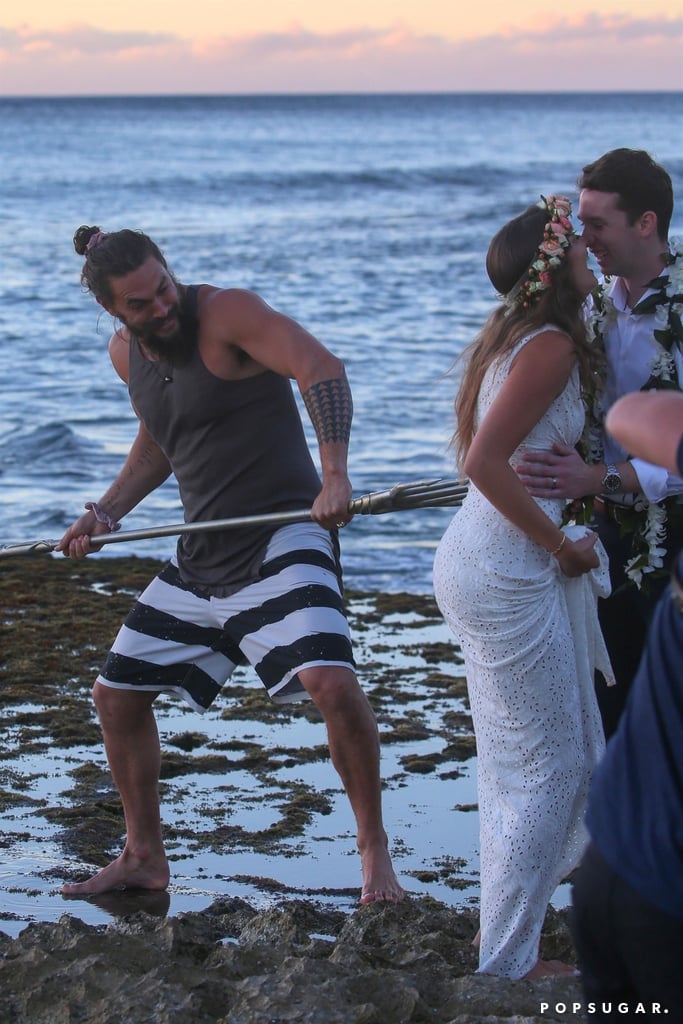 Picture this: it's your wedding day. You're on the beach in Hawaii, the sun is setting, the breeze is calm, and you can hear the waves crashing in the background. You lean in to kiss your partner as the officiant pronounces you married when all of a sudden you feel a giant trident poke you on your side. What the hell? Well, believe it or not, that's exactly what happened to a young couple during their wedding, only the aggressor was none another than Aquaman himself, Jason Momoa!
On Friday, the 39-year-old actor was seen hanging out along the coast in Oahu with his signature trident — because it's totally normal to carry a giant spear on the beach in Hawaii, right? — when he stumbled across a couple getting married and decided it'd be fun to photobomb them. Naturally, the couple laughed the whole thing off, and who wouldn't? I mean, it's Aquaman, after all. Jason also delighted a few fans who spotted him as he graciously posed for photos. Can you imagine just casually running into Jason on the beach?
During Jason's recent stop on The Graham Norton Show, the actor explained that he frequently gets asked to do unique poses with couples who ask for pictures. "A married couple comes up and they want to take a picture, and then generally it's the woman who wants to get the hug," Jason said. "And they want me to push their husband away or kick them in the face. So I do it." LOL! Catch Aquaman when it hits theaters on Dec. 21.
Source: Read Full Article