The actor's daughter Corinne Foxx takes to social media to share a positive update on the 55-year-old's condition, saying he was able to play a game of pickleball while 'recuperating' at home.
AceShowbiz –Jamie Foxx has been out of hospital "for weeks." The Oscar-winning star was hospitalized back in April because of a medical complication, but his daughter Corinne Foxx has taken to social media to reveal that he's now out of hospital.
The 29-year-old actress wrote on Instagram, "My Dad has been out of the hospital for weeks, recuperating." Corinne revealed that the 55-year-old actor recently played a game of pickleball, and she also thanked fans for their support over recent weeks.
Speaking to fans via Instsgram, she said, "Thanks for everyone's prayers and support! We have an exciting work announcement coming next week too!"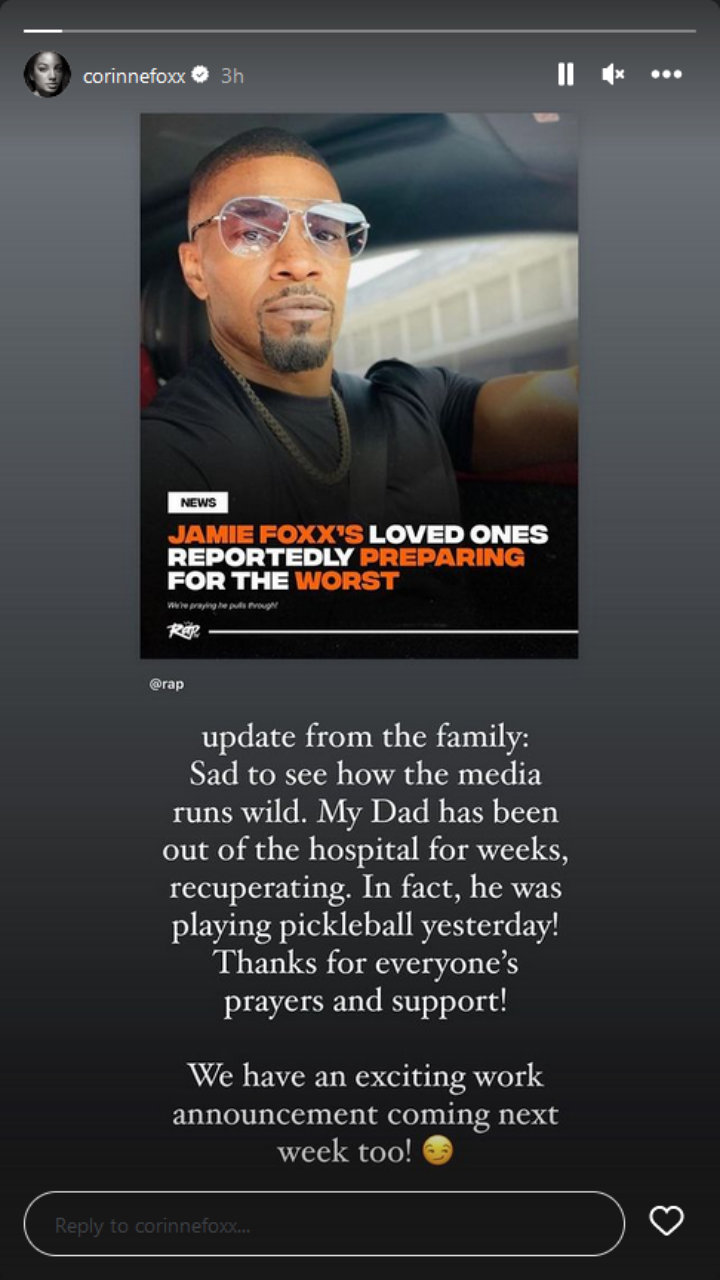 Jamie Foxx's daughter shared positive update on his condition.
Corinne made the comments following a recent wave of speculation about her dad's health. Earlier this month, Jamie took to social media to thank fans for their support.
However, he didn't mention anything about leaving hospital. The Hollywood star wrote on Instagram, "Appreciate all the love!!! Feeling blessed [prayer and heart emojis] (sic)"
Corinne also shared the post on her own Instagram page. She captioned the post, "Thanks for the love!" In April, Corinne announced that her dad was suffering from a medical complication.
However, little else has been shared about his health over recent weeks. In a statement written on behalf of her family, Corinne explained, "We wanted to share that my father, Jamie Foxx, experienced a medical complication yesterday. Luckily, due to quick action and great care, he is already on his way to recovery. We know how beloved he is and appreciate your prayers. The family asks for privacy during this time."
Jamie suffered the issue while he was working on the Netflix movie "Back in Action", which also stars Cameron Diaz and Glenn Close. The actor was last seen on the set on April 10.
You can share this post!
Source: Read Full Article