Kim Kardashian is opening up about pregnancy and how social media played a role in her self-esteem while carrying her first child, North West.
The mom of four — North, Saint, Chicago, and Psalm — appeared on Kristen Bell and Monica Padman's podcast "We Are Supported By" and revealed how her first pregnancy didn't meet her expectations. "I had this condition called preeclampsia and I didn't know that I had it," said the "Keeping Up with the Kardashians" star (via People). "It's over-swelling in your feet and face. I had to deliver six weeks early with an emergency delivery and then I had another condition called Placenta accreta with both of my babies. It was insane."
The SKIMS owner has opened up about her difficulty with pregnancy in the past, opting for a surrogate to carry her youngest children, Chicago and Psalm. After giving birth to her now eight-year-old daughter, the celeb revealed to Bell the real reason she would hide in her mom's garage.
Kim Kardashian says she was "brutalized" by the media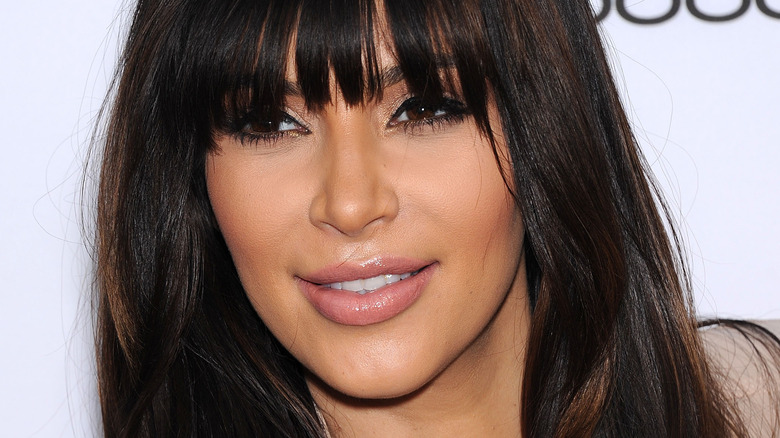 In a "We Are Supported By" podcast episode hosted by actor Kristen Bell, reality star Kim Kardashian admitted she "was not a good pregnant person" and shared how carrying her first daughter North West affected her self-esteem.
"I was not a cute pregnant person," said Kim, adding, "I hated it. I hated how I felt. I hate how I looked" (via People). The Kardashian, who is one of the most-followed users on Instagram, opened up about how the media scrutiny of the star's weight "brutalized" her. "I don't think it would really fly today, but it killed my self-esteem," said Kim. "I would sit at home and cry all the time." The "Keeping Up with the Kardashians" star went on to reveal she hid in her mom's garage after giving birth, trying to lose weight after gaining 70 pounds during her pregnancy.
The usually public celeb admitted her pregnancy with North even changed how much she shares online and made her "pull back on what [she] shared and just how much [she] wanted to give," after seeing "how nasty everyone was." The reality star continued, "there is definitely a side of me that's like, 'Be who you want to be and post what you want to post.' Then there's the other side of me that's like, 'Oh, I'm a mom, I'm 40, I gotta chill.'"
Source: Read Full Article