Since their gorgeous second wedding in South Carolina on Sept. 30, Hailey and Justin Bieber have not been shy about declaring their undying love for each other. They've defended each other from critics and openly celebrated their relationship since their first wedding in fall 2018.
On Sunday, Justin shared a sweet Instagram snap of Hailey's profile with a token of his affection: a handmade beaded necklace, crafted by Justin himself.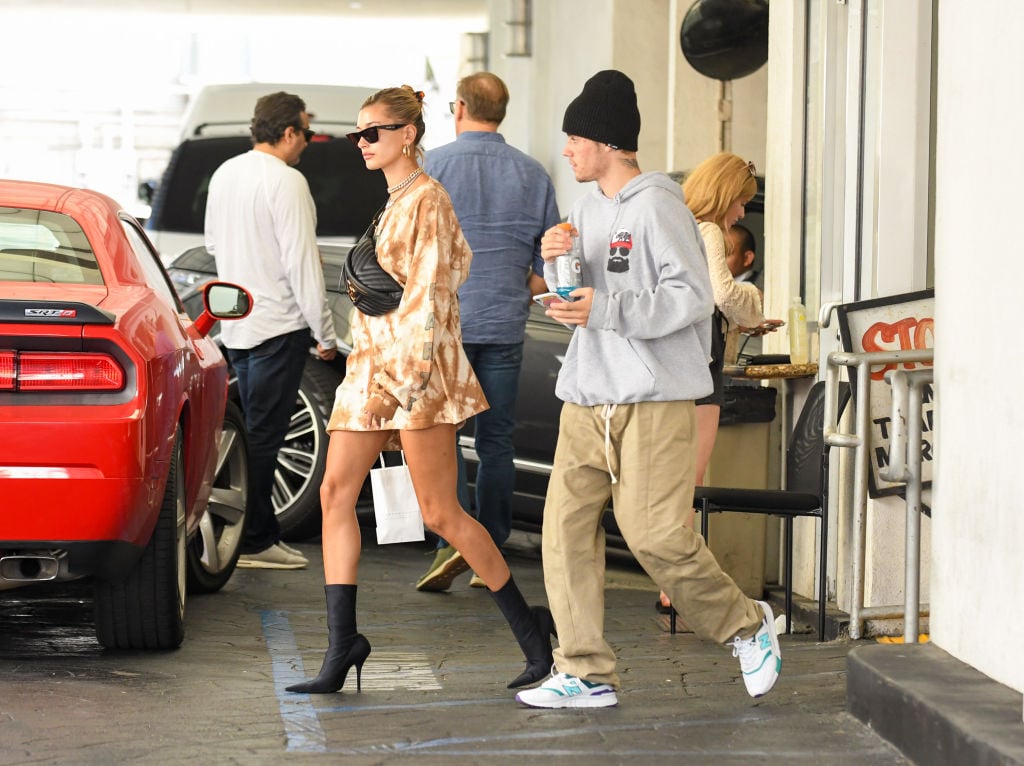 Justin Bieber's handmade gift for Hailey
Hailey Bieber is no stranger to gifts from her husband of one year.
Justin has given Hailey a six-carat oval diamond engagement ring, a "J" charm necklace, a diamond "Bieber" necklace to represent the couple's commitment, and a diamond "Wifey" necklace. Hailey's two 18-carat wedding rings come from Tiffany & Co.
This time, though, Justin Bieber kept things simple with a homemade necklace. He posted a picture of Haley in profile wearing a yellow and brown beaded necklace with the caption "I made her necklace."
Justin's sweet handmade gift earned him praise from other celebrities. Well-known, controversial YouTuber Logan Paul called Justin "a craftsman," while Alfredo Flores, a social media influencer and director who has long been a close friend of Justin's, responded simply with applause emojis. Survivor contestant Rodney Lavoie Jr. quipped, "Justin the Jeweler."
Justin and Hailey Bieber's South Carolina wedding
Although 22-year-old Hailey and 25-year-old Justin first said "I do" in a courthouse ceremony in 2018, they had a second set of nuptials in South Carolina on Sept. 30.
The main event was held at the Montago Palmetto Bluff after a ceremony at the Somerset Chapel. Justin and Hailey Bieber flew in on a private jet and took over most of the hotel grounds for several days with their wedding party.
Wedding details, from oysters to gowns
Guests dined on oysters at the rehearsal dinner and headed to an elaborate reception at the Wilson Ballroom. Celebs in attendance included Justin's manager, Scooter Braun, as well as A-listers like Kylie Jenner, Katy Perry, and Kendall Jenner.
Hailey wore not one, not two, but three designer dresses for the occasion. The standout gown was a lace gown embroidered with "Till Death Do Us Part" by Virgil Abloh's Off-White, which Mrs. Bieber described as her "dream dress" on social media.
Later in the evening, Hailey slipped into dresses from Ralph & Russo and Vera Wang for dancing and cocktails.
Justin and Hailey Bieber: A young couple in love
Hailey and Justin Bieber have been off-and-on for years as Justin dealt with the price of fame, a rollercoaster relationship with Selena Gomez, and the pressure of achieving such immense success at a young age.
Although Justin has admitted to struggling with his mental health, it's clear that his bride keeps him on the straight and narrow. And although Hailey previously admitted that marriage was difficult, the young couple's romance appears to be going strong.
Justin took to Instagram after the wedding to rave about his new bride and to declare, "Looking forward to forever with you." He also defended Hailey against Jelena fans who don't support his and Hailey's marriage.
Source: Read Full Article