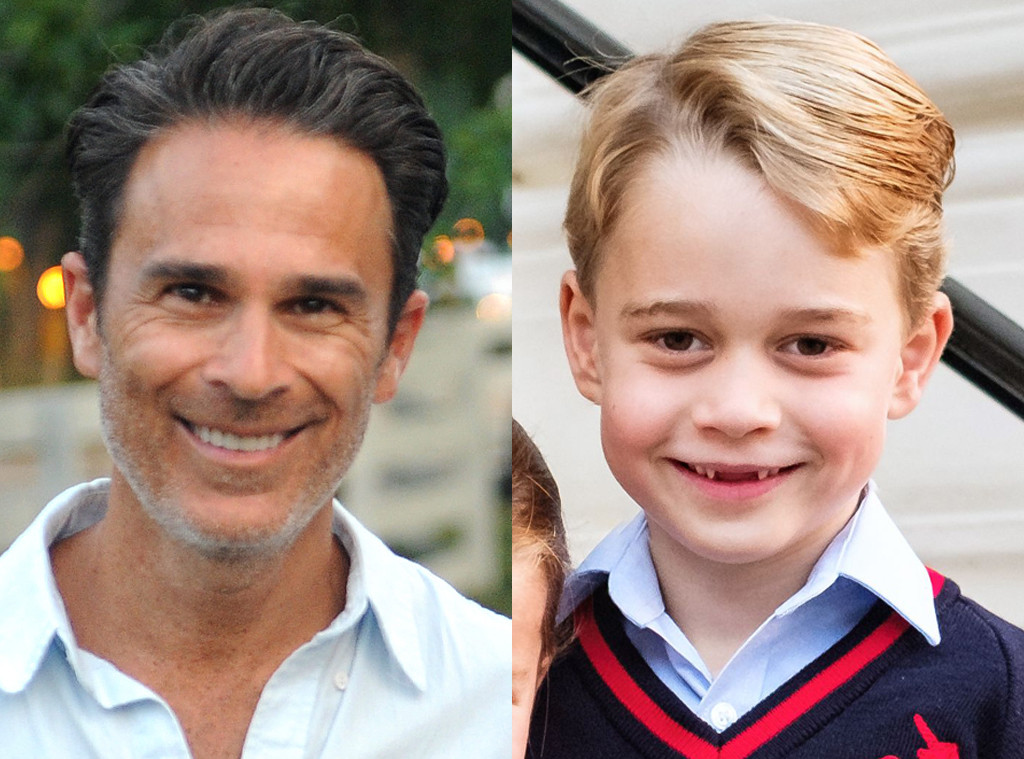 Fairchild Archive/Penske Media/Shutterstock, Shutterstock
Like Prince George? Then you'll love Gary Janetti.
The writer, who's worked on shows like Family Guy and Will & Grace, has a whole Instagram account dedicated to posting memes of the 6-year-old royal.
During Friday's episode of Chicks in the Office, Janetti explained how he approaches the account, which has about 844,000 followers, like a TV series.
"I use Prince George as the lead in a TV show that I'm creating about how he feels about the royal family and pop culture in general," he said. "And he's petty and insecure and he's, you know, like, vulnerable, and also nasty and sarcastic and all of these things. But it's like a TV series to me."
As a result, he said it can be a tad confusing for newcomers who haven't been following along.
"Because you're not really used to that on Instagram—something that you need to be caught up on," he said.
According to Janetti, the whole account came together by mere happenstance. When he joined Instagram in 2017, he started off by sharing text posts and a few random memes. But after he saw photos of George on his first day of school, he decided to post them along with a tongue-in-cheek caption.
"I did one, and it got like nothing," he said.
While he continued to occasionally post about Prince William and Kate Middleton's firstborn, things took a turn after Prince Harry and Meghan Markle got engaged.
"My first thought was, 'Oh, George won't like this. You know, George won't like sharing the spotlight with somebody else getting a lot of attention now,'" he said.
After putting the royal family members together, Janetti started to draw more eyeballs. So, he used his TV experience and started creating this "satire."
"To me, it's weirdly like, if Shakespeare were writing about the royals now but he was obsessed with pop culture and he did it on Instagram through the eyes of a 6-year-old," he said. "It's the modern Shakespeare take on the royals that we deserve in 2019."
In fact, Janetti, who is married to celebrity stylist and E! fashion guru Brad Goreski, said he didn't even follow the royal family before creating this account.
"I knew who the basic people were," he said, "but, no, I didn't give one thought to it."
View this post on Instagram
"You curtsy lower tomorrow if you want to keep your fucking job."
A post shared by Gary Janetti (@garyjanetti) on
So, what's been happening this season? Recently, Janetti has been having George show more empathy towards Meghan as she continues her battle with the tabloids.
"When Meghan is being celebrated everywhere she goes, George is jealous because this is a spotlight that's not going on him," he said. "When she's having a difficult time of it in the press and she articulates that this has been hard—people haven't really kind of…thought about what it must be like, you know, for a moment, to just be a person who's a mom in a new marriage—George can now be magnanimous….But then that means the spotlight gets to go on him because he gets to look like this selfless, generous, wonderful person. So, it's always still about him."
Still, Janetti made it clear it's all in good fun and that he doesn't have any personal interaction with the royals. He simply works with the headlines out in the world.
"I do what I think is funny, and it's never meant to be anything other than to give, like, a laugh and be silly and funny," he said. "It is never meant to be anything that's mean….It's all about George's insane take on the world and his wanting to be a star."
View this post on Instagram
"Bring it in."
A post shared by Gary Janetti (@garyjanetti) on
To see more of Janetti's content, check out his Instagram account and his new book Do You Mind If I Cancel?. Fans can also listen to his full Chicks in the Office interview here.
Source: Read Full Article