Marking the special day, the 'Heart Attack' hitmaker opens up that some days they 'regret' not calling Patrick Lovato because they were 'holding' their boundaries for their mental health.
AceShowbiz –Demi Lovato has reflected on their and Patrick Lovato's "complicated" relationship. Marking Father's Day, the "Give Your Heart a Break" singer admitted their "complicated" relationship with their dad made the special day always "difficult."
"Trying not to wake up sad.. Trying to stay positive. Today is always so difficult," the 28-year-old musician shared on their Instagram Story feeds on Sunday, June 20. They continued, "This is for anyone else who's lost a father, can't be with their dad, didn't know their dad, or anyone who has a tough relationship with their dad."
Demi went on to confess, "I spent many years on this holiday wondering whether or not I should call him.." They then reminded her fans and followers to "make the call" while they can. "Some days I regret not calling but other days I'm proud of myself for holding my boundary because I was doing what was best for me and my mental health."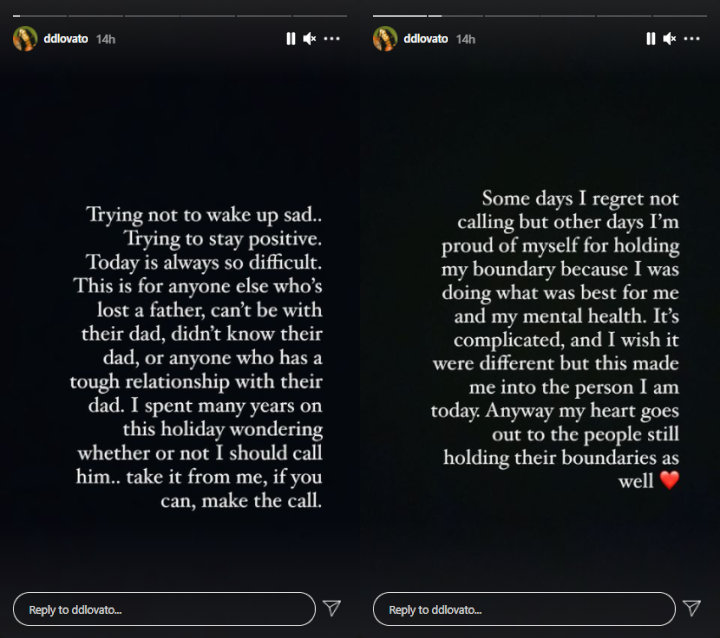 Demi Lovato reflected on their 'difficult' relationship with late dad Patrick Lovato.
"It's complicated, and I wish it were different but this made me into the person I am today," Demi added. The "Camp Rock" star went on to show their sympathy to others who suffer the same thing, "Anyway my heart goes out to the people still holding their boundaries as well [love]."
In the following Stories, Demi shared some throwback snaps with Patrick. One photo saw their dad holding them while they were still a baby. The "Sorry Not Sorry" singer captioned the image, "Your lying taught me bout honesty, honesty. Your leaving gave me my loyalty, loyalty."
The next picture showed the two smiling at the camera. Demi added a sweet note that read, "You were never really graceful, now you're just what you're supposed to be [love]." In the last Story to honor their late father, the former "The X Factor" judge shared their "favorite pic of us together." They explained that the photo was taken while they just left the Baltimore aquarium, one day before their 2014 world tour. "To the man who raised me, I love you so much. Thank you [love] Happy Father's Day dad," they concluded their sweet tribute.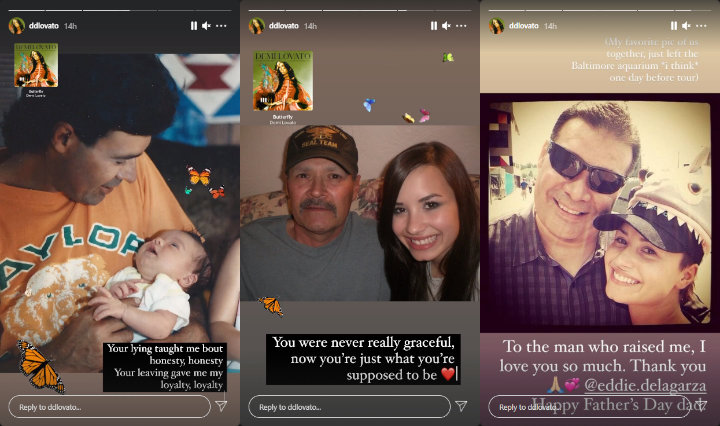 Demi Lovato shared throwback photos to honor their dad on Father's Day.
Demi's father passed away at the age of 52 in 2013 after a long battle with cancer. The pop singer themselves have written several songs about their dad, including "Father" and Butterfly".
Source: Read Full Article