Don't f**k with Chrissy Teigen!
Last week, after introducing them at the House Democratic Issues Conference, Congresswoman Nancy Pelosi shared a pic of the model and her husband, John Legend, on Twitter.
As seen here: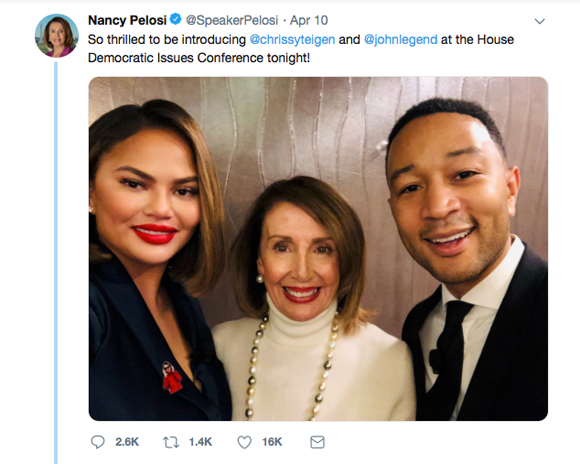 Unfortunately, one Internet troll had the audacity to make a comment about the Cravings: Recipes for All of the Food You Want to Eat author's weight.
The person wrote:
"Tiegen got fat,holly zhit"
The troll then tried to justify the hate by claiming the 33-year-old criticized Ivanka Trump for posting photos of her children.
"Fatty Tiegan at it again, attacking Ivanka Trump because she posts photos of her kids. Well, instead of Chubby Tiegan stuffing her face, she needs to realize Ivanka & her kids aren't illegals. How many illegals have multi millionaire Chubby Tiegan & her husband sponsored? NONE!"
After the hater wrote, "Tiegan likes to attack people, so i'm attacking her weight, chubby needs to get to the gym," Chrissy EPICALLY clapped back by responding:
"I hate to say this but…you are not a small person? also I don't care about my weight sooooo this does not hurt."
She added:
"I can guarantee he is not a handsome man. Lol."
Game. Set. MATCH!
As we reported earlier this month, Teigen opened up about her weight gain following the birth of her second baby, son Miles, in May 2018.
While answering the question, "how do you eat like this??" Chrissy responded:
"basically I am 20 pounds heavier than I was before miles. he's 10 months old, I never lost the last bit because I just love food too much. Just coming to terms with my new normal, when I had this certain number for so long!"
In April 2014, the mother-of-two — who also shares 3-year-old Luna with Legend — took to Twitter to slam those who criticized her appearance. She wrote:
"In what other real life situation would you walk up to someone and tell them they're fat or gained weight? Seriously you are POS… I don't know why I am always surprised when you let me down. I gotta get used to this s**t… It's amazing to me that I am told to get over the a**holes but the a**holes are never told to stop being pieces of s**t."
She also got candid about her "scale game" while talking to ET in early 2017:
"Honestly, I was so stuck on the scale game. Like, I was the kind of person that was, you know, pre-baby, I weighed myself like three times a day. I knew how much I weighed at 8 a.m., and I knew how much I was supposed to weigh at 1 p.m., and I knew how much I was supposed to weigh at 8 p.m."
Chrissy, keep living your fabulous life! You're gorg at any size!
Source: Read Full Article