Tiger King star Carole Baskin is in the spotlight once again. It's not because of her stint on Dancing With the Stars or the investigation into her missing husband. Baskin is making headlines this time because a tiger at her Big Cat Sanctuary nearly tore the arm off of one of her volunteers.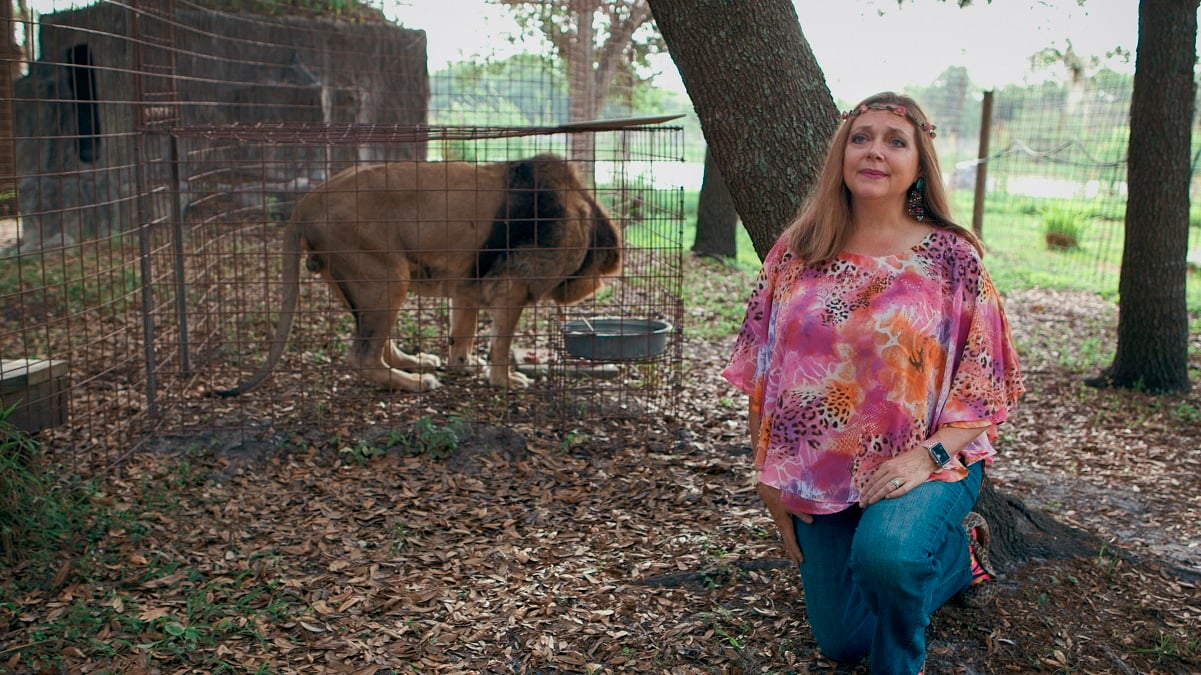 Carole Baskin rose to fame with Netflix's docuseries, 'Tiger King'
In March 2020, just as the COVID-19 pandemic lockdown went into effect, Netflix released Tiger King. The docuseries became one of the most-watched Netflix series of all time. And scores of celebrities, including Kim Kardashian West and Chrissy Teigen, tweeted about it.
The series is centered on Oklahoma zoo owner Joseph Maldonado-Passage, and his fixation on Baskin, a fellow big cat enthusiast. Baskin publicly criticized Maldonado-Passage for his mistreatment of animals, so he tried to hire someone to kill her.
After attempting to hire two hitmen (including one undercover federal agent), Maldonado-Passage was arrested, charged, tried and convicted on 19 different counts, including falsifying records and endangering animals. He was sentenced to a total of 22 years in prison.
But while the docuseries explored Maldonado-Passage's crimes, it also uncovered a mystery involving the disappearance of Baskin's second husband, Don Lewis. His ex-wife and daughters insist Baskin knows more about his disappearance than she lets on, but Baskin has maintained she doesn't know what happened to him.
Carole Baskin runs the Big Cat Sanctuary with the help of volunteers
Baskin often criticized Maldonado-Passage and other zookeepers like Doc Antle for breeding big cats for profit. And she built her Florida-based Big Cat Rescue as a safe place for animals mistreated or abandoned by their owners. 
Baskin's sanctuary is staffed with volunteers who learn how to care for big cats as they work. According to Insider, one volunteer who worked at the Big Cat Rescue suggested that Baskin needs to hire a full-time staff. 
"I believe when it first started up, it absolutely had to rely on volunteers, but now they are so well known … that they should be actually staffing people," the source said. "Most of them work for free. Being paid minimum wage would make a huge difference."
A volunteer was viciously attacked by one of the tigers at Big Cat Rescue
As reported by Big Cat Rescue, a volunteer named Candy Couser was attacked by one of the sanctuary's tigers. Couser has been working there for five years. But when she broke protocol and tried to unlock a gate for a tiger called Kimba (who was rescued from a circus in Guatemala), the animal grabbed her arm and nearly tore it off.
After hearing the commotion, another volunteer ran over and prompted Kimba to release her arm. The Big Cat Rescue website revealed that Couser's faced severe injuries to her arm and shoulder and will be going in for surgery.
'While it's our understanding that the CDC could demand he be killed and tested for rabies, that's unlikely given the fact that he's vaccinated and Candy does not want him to be killed for doing what comes naturally," the sanctuary explained in their statement. "Please keep Candy and her family in your hearts, as we will be doing, in hopes for a full recovery."
Source: Read Full Article