The latest visuals for Cardi B and Offset are here!
On Wednesday morning, the hip-hop power couple dropped the video for their joint single, Clout, featured on the Migos rapper's first solo alum, Father Of 4.
We weren't exactly sure what to expect from the video, but two things were made very clear to us all: these two love the color yellow, and they are still very much into each other.
The three minute and thirty-three second song marks the fifth time that Kulture Kiari Cephus' parents have worked together on a track. In the song, the rappers harp about their disgust for attention seeking fans and media members, and call out anyone who uses either of their names for, well, clout.
WATCH the video (below):
Whoa! So. Much. Yellow!
(And yes, you heard right, he does mention Kim Kardashian West and Kanye West in the lyrics, "My bitch on your ass, Kim K / No disrespect / The n**** be tripping, but we love Ye".)
Right at the very beginning, we see the 27-year-old — born Kiari Kendrell Cephus — looking like we've never seen him before. He styled his shoulder-length dreadlocks into two large braids, and sports a polka dot and cream-colored mask that definitely gave us creepy, killer vibes!
The somewhat haunting piano melody that carries the entire track, is then put on full display here. In this early scene, we see Offset going to work on a huge, yellow piano before standing up to face the camera dead on.
The Migos rapper goes on to rap the first verse, while bouncing around in what appears to be a funhouse of mirrors in a different scene. And just shy of the two-minute mark, this is where Bardi finally makes her appearance!
The Bodak Yellow rapper keeps one leg up near her man's shoulder, twerking with her tongue out as her black and yellow striped hair is reflected in the mirrors around her.
See the striking pose (below):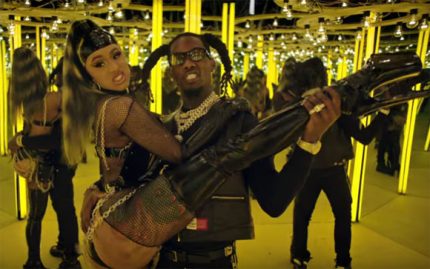 The former stripper goes on to hit even more athletic poses, including standing on her head as her hubby holds her ankles out to the side.
Bardi rocked a quite a bold looks in this video, too!
Cardi takes on the persona of a dominatrix, and rocks a fishnet body suit, paired with a pointed leather bra and matching pants. A pair of super sexy thigh-high leather platform heels really pull the futuristic look together.
We can't wait to see what critics of the couple will have to say about this one!
What do YOU guys think of the Clout video? Feeling it, or nah?
Let us know in the comments down below!
Source: Read Full Article