The 'Wipe Me Down' spitter and the 'Law and Order: SVU' star express their concerns over fellow hip-hop stars in Los Angeles after PnB Rock was shot to death during robbery.
AceShowbiz -Boosie Badazz (Lil Boosie) and Ice-T are expressing concerns over fellow rappers in Los Angeles following PnB Rock's tragic death. Taking to social media, Boosie and Ice-T share a warning for those hip-hop artists who are in L.A.
Taking to his Twitter account on Tuesday, September 13, Boosie warned, "Every time u n LA KEEP YOUR GUNS N YOUR FINGER ON THE TRIGGER!!" He continued, "BE READY TO SHOOT AT ALL TIMES!! KEEP YOUR HAND ON YOUR GLOCK (no safety) N SHOOT SOON AS YOU SEE HARM R ANYONE SUSPICIOUS!! They will rob n kill u ITS THE RAP MURDER CAPITAL #LA tip:to everyone lost they life n LA."
In the meantime, Ice-T reaffirmed that L.A. gang culture is "not a game." The "Law & Order: Special Victims Unit" star, whose hometown is Los Angeles, tweeted, "I'm done explaining LA Gang culture. MFs will not listen. It's not a game.. At all."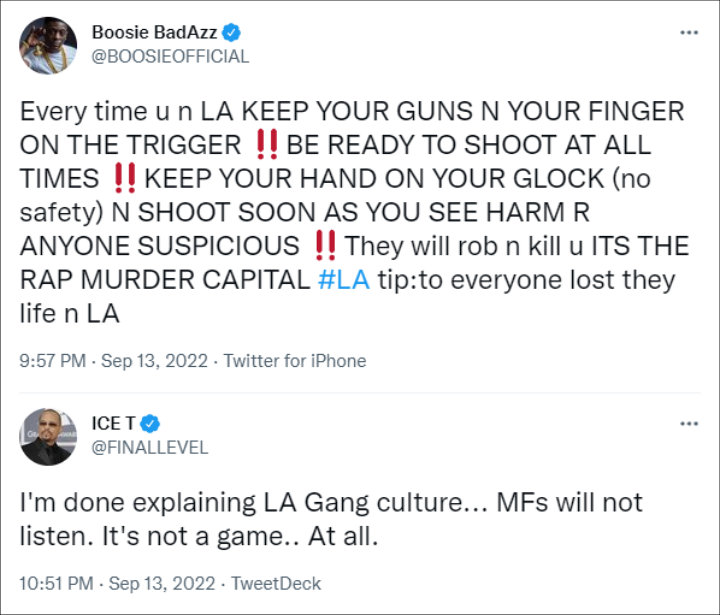 Boosie Badazz and Ice-T expressed their concerns over L.A. rappers after PnB Rock was shot to death.
Ice-T has previously warned young rappers to be wary when visiting his hometown. In the wake of Kodak Black getting shot outside of Justin Bieber's West Hollywood after party back in February, the 64-year-old rap star reminded Super Bowl LVI attendees that L.A. is "The Wild Wild West."
"SuperBowlWeekend: Not a Threat, just a Warning," Ice-T wrote via Twitter in February. "Young Rappers coming to LA for the Super Bowl weekend. LA has over 50Thousand ACTIVE Gang Members. Make sure you play it SAFE. It's the Wild Wild West."
PnB Rock was fatally shot during a robbery at the Roscoe's Chicken and Waffles restaurant in Inglewood, Los Angeles on Monday, September 12. Then at around 1:29 P.M. local time, the "Selfish" hitmaker was pronounced dead.
The Philadelphia-born rapper, who claimed some "bold" gang members tried to rob him a week before his passing, was at the restaurant to enjoy his lunch with his girlfriend Stephanie Sibounheuang as a few minutes before he was killed by a robber who allegedly targeted his jewelry, Stephanie posted an Instagram Story of their chicken and waffle meal and the restaurant's location.
While many have blamed Stephanie for exposing their location, Cardi B defended her. "I highly doubt nikkas was looking at PMB's babymom IG," the 29-year-old raptress tweeted, "He was in a bad location and people stay outside plotting. It's very irresponsible and inconsiderate to blame her for something so tragic." The "WAP" femcee then concluded her post by urging people to send "nothing but love to her and his family at this time."
Source: Read Full Article