The 'Therefore I Am' songstress asks her followers to reconsider eating turkey on Thanksgiving as she posts on her Instagram Story a picture of her cradling one of the birds.
AceShowbiz –Billie Eilish advocates for a vegan Thanksgiving this year. Having been a regular advocate for animal rights and veganism, the Grammy Award-winning artist has proposed to break the tradition in favor of a more animal-friendly holiday.
On Wednesday, one day ahead of the annual festivity, the 19-year-old pop star took to her Instagram Story to make a heartfelt plea to spare the birds. "Turkeys are some of the most gentle creatures in the world," she wrote along with a picture of her cradling a live turkey.
"And 46 million of them are killed every Thanksgiving," she noted, before imploring to her followers, "I know it's hard to change traditions but just keep it in mind :)."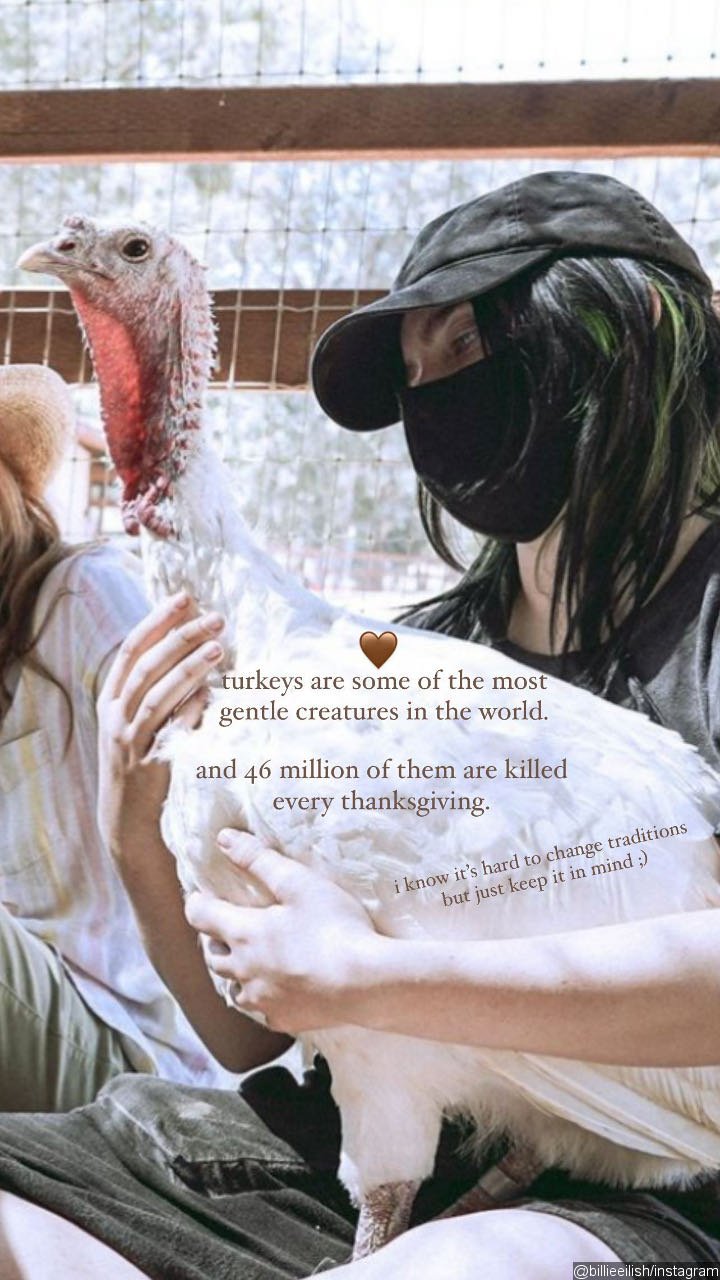 Billie Eilish asked her followers to reconsider eating turkey on Thanksgiving.
Billie, who has followed a vegan diet since she was 12 years old, also joined forces with fellow celebrities to ask President Joe Biden to let pardoned turkeys live in "peace." Earlier this month, she, Joaquin Phoenix, Rooney Mara, Alan Cumming, Mayim Bialik, Natasha Lyonne, Margaret Cho, Dave Bautista, Mena Suvari, Ricky Gervais and Maggie Baird signed a petition requesting that this year's pardoned turkey live at Farm Sanctuary.
"As we approach the holiday season – meant to be a time of gratitude and goodwill – we hope you'll accept our offer to provide sanctuary and the best life possible for pardoned turkeys," the letter read. The sanctuary also explained that turkeys "have been genetically altered to grow exceptionally fast and large and require specialized attention."
In May, Billie opened up to British Vogue about her decision to alter her lifestyle after educating herself on the ethics of the meat and dairy industries. "Once you know that kind of thing and you see it, it's really hard to go back," she said.
At the time, she said she doesn't "ever want to tell anybody what to do," but she has since realized, "I just can't go on in my life knowing what's going on in the animal world and, like, not doing anything about it."
Source: Read Full Article