Unless you just discovered the world of beauty yesterday (in which case, hi, welcome, it's warm here), you already know that shea butter is in basically every freakin' hair product, from deep conditioners, to curl creams, to co-washes. But it's not just some throwaway ingredient added for fun: Shea butter is an MVP at moisturizing all drier hair types—especially coily and curly hair types—because it not only helps seal in hydration and smooth rough cuticles for fewer tangles and flyaways, but it can also leave your hair looking super shiny and healthy. Basically, shea butter for hair = a tiny (dry-hair) miracle worker.
Interest piqued? Exactly. That's why I chatted with two experts, trichologist Shab Reslan and cosmetic chemist Krupa Koestline, about why shea butter for hair is so damn good, along with all the ways you can ~harness its powers~ for your softest hair ever.
Shea butter fast facts:
What it is:
A solid oil from the nuts of shea trees that can moisturize and soften hair and skin.
Benefits of shea butter for hair:
What is shea butter?
Shea butter is the fat derived from the nuts of shea trees, which are native to West Africa (and where most shea butter still comes from today). It's essentially a solidified oil, so in its raw form, it has a thick, semi-hard consistency, similar to coconut oil or cocoa butter, that emulsifies when you rub it between your hands or when it gets warm. It's not a new or ~trendy~ thing—shea butter has been a staple ingredient in traditional African food, skin, hair, and medicinal recipes dating back 1,000-plus years, and is still a mainstay around the world, but especially in the curly-hair community.
Shea butter is filled with tons of all-star skin and hair components, like fatty acids (stearic, linoleic, oleic, and palmitic fatty acids); vitamins A, D, and E; triglycerides; and allantoin, which is why it's so often added to conditioners, body creams, facial oils, and—of course—hair products. Which brings us to…
The 4 best shea butters, period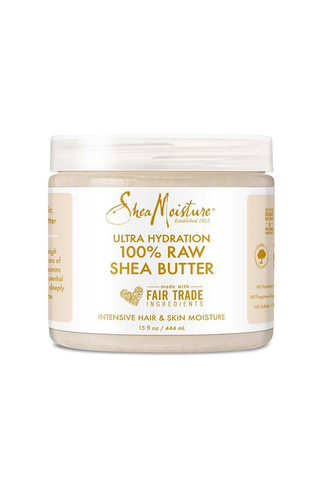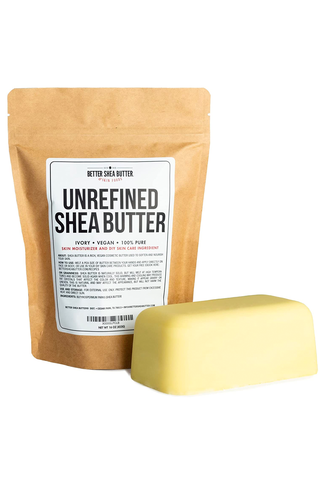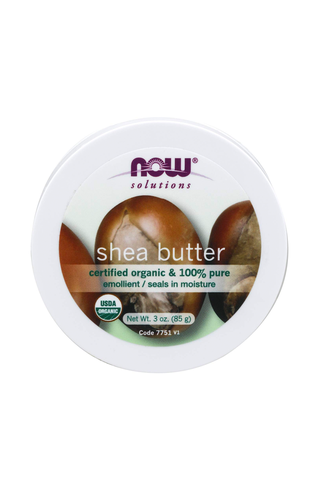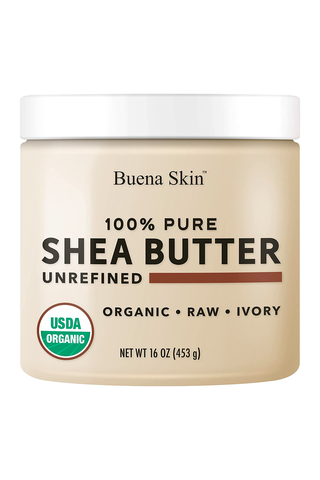 Is shea butter good for hair?
Um, yes, shea butter is very good for hair. Even though butter-anything sounds like a greasy mess, remember that shea butter is actually an oil (even though it's naturally solid), and oils can be separated into two categories: moisturizing and sealing. A moisturizing oil—like sunflower, babbasu, and almond oil—has a small enough molecular size to be able to penetrate your hair strand and hydrate it from within. A sealing oil, however—like jojoba, hemp seed, and rice bran oil—has a too-large molecular size, which means it can only coat the surface of your strand to seal in existing hydration and prevent it from escaping.
And then there are a few magical oils that can do both, like coconut oil, argan oil, and olive oil, and, yup, shea butter. Shea butter both moisturizes and seals, so it has the ability to hydrate the cortex of your hair cuticle, then trap that moisture inside. But it's not just its oil-like properties that make it fantastic for hair—it's also the fact that it's rich in: (1) fatty acids, which help "cement" the keratin in your hair to keep it strong; (2) vitamin E, an antioxidant that helps protect against damage-causing free radicals; and (3) triglycerides, a type of fatty acid that helps condition your hair. The tl;dr result? Smoother, healthier, softer hair.
Which hair types should use shea butter?
Whether or not your hair type will love or hate shea butter is really dependent on your porosity, i.e., your hair's ability to absorb and retain hydration. On low-porosity hair, or just thin, fine hair types, shea butter can leave your hair feeling greasy and lank in high doses, since it's so rich. But on high-porosity hair, or just drier, coarser, damaged hair, shea butter can be amazing at smoothing and moisturizing, says Reslan.
Remember: Rinse-out products won't be as "risky" as leave-in styling products, so if you're unsure how your hair reacts to shea butter, look for a shea butter-based deep conditioner to test out. If it leaves your hair feeling stringy, shea butter-rich formulas may not be your thing. But if your hair feels normal—or, ideally, awesome—try switching to styling products, conditioners, and masks made with shea butter.
The best shea butter deep conditioners for every hair type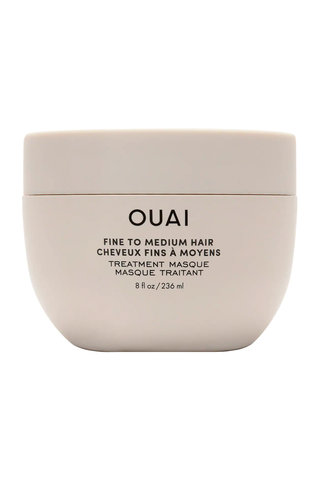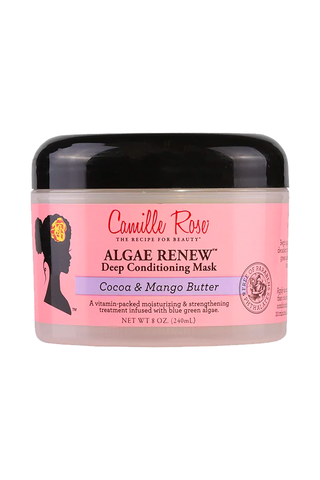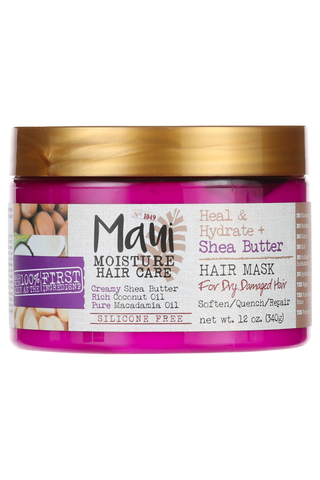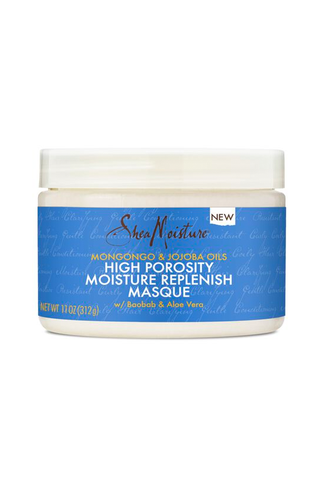 Does shea butter help hair growth?
Womp, no, shea butter will not make your hair grow faster (or make hair thicker, tbh). But it does promote a healthy, moisturized scalp, which is the first step toward getting longer hair. "Shea butter is known for its anti-inflammatory and antioxidant properties, which are great for calming and soothing an inflamed scalp," says Reslan. The fatty acids and vitamin E naturally found in shea butter will also help soothe your scalp too. Basically, shea butter can help create the ideal conditions for healthy hair growth.
How to use shea butter for hair:
You can use shea butter alone or cocktail it with a few other ingredients to create a DIY hair mask (see below for the recipe). But if you're not into science experiments, you can also just use a shea butter leave-in conditioner, curl cream, mousse, or hair oil, focusing on just the ends (if you have fine or low-porosity hair), or applying it from root to tip (if you have high-porosity or coarse 4c hair). These are a few of my favorites:
Try one of these leave-in products with shea butter for V moisturized hair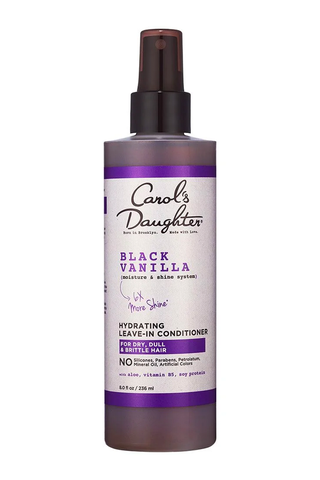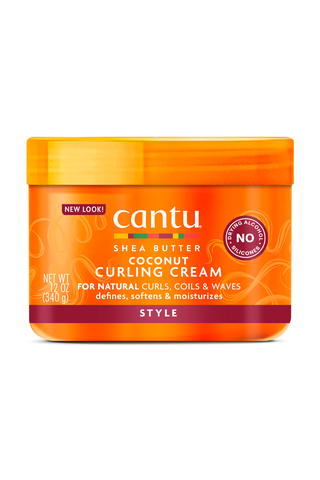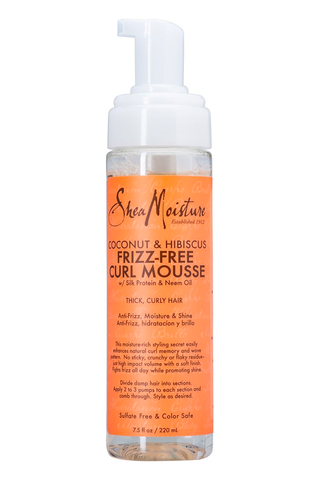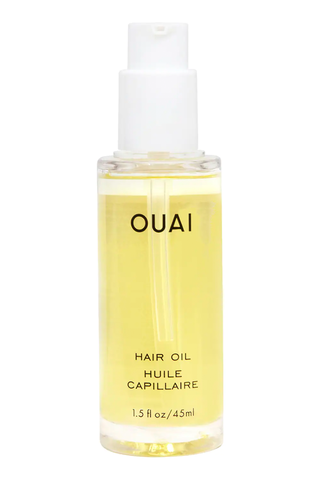 How to DIY a whipped shea butter mask
Listen, there's nothing wrong with using straight shea butter on your hair. The only meh thing? It turns into straight oil when heated, which can be messy to apply. So for me, I like to first whip my shea butter for easy application, storage, and customization. Here's a simple tutorial:
✨ The ingredients✨
How to:
Cut your shea butter into chunks, and place them in a heat-safe bowl. Boil a pot of water, and create a double-broiler by placing the bowl on top of the boiling water to let the shea butter evenly melt. Once melted, remove the bowl from the boiling water and stir in a tablespoon of your favorite natural oil (coconut, jojoba, grapeseed, etc.). Then, use a hand or stand mixer to whip the mixture for up to 20 minutes until it's light and fluffy. Scoop and store in a glass jar until ready to use as a DIY hair mask, or mixed in with your deep conditioner, or as a body butter—whatever works.
How do you remove shea butter from hair?
Because shea butter is such a rich moisturizer, it can build up on finer or lower-porosity hair types if you're not actually using shampoo on a regular basis. If your usual cleansing routine isn't working, Koestline recommends massaging your shampoo through your dry (!) hair in the shower before turning on the water and rinsing it out. Reslan also "highly" recommends using a weekly scalp scrub "to prevent a clogged scalp on anyone who frequently uses heavy butters on their hair."
To prevent some of this buildup from even happening in the first place, keep the majority of your shea butter application on your mid-lengths and ends instead of your scalp, product residue and buildup can make your hair feel weighed-down, greasy, and blah.
What does shea butter do for my skin?
Thankfully, shea butter is just as moisturizing and softening on your skin as it is on your hair, says Koestline, acting as an occlusive to help prevent transepidermal water loss (or TEWL, as the ~experts~ call it). TEWL is the amount of water that naturally evaporates from your skin, and too much of this water loss can lead to a dehydrated, dull, irritated skin barrier. Shea butter, however, helps lock in moisture and prevent it from escaping your skin, so it's especially great when paired with a humectant (like a hyaluronic acid serum) that pulls moisture into the skin first.
4 shea butter skincare products that will leave you dewy and smooth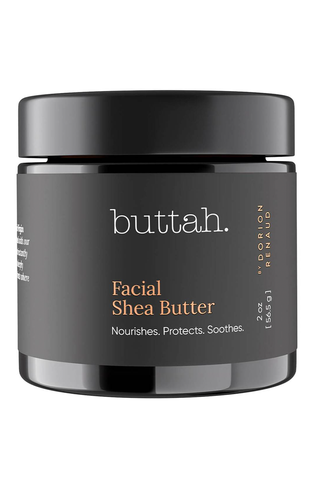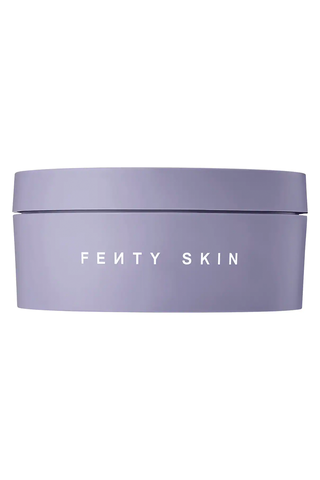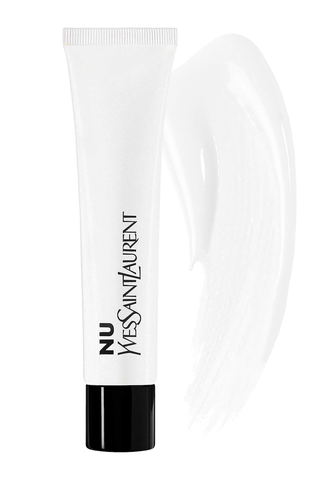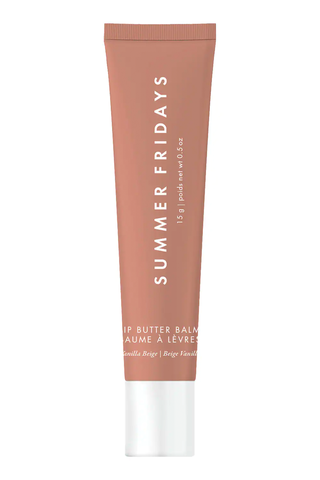 The takeaway:
See why I said shea butter for hair is the GOAT now? Shea butter can benefit all hair types depending on how much you use it and where, but it's an absolute dream for those with curly, coily, thick, or coarse hair types because it not only moisturizes your hair strands but helps lock in hydration too (both in your hair and on your skin). Brb, just ordering yet another tub of shea butter on Amazon.
Meet the experts:
Why trust Cosmopolitan?
Beth Gillette is the beauty editor at Cosmopolitan with four years of experience researching, writing, and editing haircare stories that range from the best conditioners for curly hair to the best wavy hair products. She's an authority in all hair categories, but is an expert when it comes to shea butter after interviewing dozens of cosmetic chemists over the years. She regularly tests and analyzes hair products for efficacy, while working with the industry's top hairstylists and trichologists to assess new formulas and brands.
Source: Read Full Article