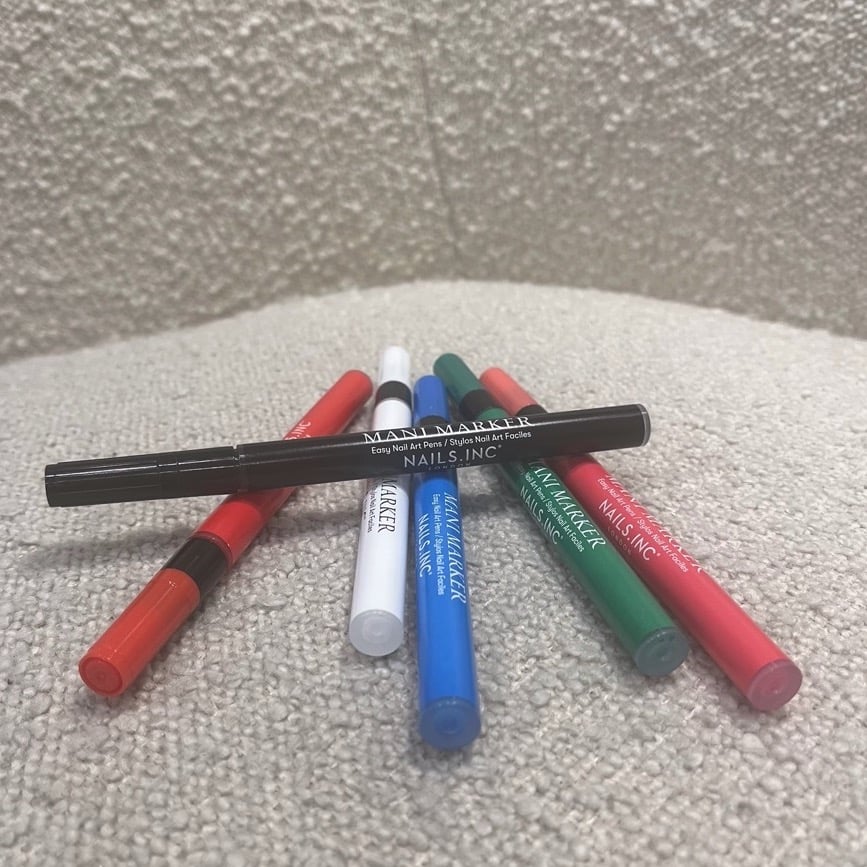 Nails.Inc just launched its Mani Marker Easy Nail Art Pens.
The quick-drying paint pens make DIYing nail art super easy.
They come in six shades, ranging from black and white to bright colors.
I'm no stranger when it comes to paint pens — craft store paint pens, that is. I'm from a really artistic family (my grandmother was a watercolorist, my mother is a painter and potter, even my siblings are photographers and graphic designers). So growing up, I was surrounded by an abundance of art supplies, including the paint pen. What I remember most from my art-filled youth was reaching for anything but the paint pen. They smelled horrible, the color would bleed everywhere, and it would stain. Paint pens were kitchen-table-only craft in my house.
When I got wind of the new Nails.Inc Mani Marker Easy Nail Art Pens ($5 each), suffice it to say my interest was piqued. What can I say, I'm a basic nail art-loving millennial. I knew I needed to see if they were really as good as their claims, which include "a revolutionary nail innovation" and "turn your nails into the ultimate canvas." So were these nail art pens the secret to negative space designs and colorful french tips of my dreams, or were they destined to be like the messy paint pens of my childhood nightmares? Keep reading for my full, unfiltered review.
What to Know About the Nails.Inc Mani Marker Nail Art Pens
The paint pens come in six shades and are available in sets of three or individually.
They have a water-based formula that keeps the paint pen from drying out.
It has a fine tip that makes creating intricate nail art designs really easy.
They are quick-drying and will dry in just 45 seconds.
What I Like About About the Nails.Inc Mani Marker Nail Art Pens
Right when I pulled off the cap on the green pen and got a good look at the nib, all my apprehension was erased. The tip came to a fine point and was pretty firm (not like the soft, felt-tip pens I was picturing). The best part was, it stayed in that exact shape the entire time I was crafting my designs. I didn't have to worry about the tip flattening or fraying as I zoned out on my art — and zoned out is exactly what I did. The pen-shaped packaging was so much more comfy and steady to hold than the cap of a polish bottle, even with my non-dominant hand, so I could really let my Takashi Murakami flag fly (OK, not exactly Murakami, but I tried).
The second thing I noticed was how smoothly the polish flowed through the pen. I didn't need to re-pump to keep the paint going (more on that below), and it didn't pool up at the tip. It just came out really nicely and consistently, making it mess free. Plus, because the polish is water-based, the pens are meant to last longer without drying out. I haven't had them long enough to fully test this claim, but so far it's promising.
Can we also talk about the polish formula for a second? It was self-leveling, which felt like Facetune IRL and made my type A brain very happy; it was totally opaque with just one coat; but the real game-changer here was how fast it dried. Within 45 seconds, I was able to swipe on my clear topcoat with zero smears or smudges. Why isn't all polish like this? Nail brands, are you listening?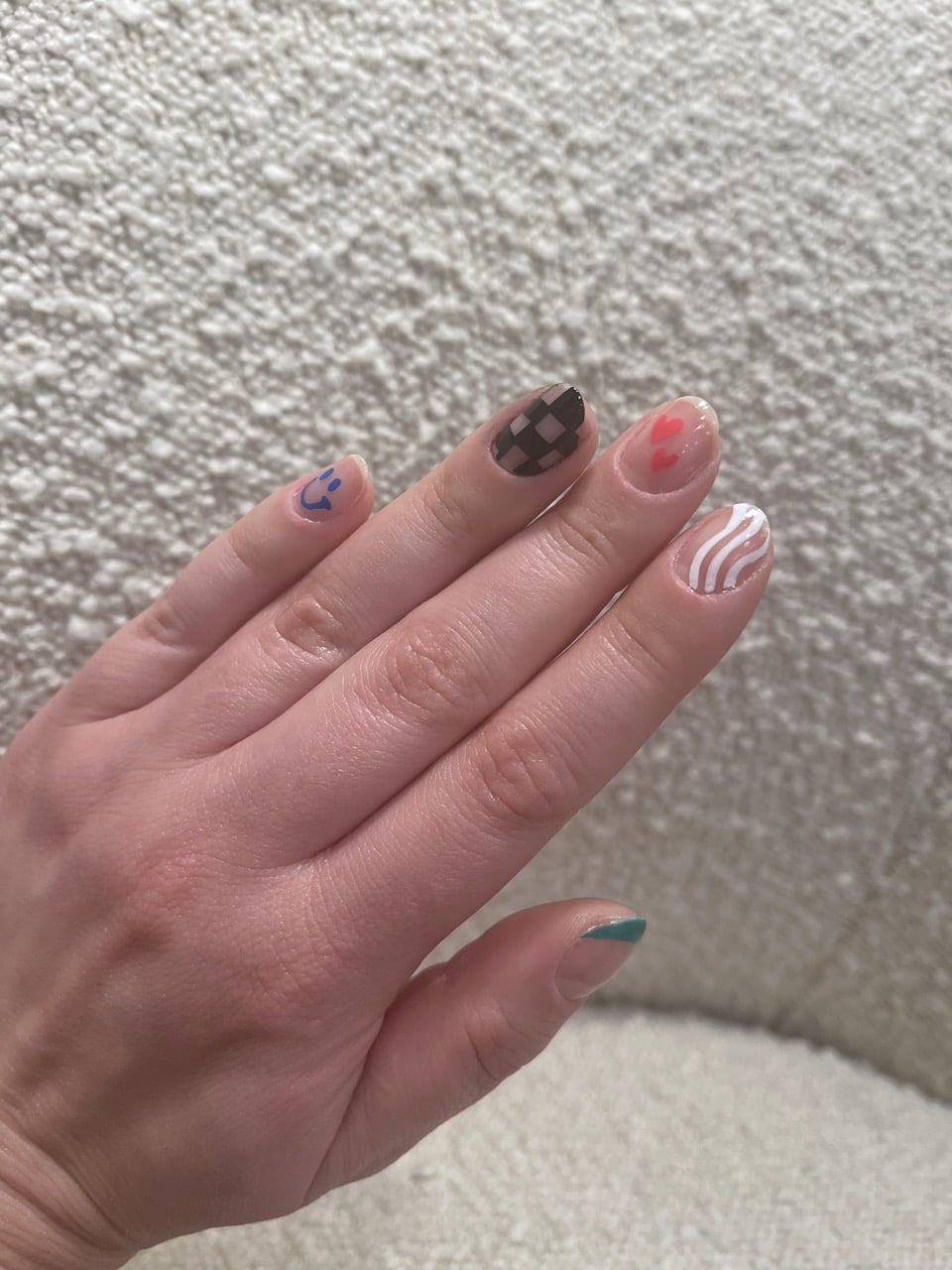 How to Use the Nails.Inc Mani Marker Nail Art Pens
The best part about these markers is that using them at home is simple. Here's how.
Step One: Get your Mani Marker ready. If you're using a pen for the first time, you'll need to press and hold the nib on a solid surface until the color runs through the tip. It only took me about 15 seconds. After that, you can just press the nib down quickly to reactivate as needed. BTW, I didn't need to do this once during my entire DIY manicure. The paint just kept flowing on its own.
Step Two: Apply a base coat first. The brand recommends laying down a base coat or a color to use as the base of your nail art. Personally, I love the clean, negative space look, so I went without and didn't have any issues with application or wear.
Step Three: Draw on your design of choice. This is where you can get creative and draw on whatever design you want. I went for an indie nail look with a little something different on each finger, but go wherever the inspiration leads you. While the formula is quick drying, I found that it didn't dry out as I was working, so I didn't feel rushed, but if you give the first layer about 60 seconds to try, you can go in with another color to create a more dimensional design. They layered really nicely on top of each other.
Step 4: Seal in your art with a top coat. The paint pens did leave behind a subtle shine, but the clear coat helped everything look more cohesive and finished.
What to Consider Before Trying the Nails.Inc Mani Marker Nail Art Pens
The only reason point against these pens for me is that I found the polish formula to be a little tricky to clean up. My go-to nail art trick is to keep a little acetone and a small brush on hand to erase any slip-ups. Usually mistakes wipe away on contact, but this polish formula required a little more elbow grease, especially the black shade, which stained my skin a little bit. That being said, any dark nail polish would do the same, and by the next morning after a day or normal hand washing, the staining was gone. All that I was left with was my stunningly beautiful nail art design . . . if I do say so myself.
Rating:



Source: Read Full Article