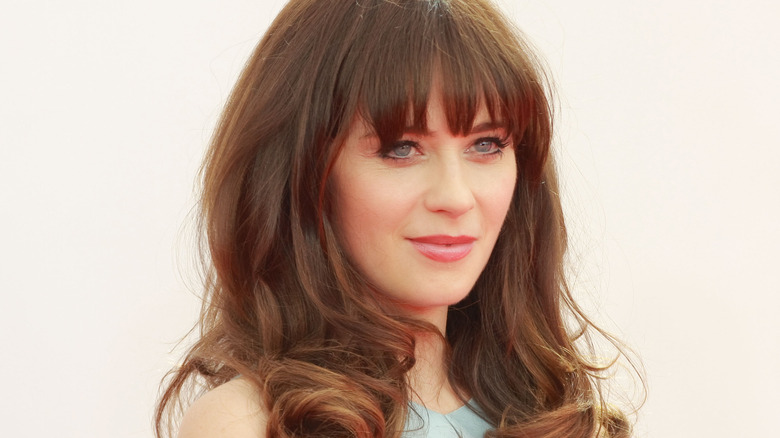 Who's that girl? Well, it's definitely Jess, but now you too can recreate the "New Girl" lead's thick wavy locks and fringed bangs. Zooey Deschanel first introduced us to the quirky young woman in 2011 (via IMDb) after her character, Jess Day, suffered a break-up and moved into a Los Angeles apartment with three single men as her new roomies. Not only did the series build a devoted fan base over the course of its seven season tenure, but the show was also highly acclaimed enough to be nominated for 5 Emmys. 
Audiences fell in love with Jess Day, an offbeat middle school teacher with a smoky singing voice and knack for impressions. Her signature locks and thick framed glasses quickly became synonymous with Deschanel herself (via The Dipp), transforming the indie darling into a style icon for an entire generation of misfits. And thanks to the help of L'Oréal Professional Master Session Artist, Pepper Pastor (via Seventeen), we finally have the tools necessary to transform our tresses to match Deschanel's iconic 'do.
Round your brush toward you to create Jess Day worthy bangs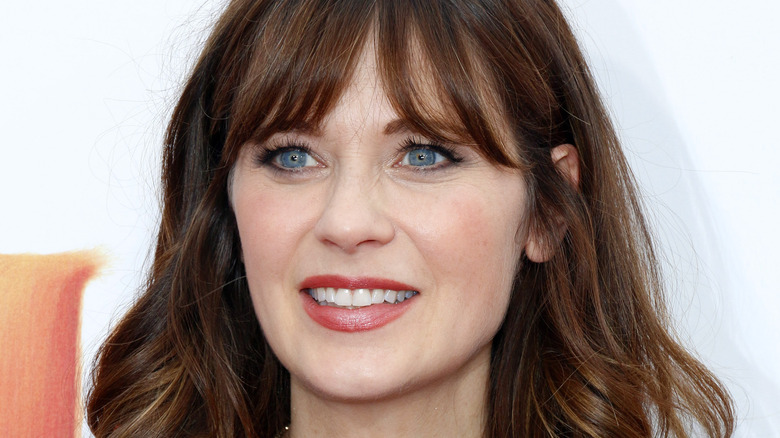 Pastor has worked with a variety of fashion brands like Stuart Weitzman, Alice & Olivia and Betsey Johnson along with celebrities including Christie Brinkley, Mickey Rourke, and Whitney Port (via Pepper Pastor), so when it comes to mimicking Deschanel's legendary locks, she definitely has the hair expertise. Pastor recommends beginning by coating wet or slightly damp hair in a protein-rich oil, like  L'Oréal Professionnel Mythic Oil Reinforcing Milk, to promote shine and protect hair from heat (via Seventeen). 
Next, grab a blow dryer, a large round brush and begin blow drying your hair. Be sure to use your fingers on your bangs, swiping them from side to side to create movement. Once your hair is almost dry, use your brush to round your bangs under (remember, that means turning the brush toward you!)
Pro tip: If you're looking to emulate this look for the long haul, ask your hair stylist to cut some "New Girl" worthy bangs by trimming hair to just below the brow line. And there you have it! Pick up a ukulele and rock a vintage polka dot dress to complete your new look.
Source: Read Full Article