Herbivore Botanicals' Prism Is More Intense Than Its Instagrammable Bottle Lets On

Nothing about Herbivore Botanicals Prism Glow Potion ($62) says that it has a hardcore formulation. It's not wrapped in packaging that looks like it's from a dermatologist's office (it's actually in a very Instagrammable, minimalist bottle). There's no explicit warning plastered on its label. But don't underestimate its ability to completely smooth out your complexion.
For the past three weeks, I've been dispensing three to four drops of the serum into my hands and patting it into my skin every night before bed. In the first evenings that I'd tested it, I thought it smelled pungent with citrus (don't worry, that fades away after you apply your favorite moisturizer). But my skin looked immediately rejuvenated and bright once it sank into my skin. With a few more days of use, my complexion began to look more uniform, and the texture of my skin didn't feel as dry or bumpy in the areas where it was typically. It was the blend of the various gentle fruit exfoliators that worked its magic on my skin. Though, I did experience a bit of irritation one day after being outside for too long (which was completely my fault, because I hadn't remembered to apply sunscreen).
Ahead, see Prism in all of its gorgeous glory.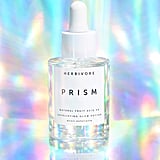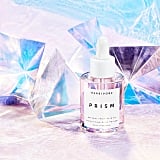 Source: Read Full Article