Charlotte Tilbury's lipsticks are the stuff of legends, and one of her most bestselling shade is the nude matte "Pillow Talk" lipstick. Earlier this fall, that creamy rose shade inspired a whole Charlotte Tilbury Pillow Talk collection, complete with a blusher and eyeshadow palette.
The original launch sold out in a day or two, but now just in time for the holiday season, the iconic makeup artist is bringing back a limited amount of the sellout Luxury Palette in Pillow Talk and Cheek to Chic Blusher on Dec. 6. Both items will be available on CharlotteTilbury.com until they sellout, giving you a second chance to pick up the beauty-vlogger approved and celeb-loved blush and shadow shades.
But if you're not fast enough to grab the limited-edition second release, never fear. The whole collection is coming back as a permanent addition to the Charlotte Tilbury website and stores starting Jan. 2019. But if you want to nab it as an amazing holiday present for some beauty lovers on your wishlist, then you will have to scramble.
As for the specific products, the Cheek To Chic Swish & Glow Blusher has a dark rose outer rim and a dollop of champagne highlighter in the middle, where you're meant to swish your blush brush through the pink powder and apply to your cheeks, and then dab the gold highlight at the end as a finishing accent.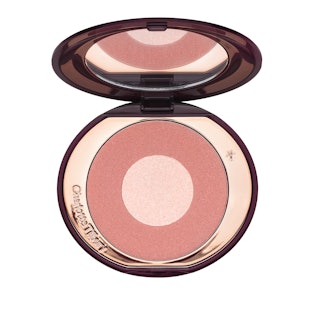 Cheek To Chic Blusher
$40
Charlotte Tilbury
The Pillow Talk Luxury Palette is an eyeshadow quad that comes in soft but statement-making tones. The palette consists of two mattes in dusty rose and brown hues, a champagne pink shimmer, and a rose gold glitter color.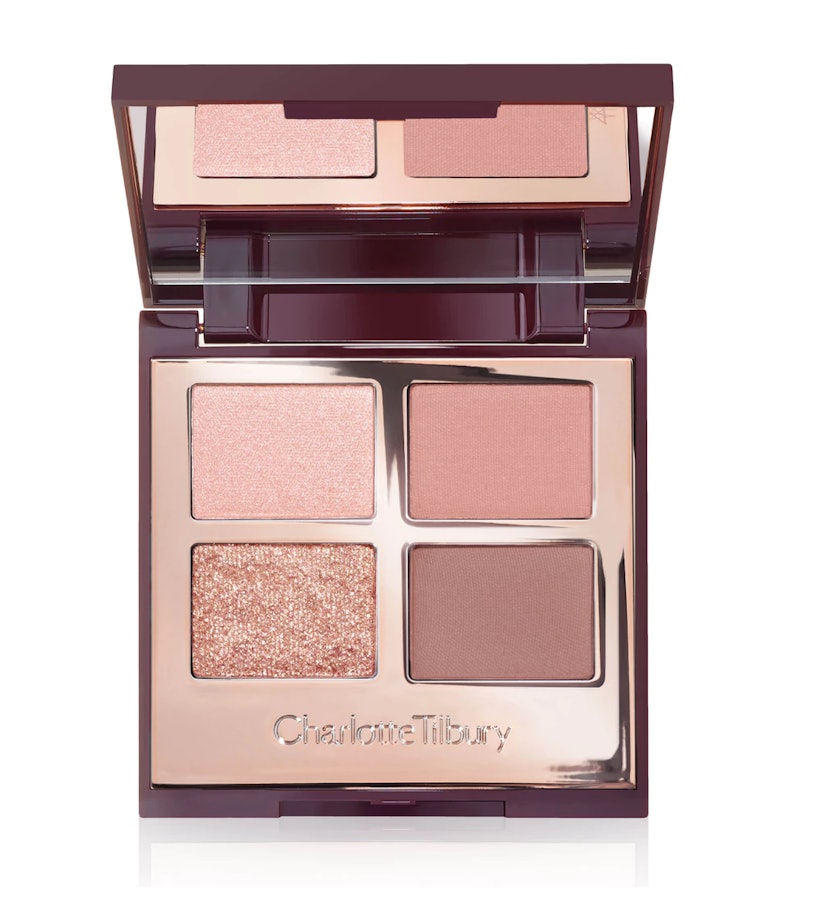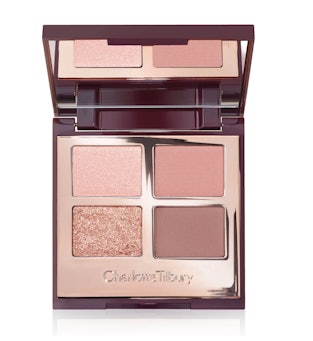 Pillow Talk Luxury Palette
$53
Charlotte Tilbury
When speaking about what inspired her to create the simple cashmere-soft hue, Tilbury said in a statement, "I wanted to alchemise that nude and pink, pout-perfecting pink that I used to mix by hand. I knew I could bottle a 'suits-all' hue that would mimic the delicate rose-blush-skin hue." The end result was a matte pink that works across a range of skin tones, and is beloved by A-listers like Tracee Ellis Ross, Amal Clooney, and Emma Roberts.
The reason Tilbury decided to make these two products a permanent part of her product lineup is because she saw how much fellow beauty lovers enjoyed the collection. Not only did the original collection sellout at lightning speeds after its runway debut in September, but after the palette and blusher were no longer available, Tilbury was bombarded by messages from fans asking her to bring it back. This new release is simply her giving the people what they want.
"Darlings, I always knew the Pillow Talk look would be LOVED by you all, but the demand has truly exceeded all my expectations, it has been INCREDIBLE!! I have seen all of your messages LUSTING after the sold-out look and I am excited to announce that a PILLOW TALK DROP is happening TOMORROW and then back permanently in 2019, so be quick and get your hands on my ICONIC supermodel shades in time for the holidays!!" Tilbury shared in a release.
Prepare your makeup collection, because it's about to get a whole lot more pink.
Source: Read Full Article