Picture, for a moment, Camila Mendes—what comes to mind (other than her killer acting skills on The Perfect Date and her body-positive Instagram)? I'm gonna go ahead and guess it's her trademark hair: inky black, super sleek, and crazy-shiny. I mean, it's Veronica Lodge's calling card, after all.
But the Riverdale star just reminded the world she's a real human being with her own autonomous body choices (read: not just a character on your favorite TV show) by chopping off her hair into a shaggy lob (a long bob, for the hair illiterate) and dyeing it a soft brunette shade. I know—hard-hitting news, but I'm still here for it, K?
Camila posted a photo of her new haircut to her Insta stories just an hour ago, writing "7 hrs later" above a selfie with colorist Matt Rez and hairstylist Buddy Porter. "Back to brown à la @ColorByMattRez" reads one caption, while another reads "with a fresh cut à la @BuddyWPorter."
Porter also posted a pic to his Instagram, writing, "If I'm in a salon until midnight, I'm glad it's with these two." I mean, who doesn't get their hair done at midnight?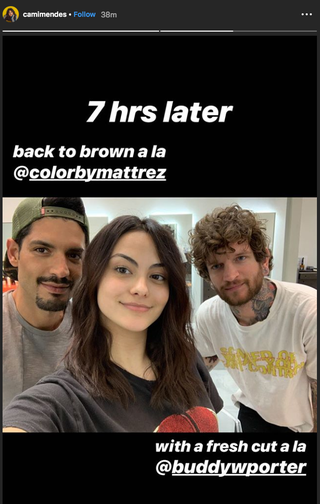 And if seven hours sounds like an insanely long time for a cut and color, here's a quick reminder: To go lighter, you have to strategically strip your hair of its color before dyeing it a lighter shade. And to make sure the process doesn't completely destroy your hair, you need to work slowly and carefully. Basically, beauty is pain—and a full day at the salon.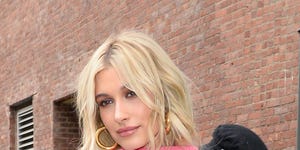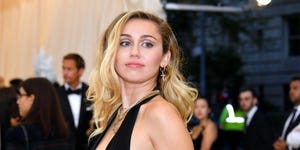 This makes the 400th time Camila has been in the news this week, thanks to her new movie The Perfect Date that just dropped on Netflix. The rom-com features your boyfriend Noah Centineo and your girlfriend Camila for the perfect combination of happiness and why-the-f*ck-doesn't-this-happen-to-me sadness.
So even if celeb haircuts aren't your thing, you can sit the heck down…and watch Camila in another adorable teen rom-com instead.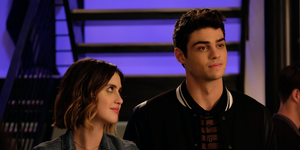 Source: Read Full Article