For 35-year-old Daniel Gillespie, there were several likely culprits to his stress and correlating weight gain: a break-up, moving, having two children in two years, planning a wedding, and regular 15-hour days building a new business from the ground-up. As he admits, his lifestyle and diet habits became a "bigger issue" that led him to undergo significant changes to get his weight back on track after hitting 245 pounds on his wedding day. So, he knuckled down—over several lockdowns, no less—and put in the work, losing 75 pounds and stabilizing his blood pressure. In his own words, here's how.
My weight crept up gradually over three years. Mainly, it was due to big lifestyle changes including a breakup, a house move, relocating my business, joining a board of directors, having one child and a subsequent child 17 months afterwards. During this, I married my wife and worked 12-15 hour days to grow a new part of the business. My balance was off with my lifestyle, health, eating habits, exercise and basic self admin.
I was completely aware that this was leading to a bigger issue. One thing I had never fully appreciated was the nutritional side, which seemed absent from my daily life. I knew and could see how the weight creeping up because my scales recorded it.
Major life events, stress and diet were the causes of this. I exercised, but on an infrequent basis and with no real purpose or sacrifice. I didn't appreciate the difference nutrition really meant and training with a purpose. I had trained for years beforehand but never really focused on achieving a set goal, and then actually achieving it.
I reached my heaviest weight just after my first child was born and my wedding. My wedding suit was 10 inches larger on my back than it is today, and my waist was 12 inches larger. All of this, plus a lack of energy, ongoing sleep issues and inability to keep up with work or the newborn baby was embarrassing, but most of all affecting my health and shortening my life.
When it came to acting on this, two light bulb moments occurred. One was the wedding process. Having my suit measured. Drinking and eating too much in the run-up and generally gaining weight to a point where I felt terrible on my wedding day.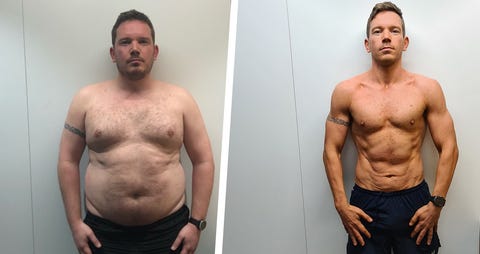 The second was having people comment on how red my face was. At the time I thought this was stress, but it was actually due to blood pressure and a combination of bad life habits. Having my blood pressure taken at Ultimate Performance Manchester was a huge turning point. I recall this being nearly 170/115 and was on a borderline to needing a doctor before I could work out. This, plus a newborn son made me realize a big change was needed.
I changed my eating routine and habits, including the hours I would eat. I switched to four to five macro-focused meals, instead of three carb-heavy meals which would make me sluggish and learned how to be more comfortable feeling hungry but actually craving good nutritional valued food, rather than sugar-based snacks. It just took a like time to come off the sugar or high salt-based additives and replace this with more healthier options. I now weigh all my meals on a weekly basis and have one day where I relax or eat less focused.
As for training, workouts lasted longer or phases were on six to eight-week cycles. This enabled me to see progress over the same exercises before switching them and re-focusing the objectives. At first, it was always about weight loss. Then, it moved to more performance and technical work. Mainly, it was all weightlifting with power and compound lifts and then more focused with isolation work. Most of my cardio was through cycling or HIIT (usually on a prowler sled, a ski-erg, or during the odd 'bootcamp' session). Whilst time was spent on nutrition and exercise, I had to put the same effort into recovery and sleep. On these days, I'd eat five 'clean' meals, avoid snacking and maximize my sleep as much sleep as possible by going to bed earlier.
I worked out with a trainer who, at first, was ruthless at scale measurements and seeing progress weekly. To do that, you need constant focus, no cheating, and a steady-planned routine. I had always worked out but the difference was the laser focus on effective diet and nutrition. It made me realize that the gym work was fairly easy when partnered with good nutrition.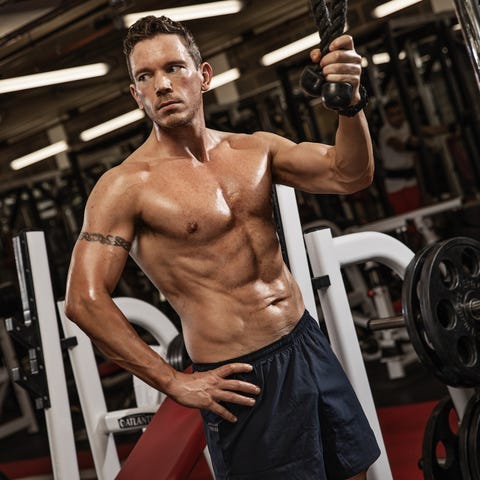 The key motivator was seeing my weight and the graph come down. Clothes began to fit better and my energy increased by a huge amount. As I was significantly overweight, it took time before I could enjoy any aesthetic benefits. I think now that my motivation is to not go back to where I was. I enjoy the energy I have now.
I also noticed my 'bandwidth' to deal with stress and volume at work increase. I could work more focused, longer and harder, which was important to me as I was trying to grow part of the business. Another positive impact was found on the (lack of) food waste. We used to throw away vegetables that hadn't been used or items we had supplemented for the takeaway or ready meal. Now, hardly throw any food away because it is all weighed and planned. I'd like to think it's a better way to be environmentally friendly, which the kids should learn and benefit from.
Source: Read Full Article