Many fans were super excited when Kylie Jenner announced her new cruelty free, gluten free, sulfate free, paraben free, vegan, dermatologist tested line Kylie Skin last week…
But upon further inspection, many admirers are claiming minimal research went into crafting the products, which drop May 22 — because a key component to her lineup is supposedly terrible for your face!!
The "self-made" billionaire was so thrilled to share her skin must-have with followers, a $22 walnut face scrub she says is "my secret to a fresh face…" Stormi Webster's momma also shared in a video on her line's page:
"It's really gentle. It's gentle enough to use every day. I recommend two or three times a week. That's how much I use it. Some walnut face scrubs are kind of harsh on the skin. This isn't too abrasive. It really leaves my face feeling super baby soft. Makes you look glowy, takes away dead skin cells. My walnut face scrub is my secret to a fresh face."
https://www.instagram.com/p/BxcyfxuBoSJ/
https://www.instagram.com/p/BxcyfxuBoSJ/
View this post on Instagram
walnut face scrub. my secret to a fresh face. xo, Kylie ⠀⠀ ⠀⠀ 🍸 Squalane – a highly-refined moisturizing oil from olives helps to strengthen and restore skin's moisture barrier ⠀⠀ ⠀⠀ 💧 Glycerin – helps balance the moisture in your skin ⠀⠀ ⠀⠀ 😊 Sodium Hyaluronate – derivative of Hyaluronic Acid, hydrates and helps to plump the skin ⠀⠀ ⠀⠀ 🍊 Blend of fruit extracts and fine walnut powder- to help gently exfoliate ⠀ ⠀ ✨ Ginseng Extract- helps energize the skin ⠀⠀ ⠀⠀ ☑️ Fragrance Free
A post shared by @ kylieskin on
While Kylie makes it sound enticing, in actuality, a nut scrub is reportedly way too harsh for the delicate skin, and can result in a multitude of issues longterm. You don't really need to be an esthetician to know this, either!
Many are likening Jenner's product to St. Ives Fresh Skin Apricot Scrub, which has walnut shell powder, and is notoriously hated by skincare experts. There have even been lawsuits over this s**t, though they were eventually tossed by a judge because plaintiffs could not provide sufficient evidence that the scrub accelerated their aging.
The company even left a shady and pointed comment on Kylie's IG post! Ch-ch-check it out: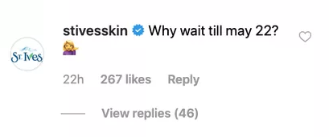 Anyway…
Many have been sounding off on the walnutty product online. Here are the best Twitter hot takes (below)!
Here's the thing — in 2019, we have so many options to exfoliate in a gentle manner. Chemical exfoliants are cutting edge, and leave your face baby soft without rubbing shards of nut on your money maker!! Definitely do your research, but these seem like the best option at the moment!
Ky's line also includes a gentle face wash, vanilla milk toner, serum, face moisturizer, and eye cream. Now knowing what you know, will you be shelling out your cold hard cash for these products?
Let us know your thoughts in the comments (below)!
Source: Read Full Article